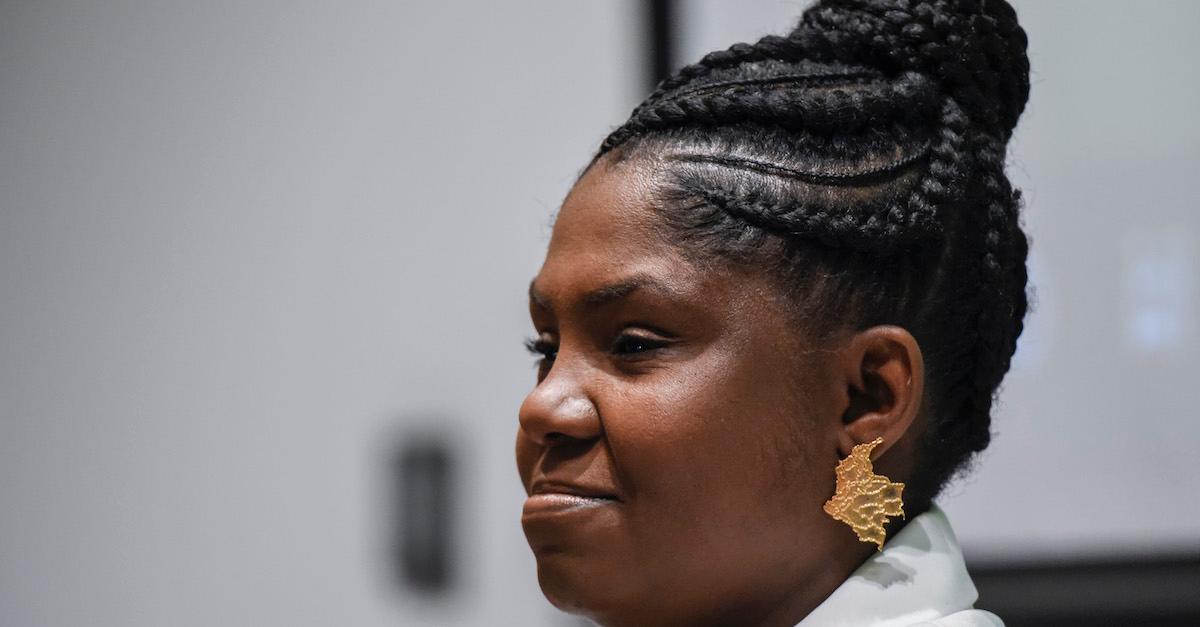 Happy National Hispanic Heritage Month — These Latinx Climate Leaders Are Changing the World
From Sept. 15 to Oct. 15, we are celebrating National Hispanic Heritage Month, a 30-day period dedicated to honoring the contributions and culture that Hispanic and Latinx Americans have shared with society — though we think it's important to honor the Hispanic and Latinx communities every day of the year.
There are numerous incredible Latinx and Hispanic activists in the climate movement, who all use their platforms to advocate for intersectional climate justice. Read on for a list of amazing young Latinx and Hispanic climate activists who are leading the climate movement, whether they're doing so via online education, in-person strikes, or speeches that gain the attention of world leaders.
Article continues below advertisement
Francia Marquez
Francia Marquez is an Afro-Colombian environmental activist. She won the The Goldman Environmental Prize in 2018, for work focusing on the intersectional environmentalism for Afro-Colombians. Three years prior, Marquez spoke out against illegal gold miners causing problems with local residents, and in response, she organized a 20-day women's march from Cauca Mountains to Bogota. It received national attention, and eventually government officials worked to ban illegal mining once and for all, creating a task force on illegal mining.
Alexandria Villaseñor
Born in 2005, Alexandria Villaseñor is a young Latina climate justice activist. She grew up in California — where the smoke from the Camp Fire made her ill, which introduced her to the horrors of the climate crisis — and has spent the last few years living in New York City, where she strikes outside New York's UN headquarters every Friday.
Villaseñor also co-founded Earth Uprising, she spoke at the 2020 DNC, and she contributed an essay to the book All We Can Save, a book of essays and poems by more than 40 women leading the climate movement. She often uses her online platform to advocate for intersectionality in the fight for climate justice.
Article continues below advertisement
Sara Mora
Though Sara Mora was raised in New Jersey, she is originally from Costa Rica. When the future of Deferred Action for Childhood Arrivals (DACA) was in danger under Trump's presidency, she became an outspoken as a DACA recipient. Mora is now an immigrants rights activist, and speaks out about it in various political settings. She also launched Population MIC to record conversations surrounding immigration to raise awareness on immigration issues.
Article continues below advertisement
Diandra Marizet
Diandra Marizet is a Mexican American climate activist based in Houston, Texas, with a degree from Texas A&M University. During the summer of 2020, Marizet co-founded Intersectional Environmentalist, a platform that advocates for intersectionality in the climate justice movement by providing educational resources, action steps, online communities, and more.
Marizet has worked with nonprofits with previous experience in the fashion industry, so her website is a great resource for learning about zero-waste and sustainable fashion and personal care.
Article continues below advertisement
Cindy Cordoba Arroyo
While studying as a PhD student in apparel design at Cornell University, Arroyo founded popular podcast and Instagram account, @moda.circular.co. She is an expert in fabrics and stays up-to-date on fellow Latinas within the sustainable fashion movement, highlighting their achievements in the field.
Article continues below advertisement
Xiye Bastida
Xiye Bastida, who was born in 2002, is a Mexican-Chilean climate justice activist, with roots in the indigenous Mexican Otomi-Toltec nation. Originally raised in Mexico, Bastida spent her high school years in New York City, where she is known as a lead organizer for Fridays for Future. Now, she is a student at the University of Pennsylvania, a co-founder of the Re-Earth Initiative, and she recently gave a TED Talk about her journey to becoming a climate leader. She also contributed an essay to the recent book All We Can Save.
Article continues below advertisement
Isaias Hernandez
Better known as Queer Brown Vegan, Isaias Hernandez is a California-based environmentalist who provides readers of his Instagram page and website with easy-to-understand explainers about the climate crisis and other justice-related issues. He is also a co-founder of Alluvia Magazine, which amplifies BIPOC voices in the environmental movement.
Article continues below advertisement
Jade Lozada
Jade Lozada is a Dominican and Puerto Rican alum of Harvard University, who grew up in New York City. Lozada serves as the Policy Director at TREEage, a youth organization that demands elected officials in New York pass climate legislation that "prioritizes communities over profit and power."
Article continues below advertisement
Keyra Juliana Espinoza
Born in 2002, Keyra Juliana Espinoza is a young Ecuadorian-American climate activist who grew up in New York City. Espinoza has done work with Polluters Out and El Cambio en Ecuador, and uses her platform to advocate for BIPOC rights and the environment.
"My motherland Ecuador doesn't really get much attention when it comes to the impact the climate crisis has on vulnerable communities and there is very little education [or] action being taken even within the country," Esponiza told Green Matters in an interview a few years back. "People should care about protecting the planet because they should put themselves in the shoes of the persecuted, of the silenced, of the defenders and realize that they are also human like us, we are humans that empathize when others are hurt and suffering."
This article has been updated.