What Is Joe Biden's Climate Plan? Here's How His Policies Compare to Sanders'
Joe Biden and Bernie Sanders have very different climate plans — here's how they compare.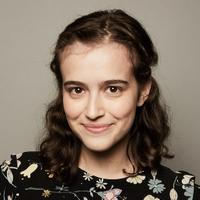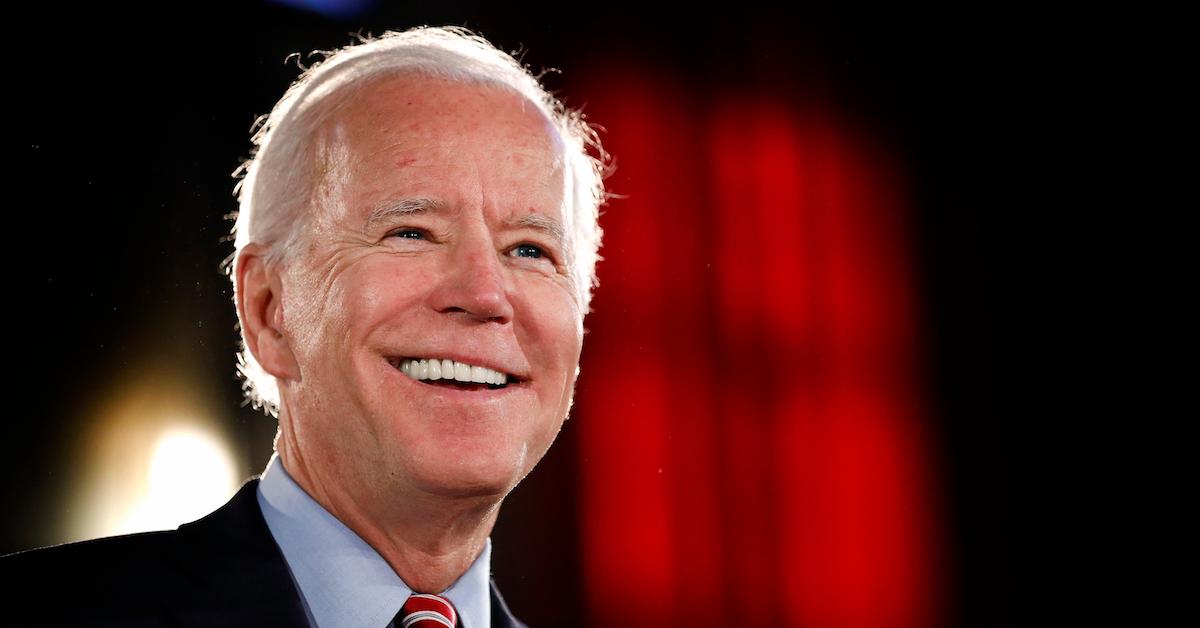 Sen. Bernie Sanders is known for championing the Green New Deal and framing himself as a climate candidate — but how does Former Vice President Joe Biden's climate plan hold up? Now that the Democratic party's nomination for president is pretty much down to the two politicians, it's a good time to compare their proposed policies to fight the climate crisis and reduce U.S. emissions.
Read on to learn all the basics of Biden's climate plan, should he be elected president this year.
Article continues below advertisement
What Is Joe Biden's Climate Plan?
Joe Biden's climate plan has five central goals:
Achieve a 100 percent clean energy economy and net-zero emissions by 2050.
Strengthen local infrastructures to "withstand the impacts of climate change," such as developing climate resiliency plans, rebuilding local infrastructures, and more.
Recommit to the Paris Agreement and partner with other countries around the world to help each other achieve their targets.
Hold accountable the fossil fuel industry and other polluters who harm communities of color and low-income communities. Biden also wants to restore clean water to Flint and other communities who do not currently have safe drinking water.
Support the workers from the fossil fuel industry by helping them transition to new careers.
How Will Joe Biden Finance His Climate Plan?
Biden plans to roll back the tax incentives that the Trump administration instituted, including ending subsidies for the fossil fuel industry, and use that money to pay for his climate plan. The budget will require a federal investment of $1.7 trillion over the next 10 years; it will also use additional money to bring the total budget to $5 trillion.
Article continues below advertisement
Joe Biden's vs. Bernie Sanders' Climate Plans
As Reuters put it, both Biden and Sanders have stated that they believe the climate crisis is an existential threat, that they would immediately recommit to the Paris Agreement, and that we should shift away from fossil fuels and provide help and new jobs for fossil fuel workers — but "the similarities end there."
To be fair, there are a few other similarities — both men support the Green New Deal, both want to roll back policies put in place by Trump, and both want to hold polluters accountable — but Biden's plan is a bit less tenacious than Sanders' plan.
Article continues below advertisement
According to Sanders' climate plan, the Vermont senator will bring the U.S. to 100 percent renewable energy (for electricity and transportation) by 2030 and completely decarbonize the economy by 2050, and he plans to do so by expanding solar, wind, and geothermal energy sources.
Biden's plan will get the U.S. to 100 percent clean energy 20 years later, in 2050. While Biden is clearly in support of expanding renewable energy in the U.S., he is still in support of using some natural gas, an energy source that emits about half as much carbon as coal does, according to Green America.
Article continues below advertisement
Ranking Biden's and Sanders' Climate Plans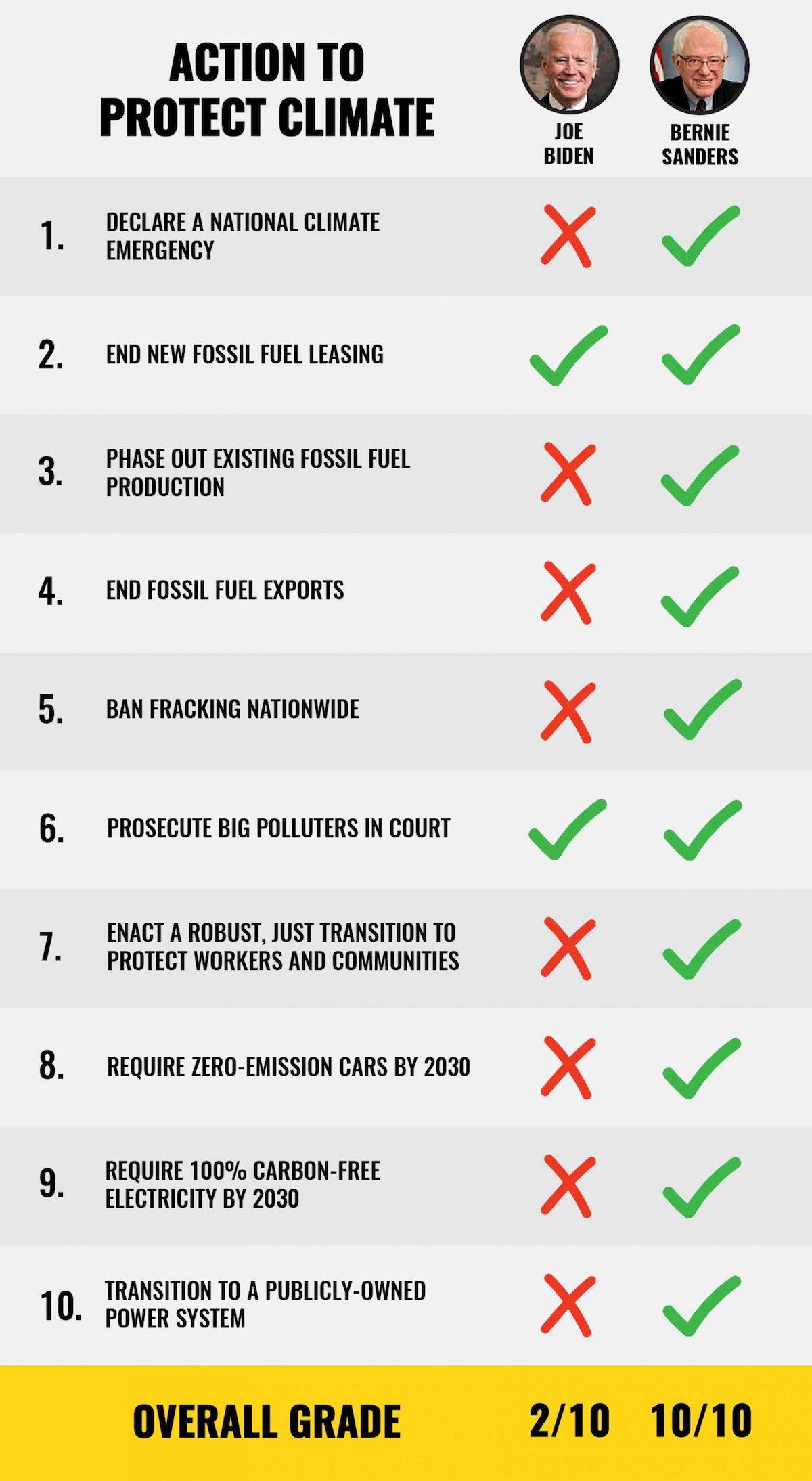 Environmental non-profit the Center For Biological Diversity Action Fund recently ranked the six top Democratic candidates out of 10 on a climate scorecard, based on 10 critical policy actions they've promised to take. The scorecard now only has rankings for Sanders, who scored a 10 out of 10, and Biden, who scored a 2 out of 10. The two policies both candidates scored on are that they promise to end new fossil fuel leasing, and legally prosecute major polluters.
Greenpeace also recently ranked the remaining candidates for president. Sanders nabbed the highest score, with a 94 out of 100, while Biden scored a 72 out of 100. Shortly behind them was Rep. Tulsi Gabbard, who is still running as a Democratic candidate, with 69.5. As for the Republicans in the race, former Governor of Massachusetts Bill Weld scored a 7, and Donald Trump scored a 0.
Article continues below advertisement
If you're interested in getting into the nitty-gritty of Biden's and Sanders' detailed climate plans, they are both available to read in full on their respective campaign websites. It's clear that both candidates intend to address fossil fuels and the climate crisis should they be elected president, but Sanders' policies appear to be more stringent than Biden's.
Article continues below advertisement
Who Are Environmental Groups Endorsing for President?