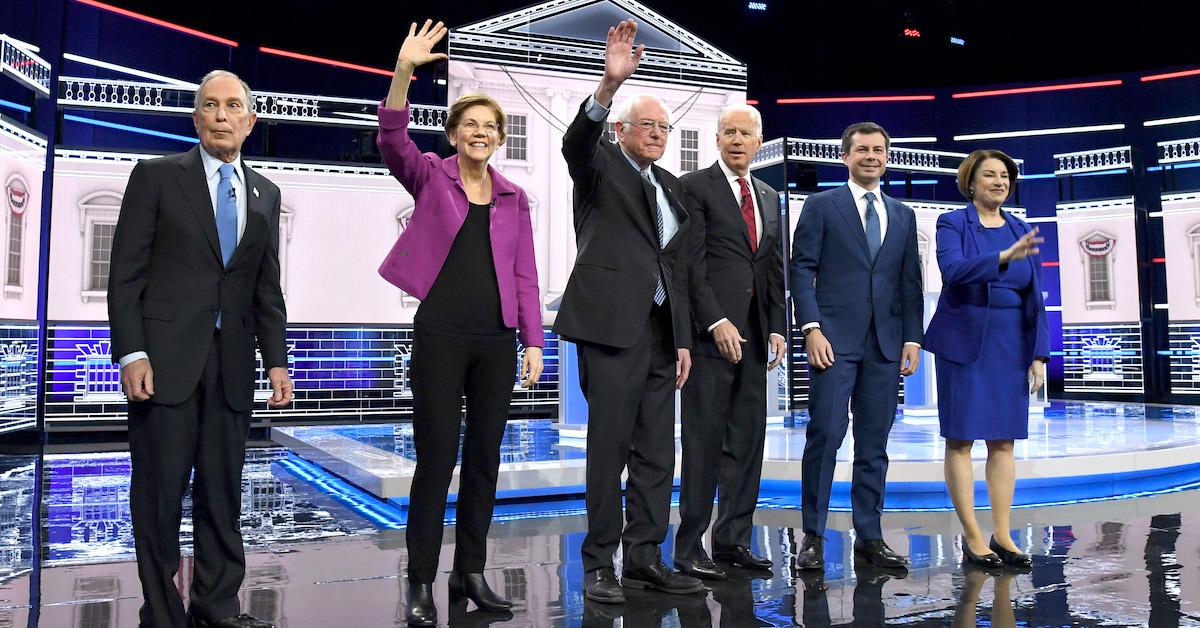 Where Do the Presidential Candidates Stand on Climate Issues?
By Sophie Hirsh
Last night, Feb. 19, six of the eight remaining Democratic presidential candidates took the stage in Las Vegas for another primary debate. About 16 minutes of air time went to the climate crisis, with the candidates making their positions clear on topics like rejoining the Paris Agreement, fracking, and environmental justice.
But even with nine primary debates, the Iowa caucus, and the New Hampshire primary behind us, many registered Democrats are still unsure who to vote for. To provide some guidance, the environmental non-profit the Center For Biological Diversity Action Fund ranked the six candidates on a climate scorecard, scoring them based on the 10 critical policy actions they have said they'll take upon being sworn into office as president.
The 10 critical actions the Center judged were whether each candidate has stated that as president, they would: declare a national climate emergency, end new fossil fuel leasing, phase out fossil fuel production, end fossil fuel exports, ban fracking in the U.S., prosecute major polluters, execute a plan to transition workers in the fossil fuel industry, require zero-emission cars by 2030, require carbon-free electricity by 2030, and transition to a publicly-owned power system.
To receive a checkmark in a category, the candidate needed to have made at least one clear statement in support of the policy (and no statements retracting it), whether it was in an interview, speech, on their campaign website, or on social media.
Here's how the candidates rank.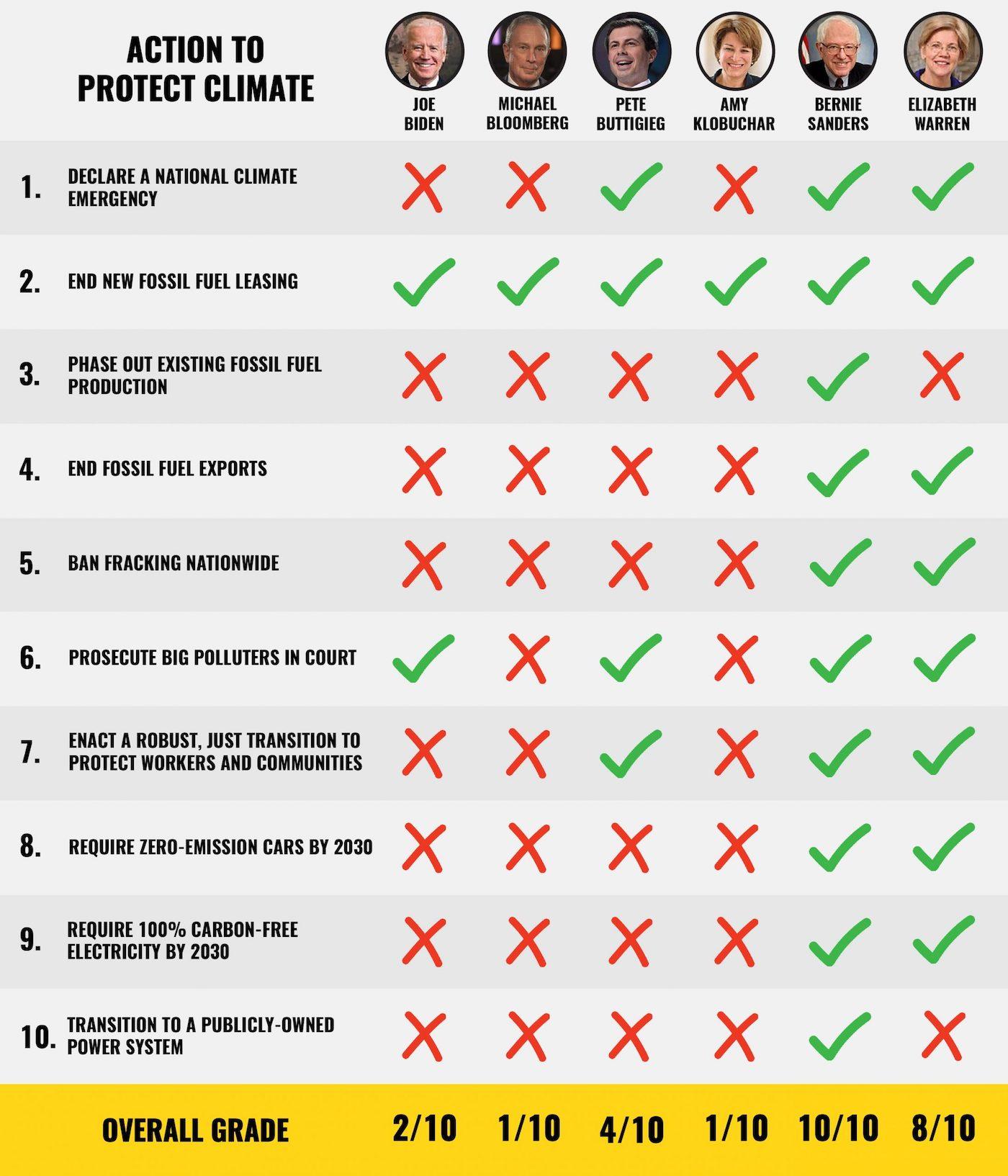 Sen. Bernie Sanders
Sen. Elizabeth Warren
Sen. Elizabeth Warren earned the second-highest score, with an 8 out of 10. Her website features a detailed page about "tackling the climate crisis head on," she calls addressing climate change a "top priority," and she is also a sponsor of the Green New Deal.
Kassie Siegel, the Center for Biological Diversity Action Fund's climate director, said in a statement that based on the scorecard, both Sanders and Warren "would use the full power of the presidency and commit trillions to fight this greatest threat to our planet," as reported by The Hill.
If we're talking school grades, the four remaining candidates would have failed this test.
Mayor Pete Buttigieg
Mayor Pete Buttigieg scored a 4 out of 10. On his website, he calls the climate crisis a catastrophe, he has expressed the urgency in which we need to enact climate policies, and he has a lengthy plan to address the climate crisis.
Vice President Joe Biden
Vice President Joe Biden scored a 2 out of 10. He is a supporter of the Green New Deal, has a detailed climate plan on his website, and spoke passionately at this week's debate— but he just hasn't made enough promises to get him a higher score on the Center's scorecard.
Mayor Michael Bloomberg
Sen. Amy Klobuchar
Sen. Amy Klobuchar tied for last, with a score of 1 out of 10. Both Bloomberg and Klobuchar's sole checkmark was thanks to them stating they would end new fossil fuel leasing — which is actually the only category for which all six candidates received a checkmark.
Both Bloomberg and Klobuchar have shared their support of using natural gas a "transition fuel" away from oil and gas. But why not just skip ahead to renewable energy sources? As Earther put it, the two candidates' climate policies are "simply not enough."
"The stark differences between how the candidates would address the climate crisis shouldn't be glossed over," Siegel added, via The Hill. "Bloomberg's climate plan contains almost no bold executive actions, firm targets to curb greenhouse pollution, or spending to confront the emergency."
There are still two more Democratic candidates in the race, but they are both polling at 1 percent or less, and neither of them qualified for the debate this week or for the Center's climate scorecard: Tom Steyer and Rep. Tulsi Gabbard.
Tom Steyer
According to The New York Times, addressing the climate crisis is one of Steyer's signature issues. On the climate justice page of his website, he boasts: "On day one of my presidency, I will declare the climate crisis a national emergency." He plans to neutralize pollution by prioritizing transitioning workers to jobs in clean energy, establishing climate-friendly transportation, and supporting the low-income communities who are most affected by pollution.
Rep. Tulsi Gabbard
On Rep. Tulsi Gabbard's website, she states support of a fracking ban, an intention to end fossil fuel and agribusiness subsidies, and plans to build a 100 percent renewable energy economy.