Is Offshore Drilling Safe? Many Would Like to See It Banned
Oil companies claim that offshore drilling is safe, but annual environmental disasters have consistently proven otherwise.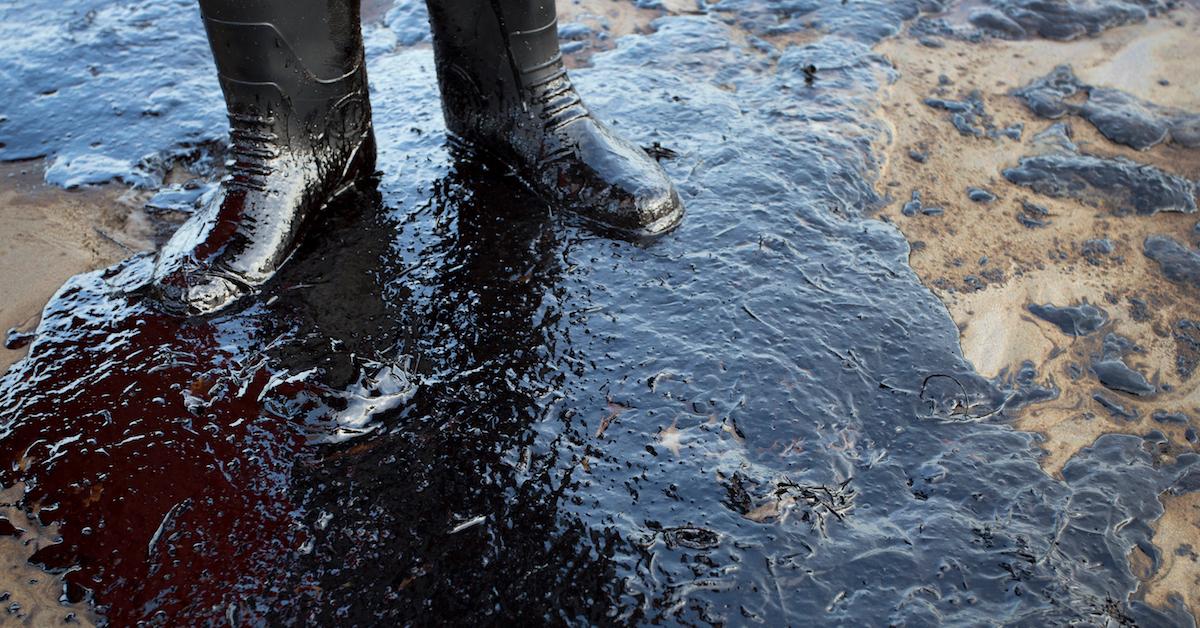 Recent maritime disasters involving oil spills have caused many people to reevaluate the safety of the environmentally destructive practice of offshore drilling. Despite leaks, fires, explosions, and widespread pollution, many oil companies still assert that offshore drilling is safe.
At the same time, environmental groups and affected maritime communities argue that offshore drilling should be banned entirely, and have helped to accomplish this in some countries.
Article continues below advertisement
Major oil companies claim that offshore drilling is safe.
Over the years, accidents involving offshore drilling have prompted oil companies to make certain provisions against further environmental devastation. According to HowStuffWorks, oil companies have done what they can to improve their overall preparedness against future blowouts by implementing safety protocols on oil rigs such as sturdier wells and improved blowout protectors, which are designed to keep the oil and gas from rushing too quickly through the pipes.
At the same time, some oil companies have added robotic subs and remotely operated vehicles (ROVs) to their rigs. According to HowStuffWorks, these robots can do everything that a human can do in terms of oil rig upkeep, from turning bolts to opening and closing valves. The only difference is that they can operate in highly-pressurized ocean depths where human workers cannot go.
Article continues below advertisement
Finally, there are technological provisions in place that can track and contain oil when it is released. Chemical disbursements can dissipate underwater clouds of oil, while specialized ships skim the oil from the surface. As good as all of this sounds, however, the overall effectiveness of these measures seems to be a topic of some dispute.
For example, while 14 ROVs were employed and helpful in preventing widespread destruction during the Deepwater Horizon Blowout, these devices are only as good as the operators who are trained to use them. And, we might add, these devices would not even be necessary if the day-to-day safety operations of offshore drilling were properly monitored, and equipment was maintained to a level commensurate with its high degree of use.
Article continues below advertisement
Many still believe that offshore drilling should be banned.
In an age where we as a species should be looking at more renewable sources of energy, we find ourselves clinging to fossil fuels and using outdated methods for drawing those substances out of the earth. The fact is, offshore drilling comes with far more environmental risk than reward. The use of these fuels, the burning of gas and oil, contributes greatly to carbon emissions and climate change.
Article continues below advertisement
According to DebateWise, the short-term and long-term effects of offshore drilling have the potential to wipe out entire swaths of marine species, which could have a marked and permanent effect on marine biodiversity. But wildlife isn't the only thing at risk thanks to offshore drilling. National Resource Defense Council (NRDC) holds that this type of drilling puts workers, communities, and waters in just as much danger.
Rising ocean levels, ocean acidification, and ocean anoxia are all widespread problems caused by the excavation and burning of fossil fuels. Fortunately, people involved in the local governments of coastal communities are beginning to realize this, according to CNBC. For example, the Florida Coastline Act of 2019 was designed to ban oil and gas leasing in eastern areas of the Gulf of Mexico off the Florida coast.
Article continues below advertisement
According to Oceana, another, more expansive measure was also passed around that time, one which permanently banned oil and gas leasing off the Pacific and Atlantic coasts. Rep. Joe Cunningham spoke of the bill to CNBC, saying, "This bill acknowledges that if we don't act, drilling rigs could soon appear off of our beaches."
Nevertheless, bills like this aren't just about protecting beachgoers and fisheries, they're put into effect to minimize the presence of such rigs throughout the Seven Seas, thereby protecting all coastal communities.
Article continues below advertisement
What countries have banned offshore drilling?
Several countries have already banned offshore drilling in and around their coastline, according to Offshore Technology. France, Costa Rica, Belize, Denmark, and Ireland have all made strides towards the outright banning of offshore drilling, but it's New Zealand's 2018 ban of new oil and gas development permits that bears the most discussion here.
Article continues below advertisement
Unlike other countries which have made somewhat empty promises regarding reaching net-zero emissions by 2050, New Zealand's Prime Minister Jacinda Ardern seems adamant in her desire to fight climate change. With 22 offshore exploration permits for oil and gas and two-thirds of its petroleum coming from overseas imports, the banning of offshore drilling could not only cost the country billions, it would also make getting foreign oil even more difficult.
Nevertheless, such drastic actions are the only ones that can put an end to the problem of offshore drilling, which would, in turn, strike a huge blow against climate change. It may be a struggle for many that make their living in that way, but if there's no planet left for their children to inherit, what's the point of it all?