IKEA Is Building Solar Car Parks as a Clean Energy Investment
IKEA is investing in clean energy by building solar car parks as canopies for its parking lots, to supply the stores with means of clean energy.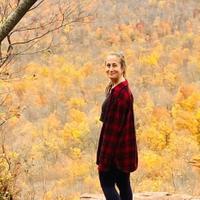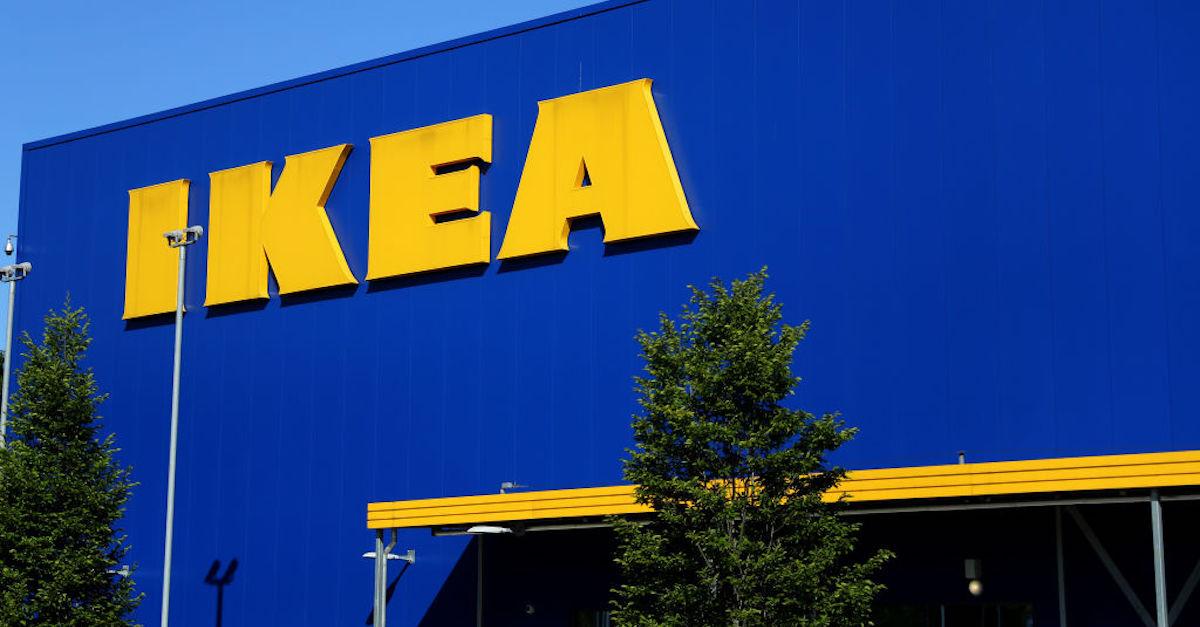 One of the most crucial ways to curb global warming is for society to start transitioning to alternative, renewable sources of energy. And although it may be somewhat difficult for major corporations to officially make the change, and shy away from oil, gas, and electricity, IKEA just made some serious money moves, to attain its goal of switching to 100 percent renewable energy by 2025.
Article continues below advertisement
The Swedish furniture store is currently in the process of installing massive solar panels in certain locations' parking lots, in an effort to meet long-term sustainability goals. Needless to say, IKEA's solar car parks are a groundbreaking innovation.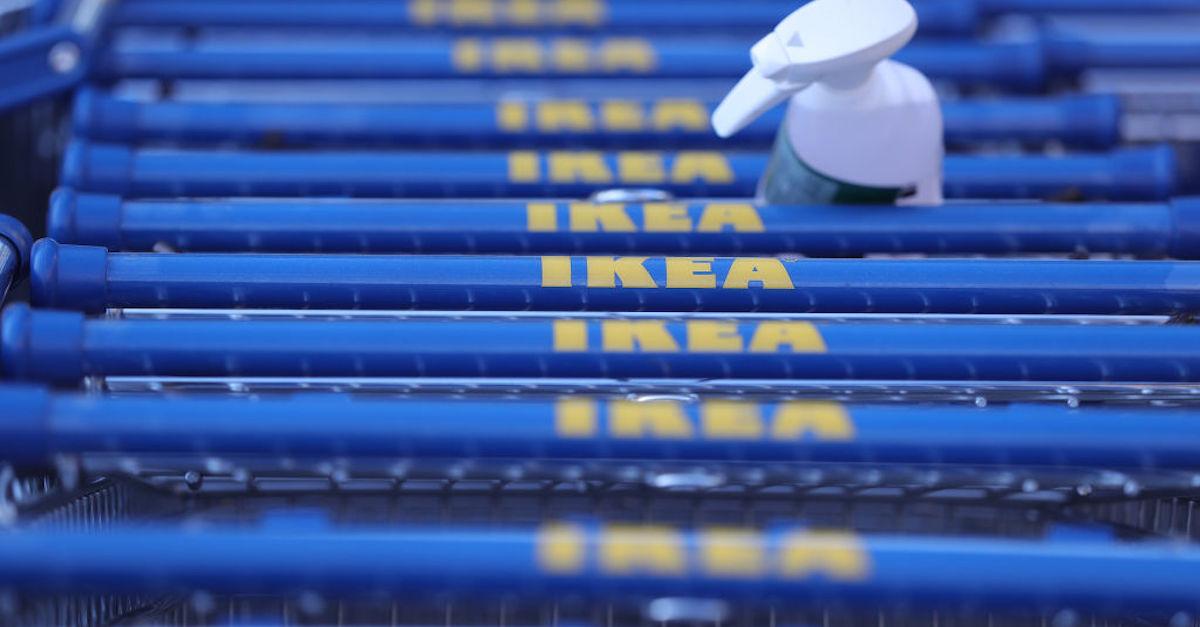 Article continues below advertisement
What are IKEA's solar car parks going to look like?
On Thursday, Feb. 25, IKEA announced it officially completed its first solar car park at its Baltimore location, which has thus far saved the store from buying 84 percent of energy that would normally need to be purchased from September through December 2020, according to a press release. The solar panels were added to the top of the location's parking garage, acting as a canopy, and was executed in partnership with Distributed Solar Development (DSD).
Luckily, this won't be the chain's only solar panel car park — there are currently seven more in the works that will be finished by the end of 2021. You can expect to see them at IKEA College Park in Maryland, and in Burbank, Costa Mesa, East Palo Alto, Emeryville, San Diego, and West Sacramento in California. There are also solar panels installations being planned that will be implemented atop many IKEA stores.
Article continues below advertisement
With these car parks, IKEA expects to produce 10.7 GwH of energy annually. And because five of them include energy storage systems that can hold 5 MWhs, they'll be able to save more energy for later.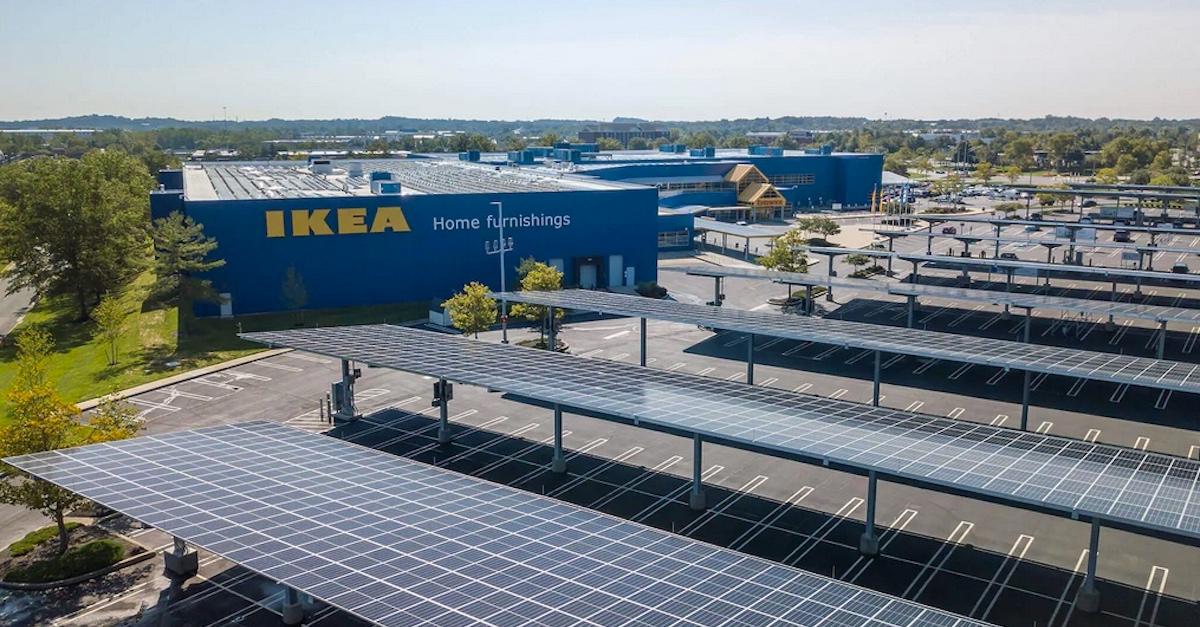 Article continues below advertisement
"At IKEA, we aim to have a positive impact on people and planet, which is why sustainability is embedded in every part of our business. We currently have 54 rooftop solar arrays atop 90% of our IKEA U.S. locations and Ingka Group, a strategic partner in the IKEA franchise system, has invested in two solar parks with 403-megawatt capacity in Utah and Texas," Jennifer Keesson, Country Sustainability Manager at IKEA Retail U.S. said in an official statement, per the press release.
"This addition of eight solar projects is the latest in a series of investments IKEA has made in renewable energy, and marks a significant step forward in our goals to be climate positive."
Article continues below advertisement
What other sustainability initiatives has IKEA taken?
IKEA has taken several sustainability initiatives over the last few years. In 2020, store created sustainable mobile tiny homes that save water, forego gas, and promote eco-friendly construction initiatives, such as using the whole tree for most of the structure. IKEA also bought an 11,000-acre forest in Georgia in January 2021, which will be protected from deforestation, and will be open to the public.
For Black Friday last year, IKEA also implemented a buyback program, that enabled customers to sell old IKEA furniture back to the store, instead of promoting people to buy new furniture at low prices. Pieces that couldn't be resold would be donated or recycled. The store even recreated its famous meatballs, to cater to plant-based customers.
IKEA is working hard to attain its sustainability goals — hopefully more companies will follow suit.