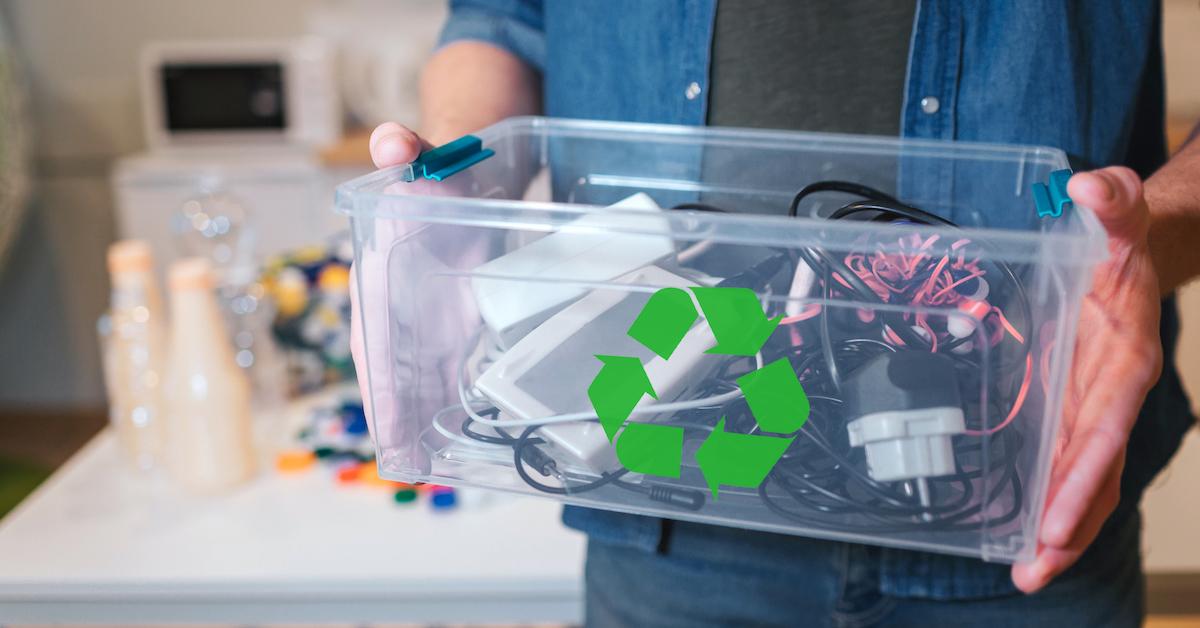 How to Recycle Old Electronics, No Matter the Condition
Whether it's a fax machine, a TV, or a blender, getting a new appliance or piece of technology always feels so exciting. But now, the digital camera that once brought you so much joy just sits quietly in a desk drawer, overshadowed by your iPhone's camera lens; a broken toaster oven is in the garage collecting dust instead of crumbs; and about seven tangled pairs of airplane headphones are taking up space in random spots all over the house. The sensible thing to do would be to Marie Kondo your life and get those items out of the home — but if you're trying to live a sustainable lifestyle, you're probably wondering if there's a way to recycle electronics.
Luckily, there are plenty of places that offer free electronic recycling, as well as many places that accept donations of electronics that still work. Just as important as being a conscious consumer is being responsible when getting rid of possessions — and that's especially important when it comes to electronics, considering the facts that e-waste makes up 2 percent of the trash in U.S. landfills and only 12.5 percent of e-waste gets recycled.
So read on for all the easiest and most responsible ways to recycle every possible electronic item you have sitting around your house.
Article continues below advertisement
How to Dispose of Old Electronics
The first question to ask yourself is: Is this item still usable? Maybe that hand mixer works perfectly but you just haven't baked in a decade; perhaps you're moving or are looking to declutter, so that clunky printer just doesn't serve a purpose anymore; or maybe you got a new laptop and your old one just isn't needed. If you genuinely think someone would still use the item, consider selling or donating it before you recycle it. And an important note: make sure to always perform a factory reset on computers and tablets before recycling or donating them.
How to Recycle Old Electronics
If you have electronic items to recycle, your local Best Buy or Staples may be able to help. Both national chains have free electronic recycling programs at all of their U.S. stores (not including Staples' smaller-format stores in NYC and D.C.). Many municipalities also offer occasional electronic recycling; and the recycling experts at TerraCycle offer some options as well.
Article continues below advertisement
Staples' Free Electronic Recycling Program
Staples accepts pretty much any technology item you'd find in an office, such as cameras, cables, laptops, phones, printers, shredders, fax machines, gaming consoles, GPS devices, flash drives, bluetooth speakers, tablets, mice, keyboards, coffee machines, and so on.
You can bring items to Staples from any brand and in any condition — so these programs are really great solutions for broken items that cannot be resold or donated.
But before heading to your local Staples, it couldn't hurt to check the store's website or give them a call to make sure all of your items will be accepted. Staples limits customers to recycling seven items per day per person (though the website says managers can use their discretion when it comes to accepting larger hauls).
Best Buy's Electronics and Appliances Recycling Program
Best Buy has an even more extensive recycling program, and every location of the chain accepts a very similar list of items to Staples — essentially, any electronic item you'd find in an office or around the house, not including kitchen appliances. However, Best Buy's program takes things a step further than Staples and accepts a few non-office appliances as well, such as vacuums, fans, curling irons, and hair dryers; Best Buy will even haul away TVs from your home or office and recycle them for a fee (but not in Connecticut and Pennsylvania, for whatever reason).
The program also accepts items whether they are perfectly functioning or totally broken — meaning you can rest easy knowing that your items are not just being sent straight to the landfill.
Best Buy limits customers to recycling three items (as well as five laptops and two TVs) per day, so if you have more items than that, consider calling your local store to ask a manager if that's OK.
Article continues below advertisement
Local Electronic Recycling Options
In addition to Best Buy and Staples, your town or city may hold recycling days for items that cannot typically be recycled curbside — so definitely check out your municipality's website to see if a recycling event is coming up. Additionally, some local recycling centers accept technology and appliances for recycling, so if there's one near you, don't hesitate to ask what items they accept.
Also, some cities with particularly thorough recycling programs allow some appliances to be put in mixed recycling bins alongside bottles and cans — seriously! For example, New York City residents can put small appliances that are mostly metal or rigid plastic in their recycling bins, such as toasters, toaster ovens, blenders, and mixers.
TerraCycle's E-waste Zero Waste Box
Private recycling company TerraCycle can recycle just about anything — so it's no surprise that the company has an e-waste recycling program. You can purchase an E-waste cardboard box from the company and use it to collect all of your phones, cables, keyboards, radios, cameras, computers, turntables, stereos, etc. that you or your office needs to recycle. Once full, mail the box back to TerraCycle for recycling.
If you're interested in a private recycling company that can come to your office or home and haul away multiple electronic items, try googling "private office electronic recycling companies in [your town]," since services will differ depending on where you live.
Where to Donate and Sell Old Electronics
If your items are still fully usable, consider donating or selling them. Websites like Craigslist, Facebook Marketplace, and Letgo are all great places to sell or give away an electronic item to someone who needs it, which will extend the life of the item. You can also look into Buy Nothing Facebook groups and Freecycle if you'd like to give the items away for free. You never know what tinkerers are out there!
If you don't have any luck selling them item, consider dropping it off at your local thrift store — but make sure to ask the store manager what happens to donated appliances that do not sell. Unfortunately, some charity shops throw away items that have been on the shelves for several weeks with no sign of selling.
The three Rs of recycling go reduce, reuse, recycle — so do your best to only buy electronics that you need, use them until they are no longer usable, and when there's no other option, take advantage of a recycling program. And to take your sustainable lifestyle to the next step, utilize some of the above resources when shopping for electronics — there's no need to buy everything new when so many items in perfect condition can be found in thrift stores, on Craigslist, and even at official retailers.