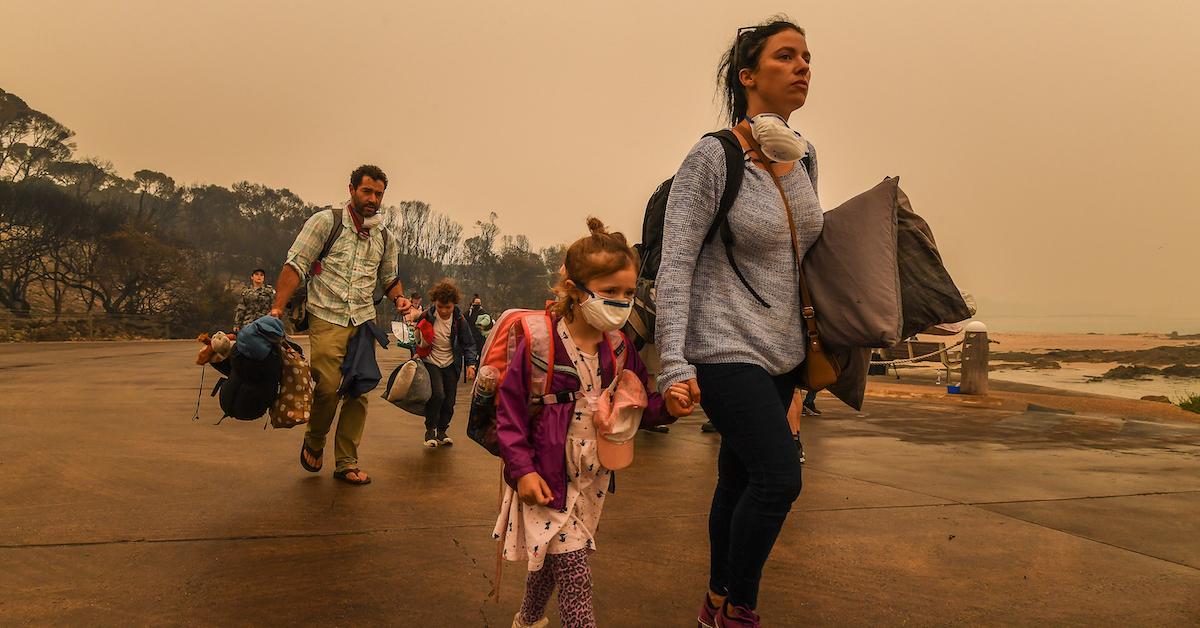 Australian Bushfires: Where to Donate to Help Victims, Animals, and More
By Sophie Hirsh
We've read the articles, we've realized the connection to the climate crisis, and we've shared our feelings of sadness on social media — and now, it's time to use whatever resources we have to help Australia. The bushfires tearing across Australia are not slowing down, and many Australian organizations are in need of donations.
During the 2019-2020 wildfire season so far, the wildfires have burned approximately 12 million acres of land all over the continent, according to Statista. Additionally, the University of Sydney estimates that since the fires began in September, at least 480 million animals in New South Wales have died as a result — either directly from the flames or from loss of vegetation, food, and habitat due to the fires. Not to mention, the fires have killed at least 23 people, six people are currently missing, and hundreds of thousands of people have had to evacuate their homes, according to The Guardian.
The statistics are truly heartbreaking, as are the many stories of people affected by this tragedy. Below are a few organizations working to help victims and put out the fires that you can donate to, plus a few ways to help if you cannot afford to make a donation right now.
New South Wales Rural Fire Service
The NSW Rural Fire Service is the world's largest volunteer firefighting agency, and the government-run group is working around the clock to put out fires across New South Wales (the state where Sydney is located). You can donate to the NSW Rural Fire Service via its website, or on the websites of various local chapters of the fire service. Your donation will directly benefit volunteer firefighters.
Port Macquarie Koala Hospital
Thousands of koalas have died in the fires this season, and the Port Macquarie Koala Hospital in New South Wales has been hard at work to help. Koala Hospital staff and volunteers have been searching for injured koalas in the fire's ruins as well as rehabilitating wild koalas, and a lot more money than you might think is needed to get that all done.
So far, a GoFundMe fundraiser set up by the hospital has raised more than $4.1 million. The money is going directly to the Koala Hospital's Wildlife Water Drinking Stations project, where funds are being used to install automatic drinking stations in the wild for koalas; to purchase a vehicle to tow water to refill those drinking stations; and to establish the Wild Koala Breeding Program.
Australian Red Cross
The Australian Red Cross is offering recovery programs and emergency assistance for communities affected by fires throughout Australia. Donations are currently being used to support thousands of people in evacuation and recovery centers all over the country, and to run its Register.Find.Reunite service, which reunites families that were separated in the bushfire emergency.
WIRES Wildlife Rescue
WIRES Wildlife Rescue is Australia's largest wildlife rescue and rehabilitation organization, and the group is currently working hard to rescue wildlife during the fires. In December 2019, more than 20,000 calls were made to WIRES asking for help, a 14 percent increase from the year prior. You can support WIRES by donating to the WIRES Emergency Fund on Facebook, which has already raised more than $4.3 million; or by giving to the WIRES PayPal account.
How to Help Without Donating
For those who are unable to donate financially there are a few other ways to help Australia.
Lend Your Home
If you live or own a house in safe areas of New South Wales or Victoria, you can donate your home to Airbnb's Open Homes program from now until Jan. 16. Airbnb will offer your home as emergency housing for people displaced during the fires and relief workers.
Donate Items With GIVIT
Most charities prefer monetary donations over item donations, since the charity employees know better than most of us how to stretch a dollar. However, if you do not have any cash to spare but you do have items in good condition that could be helpful, considering donating them to GIVIT, a nonprofit organization working to alleviate poverty in Australia.
GIVIT allows trusted charities to request specific items needed to help people in poverty (and currently, people affected by the bushfires). You can read more about how GIVIT works here.
Reduce Your Environmental Impact
On an individual level, there's a lot we can all do day-to-day to lower our environmental impact and curb the climate crisis. Things like eating more plant-based meals, pledging to fly less, reducing our use of single-use plastic, and campaigning for laws that will protect our planet all add up.