Google's 'Your Plan, Your Planet' Game Encourages Users to Make Eco-Friendly Fashion Pledges
Google updated its 'Your Plan, Your Planet' in time for Earth Day, and the fashion pledges are pretty interesting.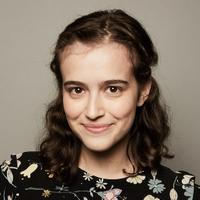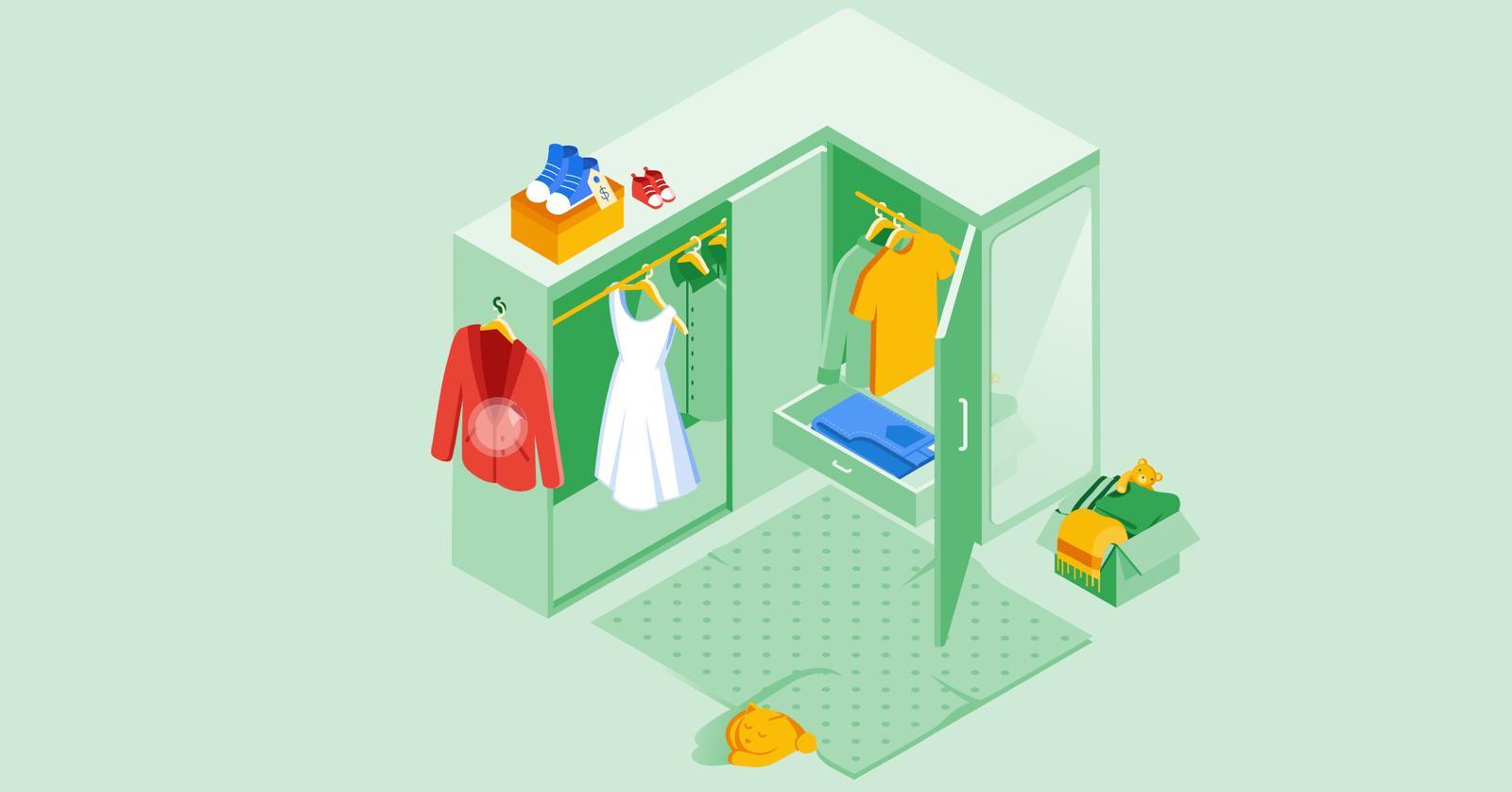 In honor of Earth Day this year, Google wants you to pledge to lower your environmental impact and support a circular economy — but to have fun with it. To help users do that, Google made an important addition to "Your Plan, Your Planet," an interactive tool that the tech company first rolled out in September 2018. The digital tool walks users through the idea of a circular economy, provides tips on extending the life of your stuff, and suggests innovative and simple ways to reduce your footprint.
Article continues below advertisement
Previously, Your Plan, Your Planet featured three pillars: water, food, and energy. But in honor of Earth Day, Google, along with its partners the California Academy of Sciences and the Ellen MacArthur Foundation, added a fourth pillar: stuff. The stuff pillar focuses on a slew of things people use day-to-day — primarily clothing, but also other things like household items, electronic tools, furniture, toys, single-use plastics, and more. You can explore the new pillar for yourself by visiting yourplanyourplanet.sustainability.google.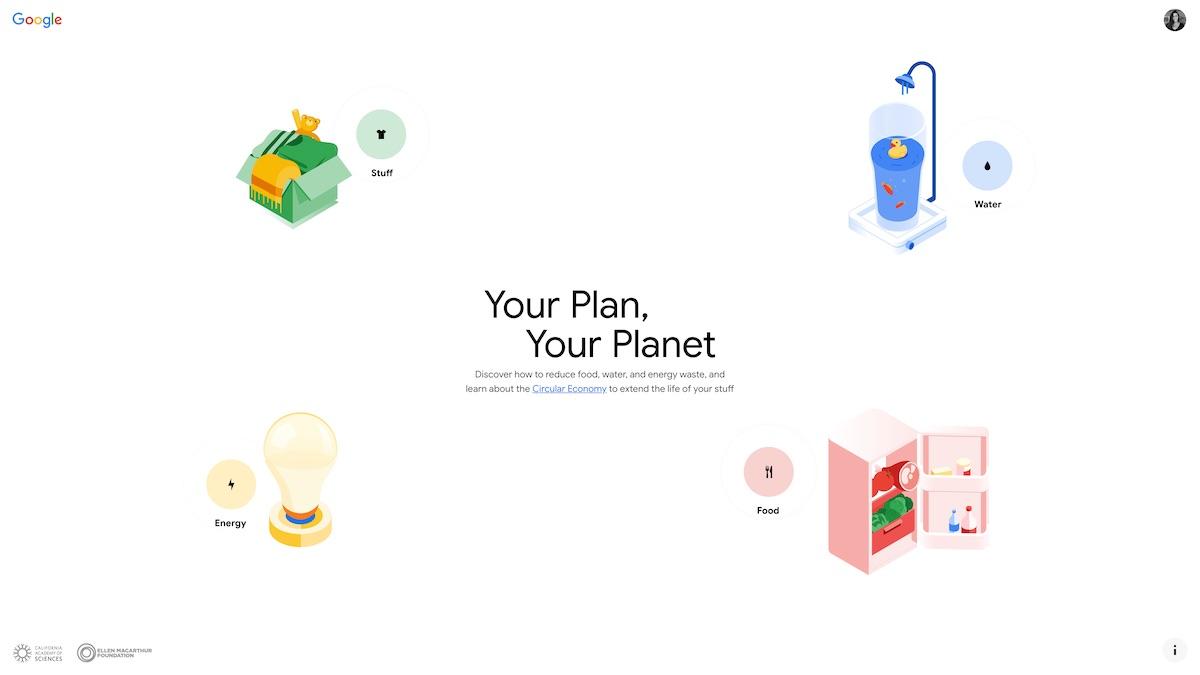 Article continues below advertisement
Once you click one of the four pillars, you'll be faced with things like fun facts about industries in question, questionnaires about your own personal habits, interactive educational games, and tips and pledges to help you reduce their carbon footprint.
The stuff section starts out with a pop quiz about the fashion industry. Do you know many pieces of clothing are produced globally every year? (100 billion garments.) How much clothing is landfilled or burned every second? (A garbage truck's worth.) What percent of clothing materials wind up being recycled into new textiles? (Just 1 percent.) What's the global cost of usable clothes disposed of every year? (A whopping $460 billion.)
Article continues below advertisement
After horrifying users with those not-so-fun facts, the "stuff" section then launches into a series of tips and pledges. Some of them are run-of-the-mill, for example: switch from single-use plastic water bottles to a reusable one, and take clothing in need of repairs to a tailor instead of replacing it.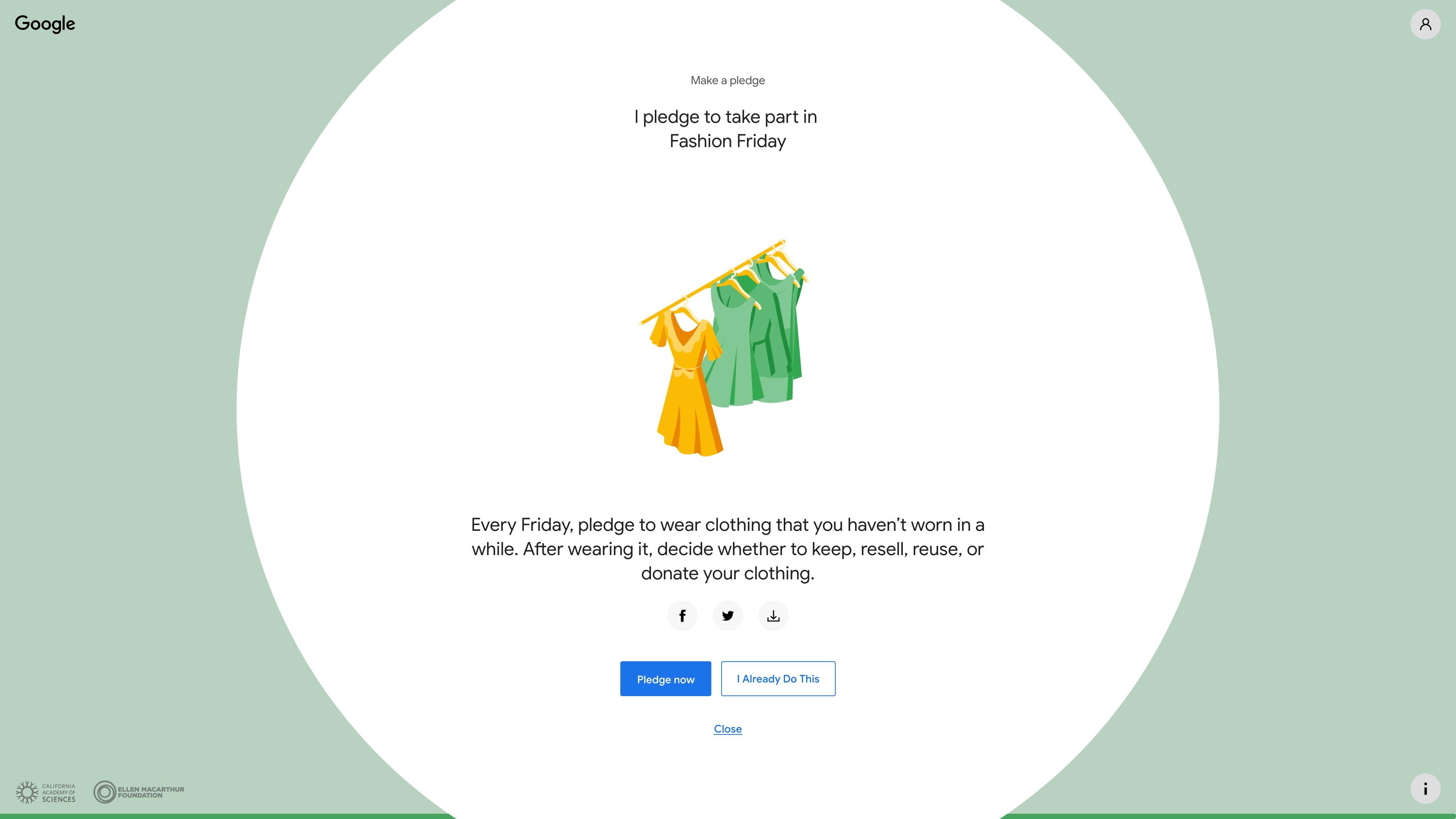 Article continues below advertisement
But, Your Plan, Your Planet also provides users with more innovative tips regarding "stuff" that even the staunchest zero-wasters may not have considered, such as: donate unwanted hangers to your dry cleaner; give old furniture a tune-up to preserve it; and every Friday, try wearing clothing you haven't worn in a while, and then decide if you should keep, resell, or donate the garments. The Fashion Friday pledge has garnered the attention of popular fashion news outlets including WWD, proving how important it is to extend sustainability efforts to every industry.
In addition to picking up a few tips from Your Plan, Your Planet, there are so many ways to be more eco-friendly with your wardrobe, or your "stuff." Here are a few of our best suggestions: consume less clothing; shop secondhand or from sustainable brands; invest in high-quality pieces that will not need to be replaced for years; buy clothing made from natural materials; reach out to brands you like and ask them to make their manufacturing processes more eco-friendly and ethical; and when an item of clothing has reached its end-of-life, make sure to dispose of it responsibly. There are so many ways to do that — for example: by composting natural fibers; selling on secondhand apps like Poshmark, Depop, or eBay; donating to reputable organizations that do not throw away surplus donations; or recycling the fabric if the clothing is no longer wearable.