Girlfriend Collective Releases "The Wash Bag" to Keep Microfibers Out of Oceans
Girlfriend Collective's Wash Bag is designed to keep microfibers from synthetic clothing from releasing into your washing machine and therefore waterways.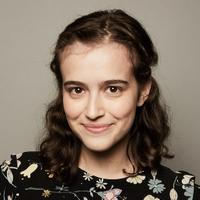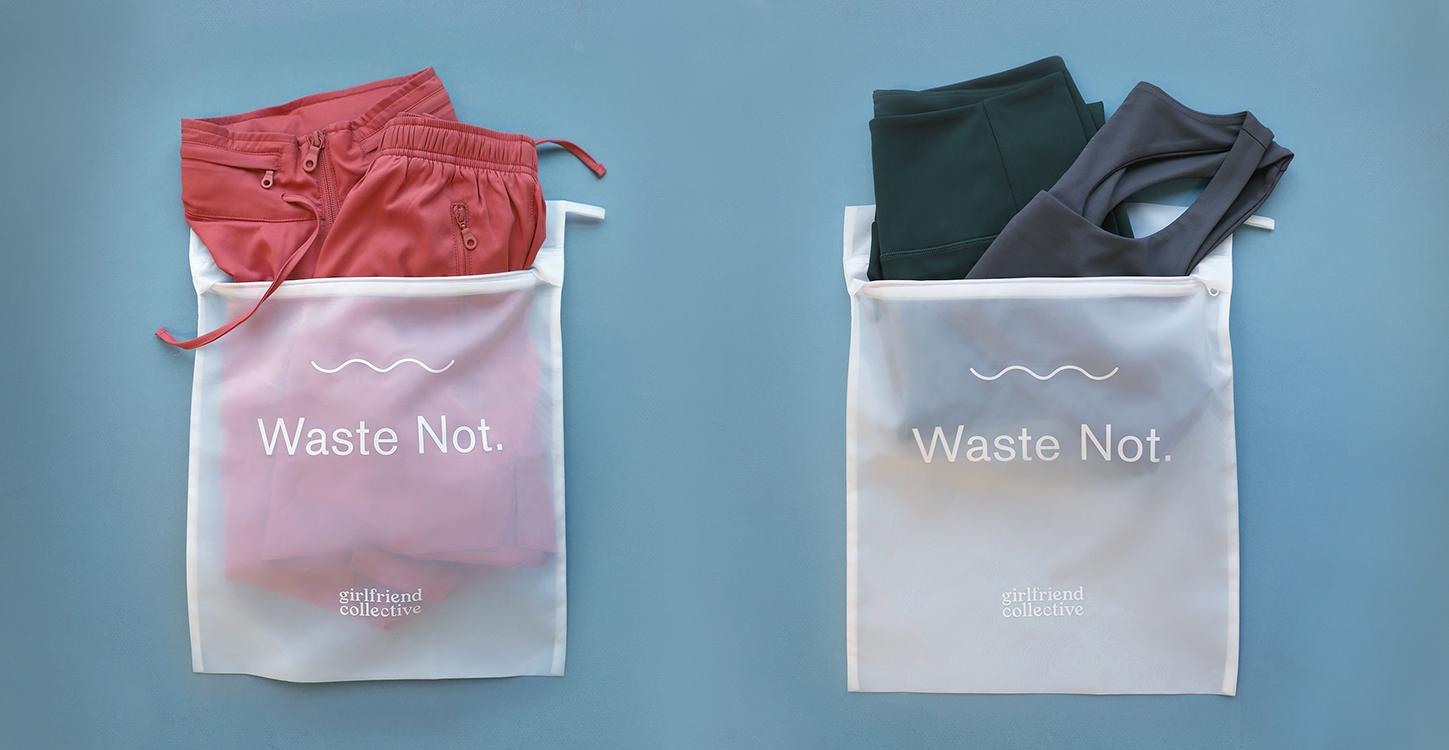 Girlfriend Collective, the trendy and relatively sustainable activewear brand known for making its matching workout sets from recycled plastic, has just introduced a new product to help lower fashion's impact. In an email to subscribers on Wednesday morning, Jan. 15, Girlfriend Collective unveiled the Wash Bag, a portable mesh washing bag that traps microfibers your clothing releases in the washing machine, and keeps the synthetic particles from entering waterways.
Article continues below advertisement
The Wash Bag is made from monofilament similar to fishing line, so the bag itself will not shed in the washing machine, and it won't let any microfibers escape — instead, it will only let soap and water in and out. The bag is notably similar to the Guppyfriend bag, which was previously the only (or at least the primary) microfiber washing bag on the market.
But while the Guppyfriend bag retails for between $29.75 and $42, Girlfriend Collective's Wash Bag retails for $18. The lower price is reflective of the product's size (the Wash Bag is 15" tall and 12 1/4" wide, while the Guppyfriend is 27 9/16" tall and 19 11/16" wide), as well as Girlfriend Collective's direct-to-consumer business model (Guppyfriend is sold by a variety of retailers, including Patagonia, Reformation, and Package Free Shop).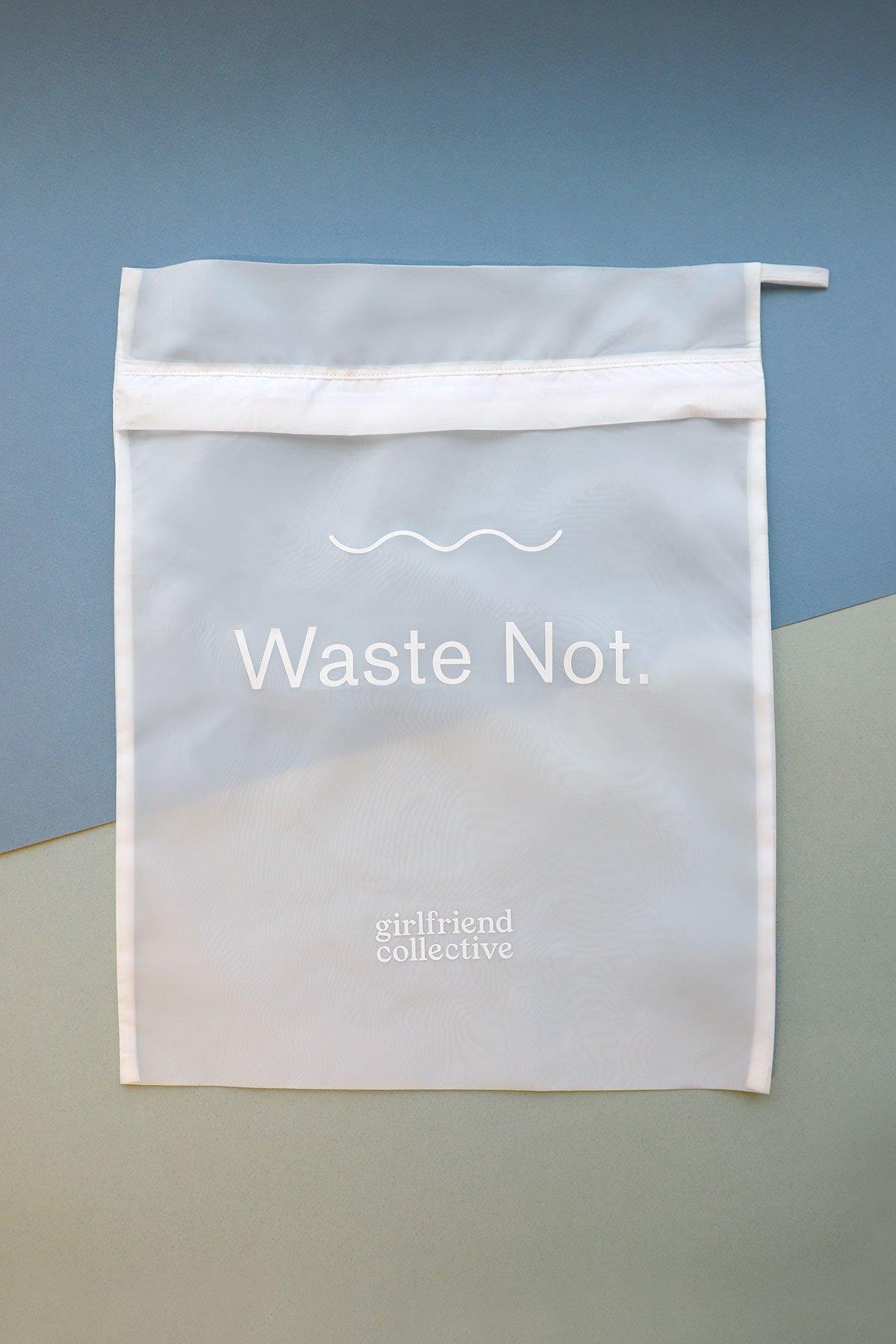 Article continues below advertisement
To use the Wash Bag, fill it up with synthetic fabrics no more than three-quarters of the way full, zip it closed, and throw the entire bag into the washing machine alongside your natural-fiber clothes. (You can also use the bag to hand wash synthetic clothing in the sink.) After washing, hang the Wash Bag to dry, and scrape out microfibers into the trash. This is obviously not ideal, but better in the landfill than in rivers or oceans. To ensure that the fibers remain contained, you can scrape them into a bottle or container, and once full, putting the bottle itself into the trash.
Interestingly, the Wash Bag is Girlfriend Collective's second product designed to help consumers keep microfibers out of the ocean. The company also sells the Microfiber Filter, a $45 microfiber filter that can be installed on your washing machine. For people who do their laundry in a shared washing machine, installing a filter is not an option — so something portable like the Wash Bag (or the Guppyfriend or the Cora Ball, which retails for $37.99) may be more accessible.
Article continues below advertisement
How Do Microfibers Shed?
When fabric rolls around in the washing machine, it sheds microfibers, which are are teeny-tiny fibers (less than 5 millimeters in diameter). This is only a concern when washing fabric made from synthetic materials (think polyester, nylon, spandex, rayon), which will not break down (unlike fibers from natural materials such as cotton or bamboo, which will break down in the water).
Article continues below advertisement
Why Are Microfibers Bad?
Microfibers are also a kind of microplastic — so when these tiny fibers shed in the machine, they enter the water pipes, and flow to waterways like oceans and rivers; once there, they become plastic pollution, and are often consumed by fish and other sea animals. An estimated 100,000 synthetic microfibers are shed during every wash cycle, according to Wired.
How to Keep Laundry From Shedding Microfibers
There are a variety of ways to lower the amount of microfibers your laundry cycles release, even if you don't have the Wash Bag or a similar product. According to Plastic Pollution Coalition, you can: run loads as full as possible (full loads cause less friction and less microfibers to shed); wash with cold water, which encourages less microfibers to release and uses less energy; wash your clothing less often; and wear clothing made from natural materials instead of synthetics.