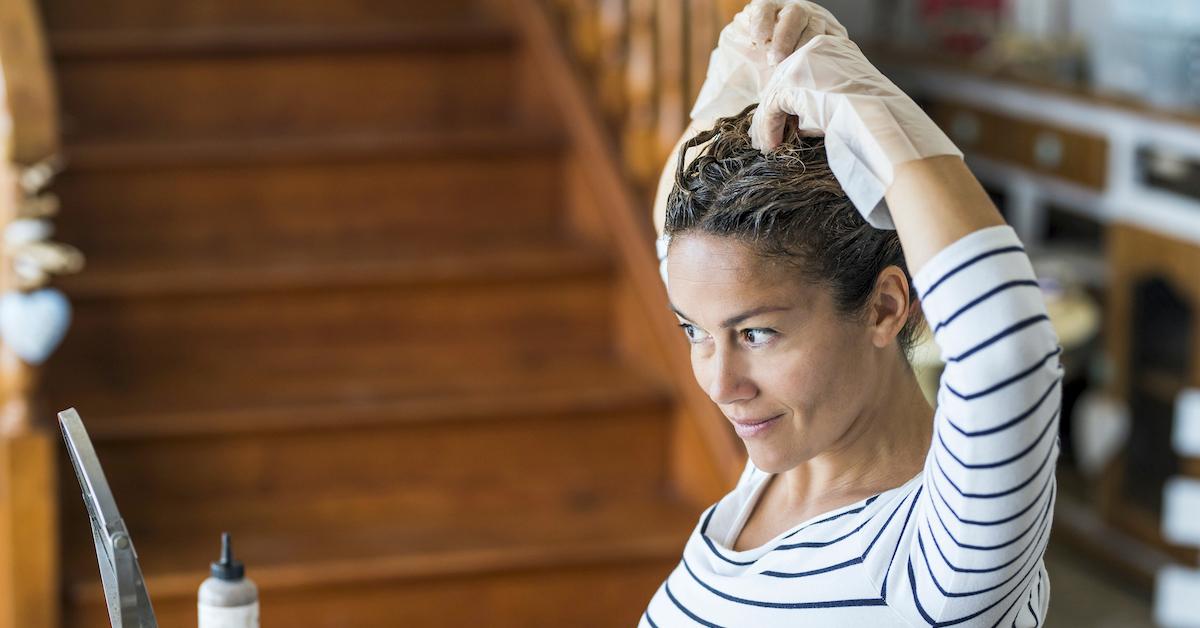 Eco-Friendly Hair Dye: Natural and Cruelty-Free Options You Can Apply at Home
By Sophie Hirsh

Updated
With hair salons around the world closed due to the COVID-19 pandemic, many people are attempting to touch up their roots or apply highlights at home for the first time. If you can't stop thinking about restoring your hair to its pre-quarantine glory, you may be wondering: Does eco-friendly hair dye exist?
Eco-Friendly Hair Dye
The market is filled with endless options when it comes to hair dye, and while many of them wouldn't meet the average environmentalist's standards, fortunately, there are plenty of hair dyes that are eco-friendly — to varying degrees. Read on for why many people look for natural, eco-friendly, and ethical hair dye, and for a list of brands that make sustainable hair dye.
It's important to note that not all of the dyes on this list are perfect environmentally — these are just some of the best options on the market.
Does hair dye pose a breast cancer or health risk?
People often wonder if hair dye can cause cancer, particularly breast cancer. According to the American Cancer Society (ACS), studies have been conducted examining the risks between conventional hair dye use and bladder cancer, non-Hodgkin lymphoma, leukemia, and breast cancer. The results of these studies are fairly mixed, but several major health organizations (including the WHO) do agree that there are particular chemicals used in some hair dyes known to be carcinogenic, per the ACS.
Because there is no sweeping scientific consensus on this matter, it's important to do your own research and buy whatever hair dye makes you comfortable.
Additionally, the strong chemicals in some hair dyes can cause atopic allergic reactions, such as skin rashes, flaking of the scalp, and swollen eyelids, according to dermatologist Dr. Nilam Amin.
Are there cruelty-free hair dyes?
Eco-Friendly Professional Hair Dyes
If you prefer to color your hair with long-lasting, salon-quality hair dye, your best bet is something that is mostly natural with a small amount of synthetic ingredients, according to Justina Mejia-Montane, Vice President of Global Product Development at Aveda.
"96 percent of [Aveda's] formula is comprised of ingredients derived from nature, such as the humectants, conditioners, viscosity builders, solvents and antioxidants," Mejia-Montane told Good Housekeeping. "The remaining 4 percent of the ingredients are of synthetic content which are the colorants, dyes and preservatives … It is unavoidable to include synthetic ingredients in professional hair color because all of the colorants and dyes used in permanent and semi-permanent hair color are synthetic. These are the ingredients that create hair color via the oxidation process."
Read on for a list of hair dyes that are still cruelty-free, vegan, and relatively eco-friendly, but do contain some synthetic ingredients to help the color last longer.
Professional Dye for Colorful, Trendy Hair Colors
Professional Hair Dye for Natural Colors and Grey Root Coverage
These hair dye brands specialize in natural colors that can be used to refresh your hair color or touch up grey roots.
Naturigin
Naturigin's hair dyes are affordable and accessible, and can even be found in stores like Walmart and the Vitamin Shoppe. Naturigin offers permanent hair dye in 19 different natural shades that can be used for your whole head or just to cover greys, and their dyes are free of PTD, SLS, ammonia, parabens, and more. The cruelty-free and vegan company also works with Humane Society International's Be Cruelty Free campaign to end animal testing.
Herbatint
Herbatint's hair dyes can be used for the entire head or roots, they are formulated without ammonia, resorcinol, and parabens, and they come in a variety of natural shades as well as "flash fashion" colors. The company is cruelty-free, vegan, a certified B Corporation, and all of its products and offices are powered by wind power.
Eco-Friendly Salon Dye
If you want to get your hair colored professionally when hair salons reopen in your area, there are quite a few sustainable brands that make salon-quality hair dye.
Aveda
Consider looking for an Aveda salon, or a salon that uses Aveda colors, as the company's dyes are only available at salons. As mentioned above, most of Aveda's hair dyes are composed of more than 90 percent natural ingredients. The company's website even has a virtual hair color try-on tool to help you choose the perfect shade.
Paul Mitchell
Since its founding in 1980, Paul Mitchell has been a cruelty-free company. All of Paul Mitchell's permanent hair dyes are also 100 percent vegan, and they come in both natural and trend colors. Paul Mitchell's dyes are free of parabens, but do include PPD. Because salon-quality hair dyes are designed to last permanently, it's hard to find one that's completely free of questionable ingredients — so if you're planning to get your hair colored at a salon, make sure to do your research to find one that you are comfortable with.
The best way to prevent contracting or spreading coronavirus is with thorough hand washing and social distancing. If you feel you may be experiencing symptoms of coronavirus, which include persistent cough (usually dry), fever, shortness of breath, and fatigue, please call your doctor before going to get tested. For comprehensive resources and updates, visit the CDC website. If you are experiencing anxiety about the virus, seek out mental health support from your provider or visit NAMI.org.