The Best Eco-Friendly Flosses for Zero Wasters
Fortunately, there are a few eco-friendly floss options out there.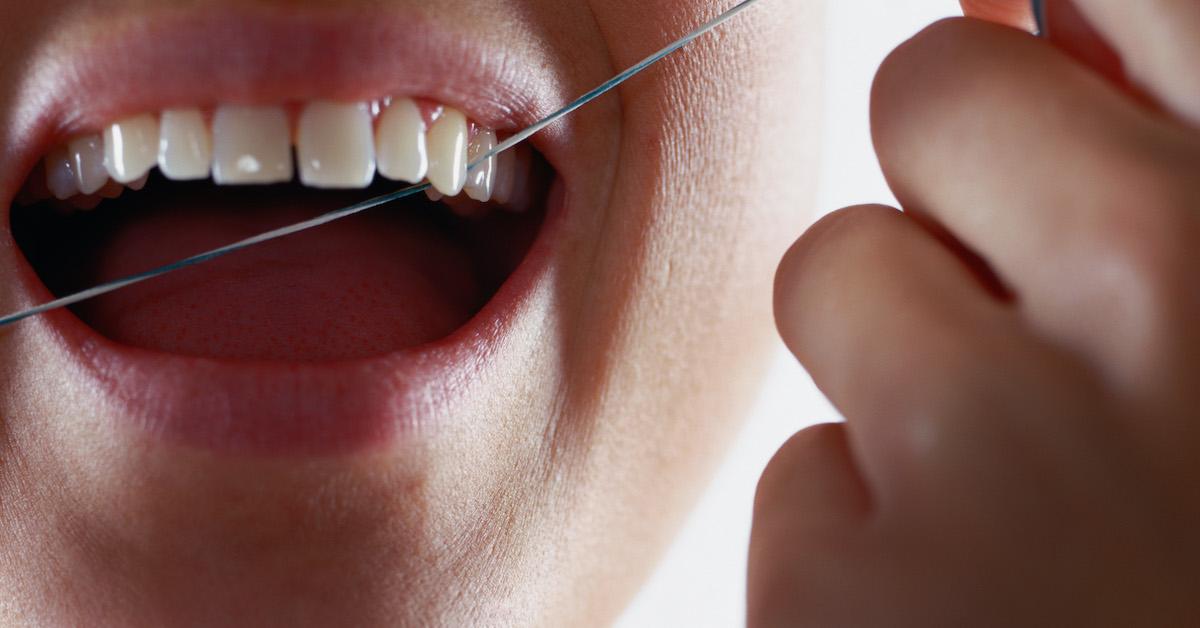 Flossing is super important, as it's an extra step beyond brushing that rids your teeth of build-up, plaque, bacteria, and food particles. Don't want cavities? Floss. Don't want to have to pay to get your cavities filled in? Floss! But as a zero waster, you may have noticed that floss isn't exactly marketed to us, at least not in the mainstream. Fortunately, there are a few eco-friendly floss options out there.
Article continues below advertisement
Most floss is made of plastic, believe it or not. When flossing, you're literally just cramming the skinniest piece of plastic possible in between your teeth. Gross. Not only is it plastic, but conventional floss is often coated with PFC, a chemical found in Teflon.
Manufacturers choose to add PFCs to floss to make it glide and fit between your teeth more readily. But does the ease with which it is to floss with PFCs forgive its potential toxicity? PFCs have been linked to affecting growth, development, reproduction, and liver injuries, according to the CDC.
Article continues below advertisement
In short, it's time to ditch the plastic floss. But in this mainstream, plastic-loving world, that may seem easier said than done. While it's not recommended to give up flossing entirely, there are a few floss brands out there that are more eco-friendly, use sustainable packaging, and ultimately, make up for the fact that floss is a single-use product that is used for no more than 30 seconds.
Read on for a few popular zero-waste floss options.
Georganics' Corn Floss
Georganics' dental floss checks off pretty much every box on our list. It's made out of corn, and is coated with vegetable wax and organic oils. It is fully compostable, and it's also certified vegan and cruelty-free by PETA. Plus, it comes in several flavors, including orange.
Article continues below advertisement
Georganics' floss comes in a reusable glass container with a metal dispenser. The rest of the packaging is also very eco-friendly and thoughtful, as the kraft box it comes in is compostable and biodegradable. When you're done with the floss, simply reuse the glass container and buy the floss refills.
Cocofloss
Cocofloss is a more eco-friendly version of plastic floss. Ingredients include vegan wax (as a gliding substitute to PFCs) and coconut oil (soothes the gums), and the floss is also vegan, cruelty-free, gluten-free, and paraben-free. With over 500 polyester filaments that file plaque away, this floss is probably the best-tasting floss out there, as it features fruit oils for taste.
Article continues below advertisement
That being said, Cocofloss is not really a zero-waste floss brand. The floss itself is made of plastic and cannot be composted, and the packaging still leaves much to be desired as it is 100 percent made from plastic, too. That said, the brand does offer refills to reduce packaging waste, as well as various flosses that benefit wildlife charities.
Bambun
Silk is a common biodegradable alternative to traditional plastic flosses. However, since it is made from the silk spun by silkworms, this kind of floss is not vegan. If that's important to you, then consider one of the vegan flosses on this list.
Though it isn't vegan, Amazon's Bambun silk floss is non-toxic and compostable, as it's made from natural mulberry silk, candelilla wax, and natural mint flavoring.
Article continues below advertisement
The bottle the product comes in is reusable; you simply continue to buy the floss spool refills every time you finish the floss. All of the packaging is plastic-free, as it comes in a recyclable cardboard box and inside, it's fitted in a biodegradable corn starch bag.
Dental Lace
Not only is Dental Lace's packaging pretty and vibrant, but the brand makes both a silk option and a vegan option. The silk floss is made of mulberry silk floss, and coated with natural mint flavoring and candelilla wax.
Dental Lace's vegan floss is made of bamboo charcoal-infused polyester that cannot be composted, but the company's plant-based vegan floss is made from a corn-based bioplastic that is biodegradable and compostable.
Packaged in a glass container with a steel lid, Dental Lace's refill packaging is made from cellulose created from the lactic acid in plants, making it certifiably compostable. As for the box it comes in, that's eco-friendly, too, as each box is made from 100 percent post-consumer fibers. Additionally, all of Dental Lace's printing is done with soy-based inks and the packaging is manufactured using renewable biogas energy.