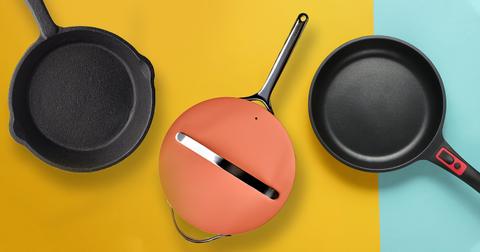 Which Cookware Is Best for Your Health and the Environment?
By Sophie Hirsh
When looking to purchase environmentally-friendly and safe cookware, there are so many things to take into account: Are the pots and pans non-toxic? Non-stick? Plastic-free? Easy to clean? Made ethically? And of course, will they do a good job of actually cooking? In my experience, a lot of cookware only ticks a few boxes on my mental checklist of attributes that make up a perfect pot or pan. So a while ago, my Type A/nerdy self started fantasizing about turning that mental list into an actual list, and ranking a few of the most popular types of cookware to see which is best.
After several years of casually stressing over the safety of the pots and pans in my cabinet, I have finally done all the research and begun transitioning my collection towards being as safe for the environment and my health as possible. So read on to see how five popular types of pots and pans stack up (pun intended) in terms of function, toxicity, environmental impact, and more.
5. Non-Stick Teflon Pots and Pans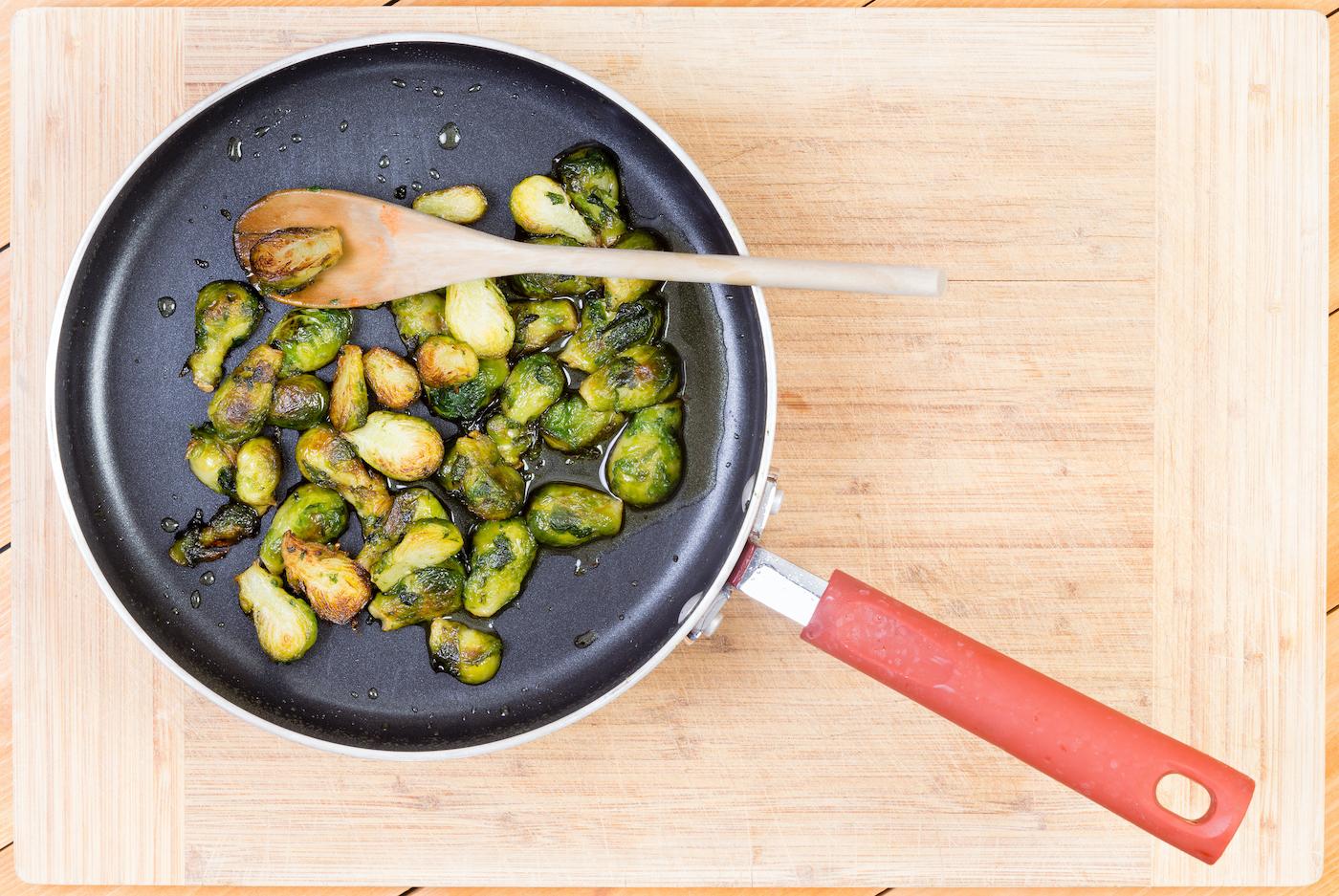 Ever wonder exactly what makes non-stick Teflon pots and pans non-stick? Non-stick pans are typically made from metal and coated with a variety of perfluoroalkyl substances (PFAS), namely a synthetic polymer called polytetrafluoroethylene (PTFE), commonly referred to as Teflon. Basically, it's a fluorinated plastic coating that helps prevent your food from sticking to the pan and burning. This makes cooking with (and cleaning) non-stick pans pretty easy, and it also helps make many non-stick pans affordable.
However, the safety of cooking with Teflon pans is a hot-button issue. PFAS are toxic chemicals that are linked to cancer, and can persist in your body for decades, according to Earthjustice. Additionally, PFAS is a significant contaminant in drinking water across the U.S., because the chemical can persist in the environment for thousands of years, according to Fortune.
Despite that, Healthline asserts that Teflon cookware is safe for home cooking, as long as the pan doesn't get hotter than 570°F (300°C), meaning a low-to-medium flame is ideal. If the pan gets too hot, the coating can start to break down (you may not be able to see it breaking down, since it's at a molecular level) and release toxic particles and carcinogenic gases, according to Good Housekeeping.
Additionally, non-stick pans can become easily scratched if you use metal cooking utensils on them or if you use abrasive sponges to clean them, and the scratches can cause some of the coating to flake onto your food. Some experts recommend getting rid of Teflon pans once they become scratched. And unfortunately, these pans cannot easily be recycled due to the coating, according to Recyclebank — so when getting rid of any non-stick pans, try giving them away on a Buy Nothing or Freecycle group, Facebook Marketplace, or Craigslist; or, donate them to a thrift store.
Not to mention, non-stick pans cannot be used in the oven, and only certain non-stick pans can be used on induction cooktops.
So even though non-stick pans are generally affordable, easy to use, and the most popular choice in the U.S. (about 70 percent of all pans sold in the U.S. in 2018 had a nonstick coating, according to Good Housekeeping), some conscious consumers find that those benefits do not weigh out the health and environmental risks.
How Non-Stick Teflon Stacks Up:
Non-Toxic? No.
Non-Stick? Yes.
Easy to Clean? Yes.
Safe for the Environment? No.
High-Heat Safe? No.
Durable? No.
Affordable? Yes.
Score: 3 out of 7.
4. Stainless Steel Pots and Pans: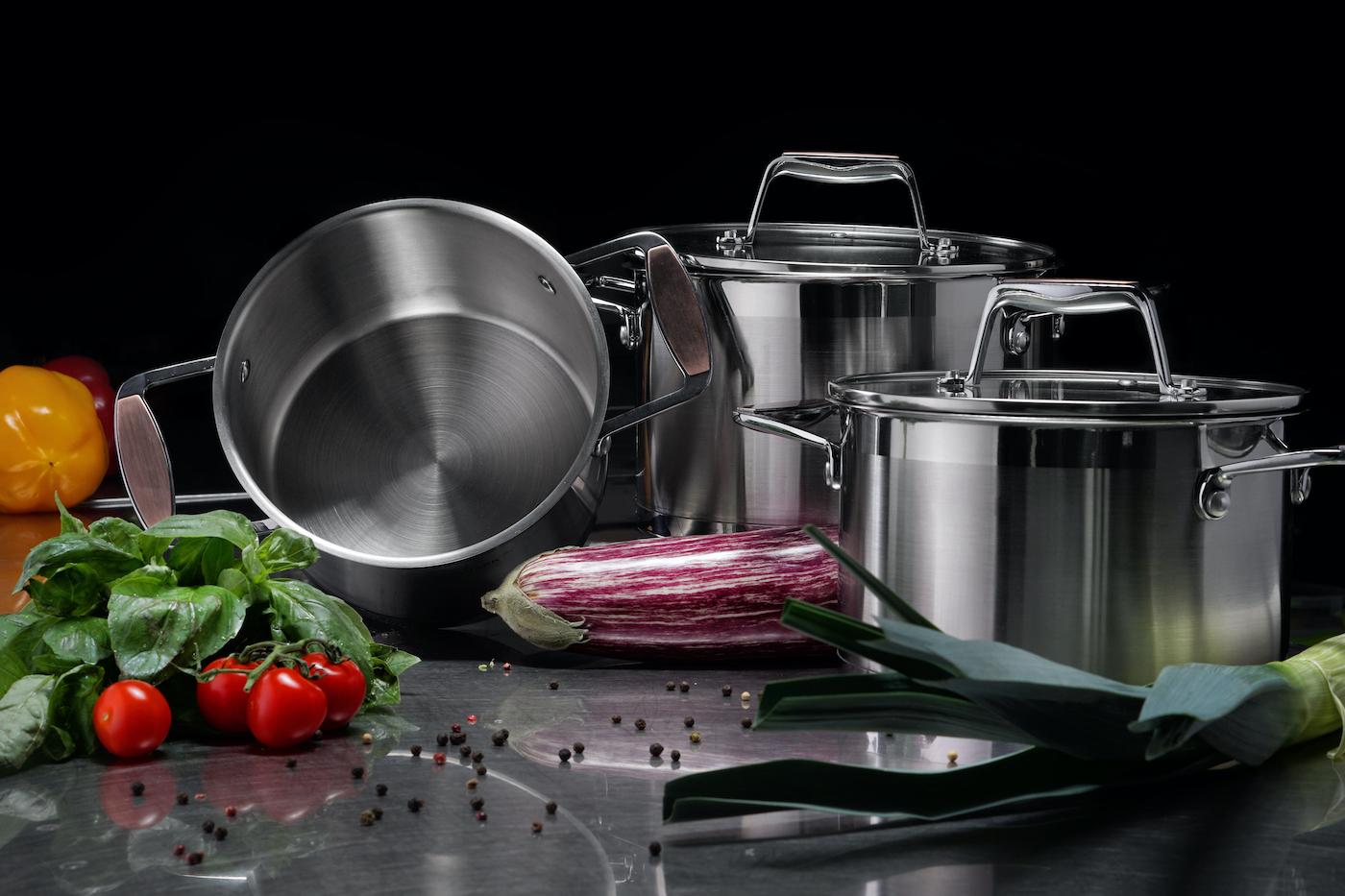 Stainless steel is a durable and fairly eco-friendly material can last for decades. But if you do ever need to dispose of a steel pot or pan, some municipalities (such as New York City) actually accept metal pans with curbside recycling — just check your town's website.
Stainless steel pots and pans are generally accepted as safe for cooking, although there are some studies that found that when stainless steel pots and pans are used to cook acidic foods (such as tomatoes) for several hours at a time, they can leach nickel and chromium. (The same goes for aluminum cookware, which has similar reactions to acidic foods and is sometimes coated with stainless steel.)
In my opinion, the only significant drawback to stainless steel pans is that they are not non-stick, which means you'll need to monitor your food and add a lot of oil or cooking liquid (such as water, veggie broth, or wine) to keep your food from sticking to the pan and burning. In my experience, cooking foods that call for a lot of liquid or oil in the pan — such as pasta, soup, or curry, or for deep-frying — works perfectly well in stainless steel cookware. However, cooking grains (such as rice or quinoa) and pan-searing foods can be pretty sticky (and result in burning) in some stainless steel pans, while other stainless steel pans are able to cook those foods with no sticking.
Additionally, stainless steel pans can withstand high heat on the stove, and many can also go in the oven and on induction cooktops. (Not if they have plastic handles — so make sure to look up your specific pan online before heating it anywhere besides the stove.)
How Stainless Steel Stacks Up:
Non-Toxic? Yes.
Non-Stick? No.
Easy to Clean? No.
Safe for the Environment? Yes.
High-Heat Safe? Sometimes (so half a point).
Durable? Yes.
Affordable? Sometimes.
Score: 5 out of 7.
3. Cast Iron Pans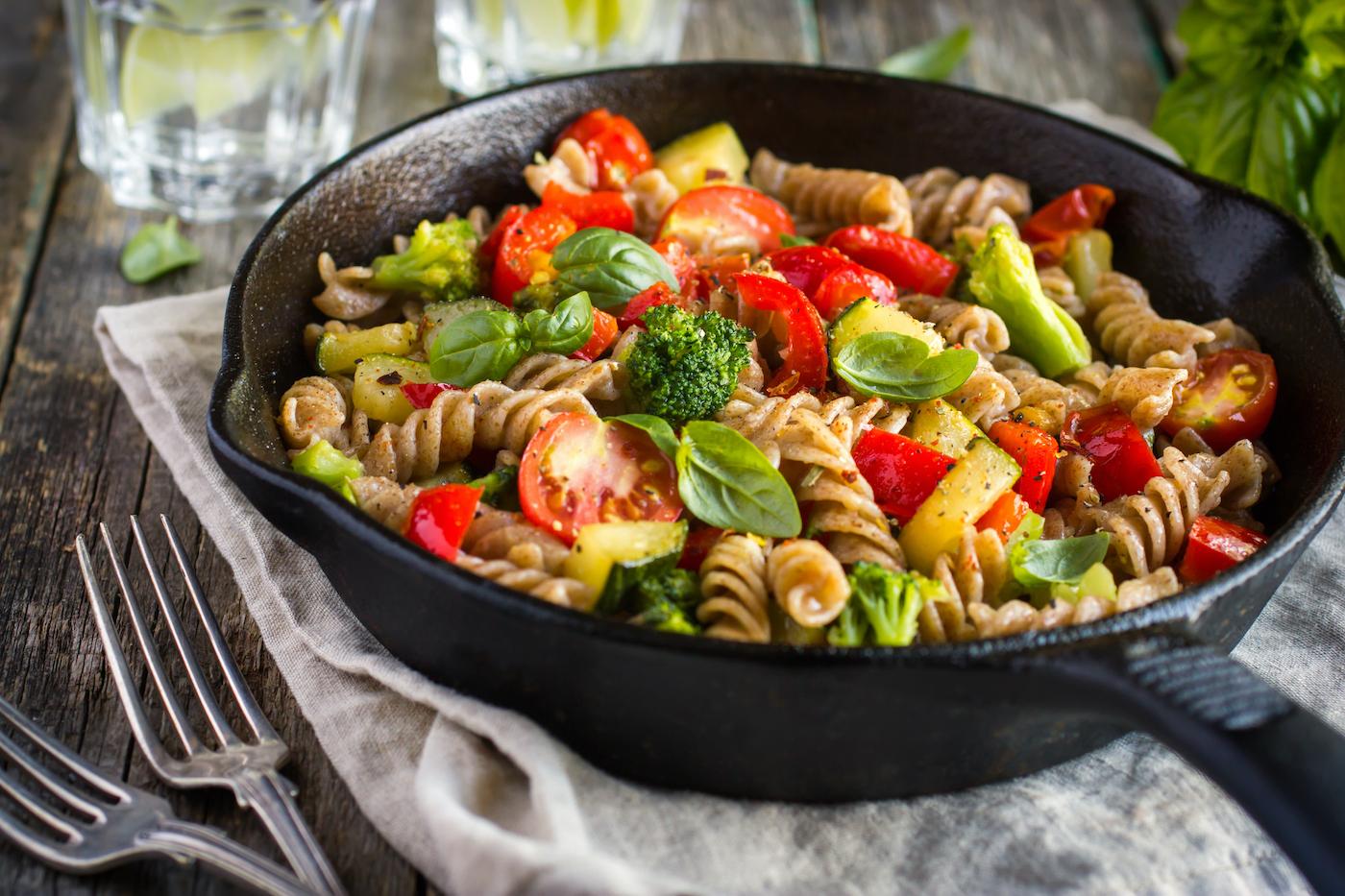 Cast iron pots and pans have a cult following — but they're also the only kind of cookware on this list that I have personally never used. For me, that's because they are heavy, can be hard to cook oil-free foods in, and require constant TLC (so sue me for not having the emotional capacity to deal with all that).
According to The Kitchn's guide to caring for cast iron pans, as soon as you're done cooking, you should immediately clean it while it's still warm, with hot water and a sponge or stiff brush. If food is stuck to the pan, you can use a paste of coarse salt and water to clean it instead of soap. Then, The Kitchn recommends drying the pan with a towel, and coating the pan with vegetable oil. Cast iron pan owners certainly get used to — and come to love — that process, but for someone who is used to simply washing a pan with water and dish soap, it takes some adjusting and responsibility.
Additionally, if you have a glass top stove, cast iron pans pose a risk of scratching the stove's surface, because of their weight and rough exterior — so consider getting a heat diffuser and reading up on best practices for cooking with cast iron on glass stoves.
That said, I do get the cast iron hype, because I know that there are endless benefits to using cast iron pans. They can easily go from the stovetop to the oven, they are typically induction safe, they are made from iron and steel meaning they are generally non-toxic, and they can last for decades as long as you take good care of them — even if they develop rust. (If you do ever need to dispose of cast iron cookware, it is recyclable in some municipalities).
How Cast Iron Stacks Up:
Non-Toxic? Yes.
Non-Stick? Yes (as long you season it properly, so half a point).
Easy to Clean? No.
Safe for the Environment? Yes.
High-Heat Safe? Yes.
Durable? Yes.
Affordable? Sometimes.
Score: 5 out of 7.
2. Enameled Cast Iron Pots and Pans, aka Le Creuset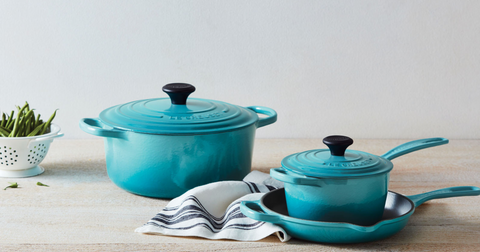 Le Creuset pots and pans (or, as the brand calls them, Dutch ovens and skillets) are the Kleenex of enameled cast iron cookware. As explained by Chatelaine, Le Creuset pots are made of cast iron and finished with vitreous enamel, aka porcelain enamel, which are glass particles fused to the cast iron at extremely high heat. This results in a smooth non-porous finish that makes the enameled cookware easy to cook and clean in.
Enameled cast iron cookware is non-stick yet Teflon-free, it can go from the stovetop to the oven, and most varieties can be used on induction stove tops. Cookware by Le Creuset is very trendy — and very expensive, with pieces costing hundreds of dollars (which is why I do not own any, though I have used them before). However, enameled cast iron cookware is very durable, and with proper care can last for decades (which is why it will be the first thing on my wedding registry).
How Enameled Cast Iron Stacks Up:
Non-Toxic? Yes.
Non-Stick? Yes.
Easy to Clean? Yes.
Safe for the Environment? Yes.
High-Heat Safe? Yes.
Durable? Yes.
Affordable? No.
Score: 6 out of 7.
1. Ceramic Pots and Pans from Caraway Cookware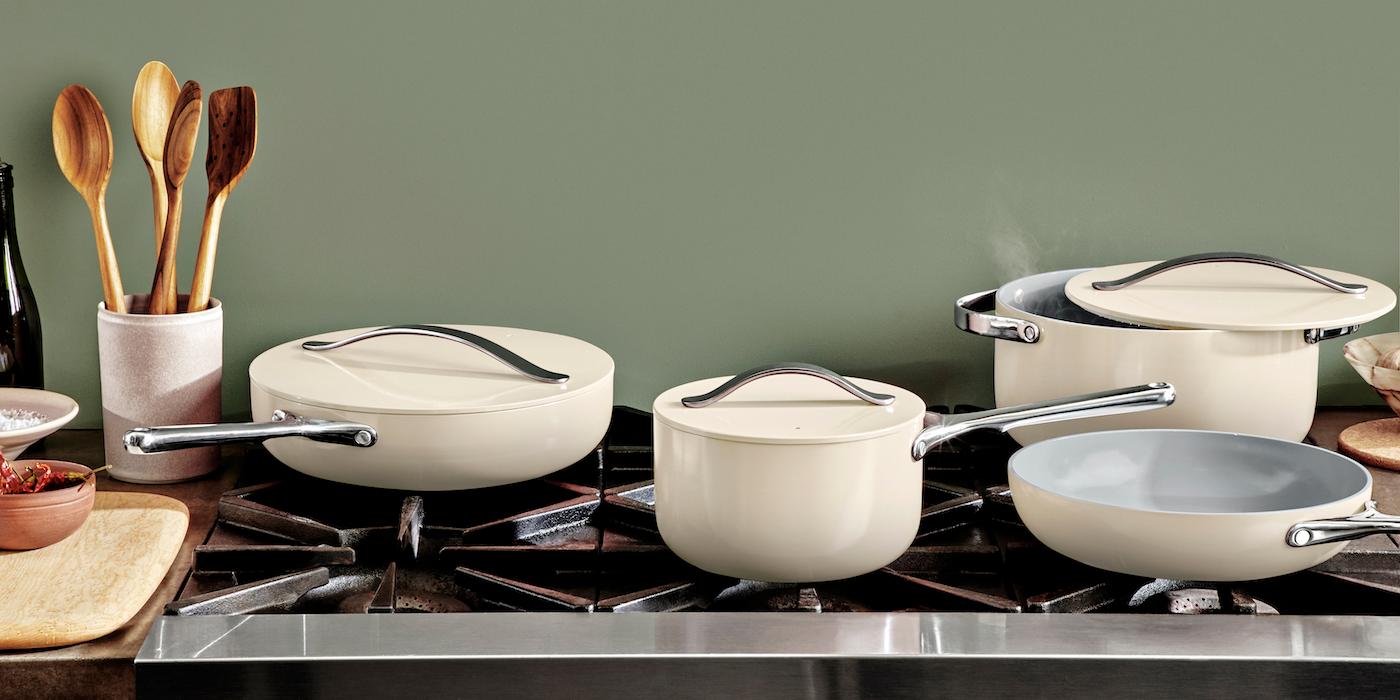 After a few years of teetering between imperfect non-stick and imperfect stainless steel, I started reading up about ceramic cookware. So when a new brand called Caraway offered to send me a set of ceramic cookware — with the promise that it would feel like I was using a Teflon pan minus the toxicity and plastic — my interest was piqued.
Caraway is a direct-to-consumer brand that launched this holiday season, and it sells ceramic cookware sets (and that's all). The founder Jordan Nathan created the sets to correct everything he felt was wrong with the average person's cookware collection. "During a product test at home, I found out first-hand that Teflon poisoning does exist," Nathan said. "The kitchenware industry often overlooks our impact on the environment, and ignores the abundance of natural resources that can result in safer and healthier products."
There are so many things I genuinely love about the Caraway pots and pans: they cook very evenly, they are naturally non-stick and super easy to clean, the color I received ("perracotta" aka a pinky terracotta) is pretty, they are very sturdy, they can go from the stove to the oven, and the items (and accompanying organizing system) are very thoughtfully-designed.
But there are a few cons as well, each of which are amplified by the fact that I live in a tiny apartment on the fifth floor of a walk-up building. As of now, the set can only be purchased in full (for $395). Because of this, the box waiting in my lobby was about the same size and weight as my body — complete with an onslaught of cardboard packaging (virtually no plastic though, which was nice).
Once I unpacked and recycled everything, the only remaining issue was storage — the canvas lid holder was too big to hang inside any of my kitchen cabinets; plus, when I tried to fit the pans in my cabinet sideways using the accompanying magnetic pan racks (which allow the pieces to be stored on their sides), I couldn't get any of them to fit. That may just be a New York City walk-up problem, but I would only recommend ordering from Caraway if you have ample cabinet space.
Other than that, the main drawback when shopping for ceramic cookware is that some lower-end brands mix their ceramic coating with Teflon since it is cheaper, according to Nathan. So if you want to invest in ceramic cookware, first verify that the brand you're considering is really using 100 percent ceramic (which Caraway does), otherwise the coating could break down and force you to replace your pots and pans after a few years.
Either way, being careful to keep metal spatulas away from ceramic cookware can help prolong its life, and I'm planning to treat my Caraway cookware well so it lasts as long as possible. But even if your ceramic pans do get scratched, the scratches won't be releasing any toxic chemicals into the air or your food.
How Caraway's Ceramic Cookware Stacks Up:
Non-Toxic? Yes.
Non-Stick? Yes.
Easy to Clean? Yes.
Safe for the Environment? Yes.
High-Heat Safe? Yes.
Durable? Yes.
Affordable? No.
Score: 6 out of 7.
Caraway and Le Creuset both received a 6 out of 7, both only losing points for their price. I would recommend either type of cookware, but if you aren't ready to make the investment, there are certainly more affordable enameled cast iron and ceramic cookware options on the market. Just make sure they are really made from the materials they say, and aren't Teflon-coated pans claiming to be made from an eco-friendly material.