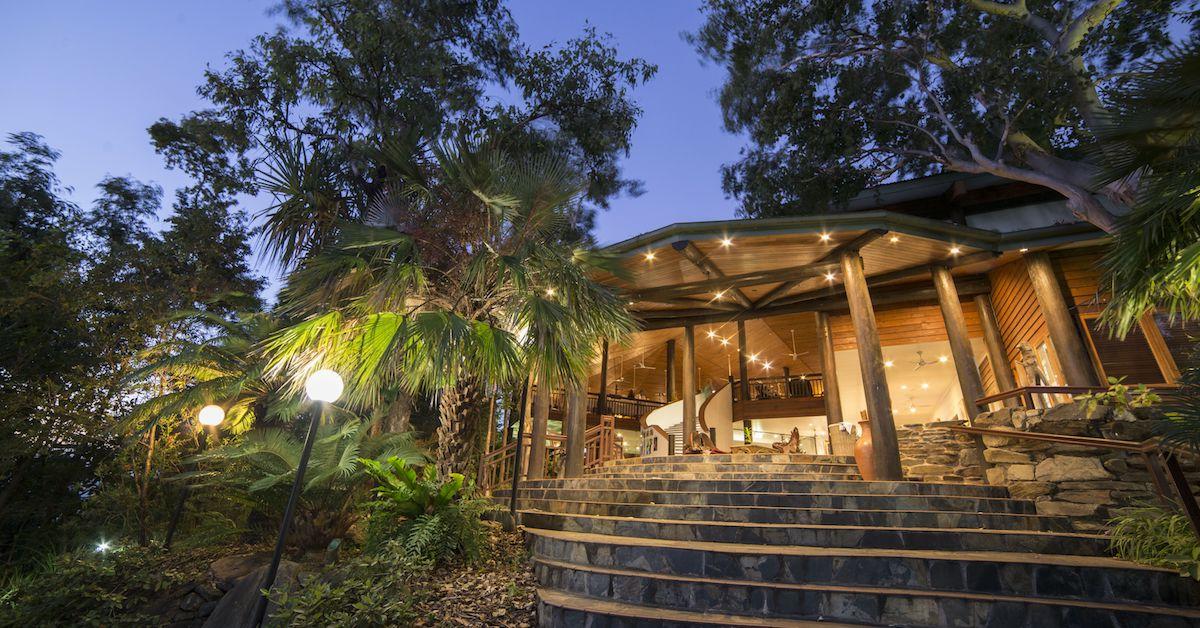 5 Breathtaking Eco-Friendly Hotels and Resorts From Around the World
By Sophie Hirsh

Updated
There are so many ways to reduce your impact while traveling. You can use public transportation to get to your destination or to get around the city you're visiting; you can eat a plant-focused diet while you're there; and you can shop locally, supporting the local economy in the place you're visiting. But one of the best ways to be sustainable while traveling is to stay in an eco-friendly hotel.
Supporting hotels with green practices is more important than it may seem. As per the United Nations, the hotel industry is responsible for 1 percent of global emissions. Plus, the United Nations says that percentage is on track to increase, since the demand for hotels is not slowing down. (Not to mention, since most hotels are using power 24/7.)
What Is an Eco-Friendly Hotel?
An eco-friendly hotel is one that makes significant efforts to reduce its environmental impact, both behind-the-scenes and in guest rooms. These hotels are often known as eco hotels or green hotels.
What Makes a Hotel Eco-Friendly?
There are endless ways for hotels to reduce their impacts. A few common practices include: ramping up recycling and composting programs; installing energy-efficient lighting; using non-toxic cleaning products; providing personal care products for guests that are non-toxic or packaged in bulk containers instead of tiny single-use plastic bottles; using reusable dishes and cutlery in hotel restaurants as well as rooms; greywater recycling; and providing signs encouraging guests to hang their bath towels up for reuse.
Green Hotel Certifications
As a hotel's managers work to make the property more sustainable, they may seek some sort of green hotel certification as a reward for their efforts. The most popular certification for hotels (as well as other kinds of buildings and structures) is LEED (Leadership in Energy and Environmental Design).
LEED Hotel Certification
LEED is an international program run by the U.S. Green Building Council (USGBC) that awards buildings with exceptional environmentally-friendly designs. LEED works on a point-based system, and the more sustainable the hotel, the higher score it will receive. According to LEED's website, the program considers factors including: energy efficiency, use of resources, cost-effectiveness, and construction techniques.
There are LEED hotels in 40 U.S. states, 31 countries, and on five continents, according to LEED's website.
EMA Green Seal for Hospitality
The EMA considers hotels for the seal based on a number of factors, including waste management, biodiversity conservation, water efficiency, energy efficiency, use of reusables vs. disposables, and chemical use.
How to Find an Eco-Friendly Hotel
One way to know if a hotel aligns with your sustainable values is by checking if it has any green certifications, such as LEED certification or the EMA Green Seal for Hospitality. You can do this by checking the hotel's website, calling the hotel to ask, or by googling eco-friendly hotels in the city you are planning to visit. 
If you are having trouble finding a sustainable hotel in the area, you can consider staying in an Airbnb, where you'll be able to directly ask the homeowner questions. For example: Is composting and recycling available at the home? Will I have kitchen access, so I can prepare meals and reduce waste from eating out? What brands of personal care items do you provide?
How to Make Your Hotel Stay Extra Zero-Waste
If you wind up stuck in a basic hotel without any notable efforts to reduce its footprint, there are a few ways to keep things as low-impact as possible. For one thing, you can pack your own shampoo, toothpaste, etc., so that you don't need to use the ones provided. Consider calling the hotel ahead of time and asking them not to put those products in your room at all; however, if they do, consider taking them to donate to a homeless shelter, since some hotels throw away single-use products after you check out, whether or not they've been used.
Additionally, if you're staying in a hotel for more than one night, you can opt out of having your room serviced. Housekeepers typically replace towels, sheets, single-use bathroom items, and even almost-empty toilet paper rolls when servicing a hotel room each day. So by hanging the "do not service" or "do not disturb" sign on your door handle when you go out for the day, you could save the hotel some significant resources.
How to Make a Hotel More Sustainable
If you work at a hotel and want to make the business run more sustainably, the organization Global Stewards has a thorough list with tips for upgrading practices relating to water, energy, staff, waste, maintenance, food, and more.
Here Are Some of the World's Most Eco-Friendly Hotels and Resorts
If you are interested in seeing what some of the world's most sustainable hotels do to keep their impact as low as possible, read on. 
Thala Beach Nature Reserve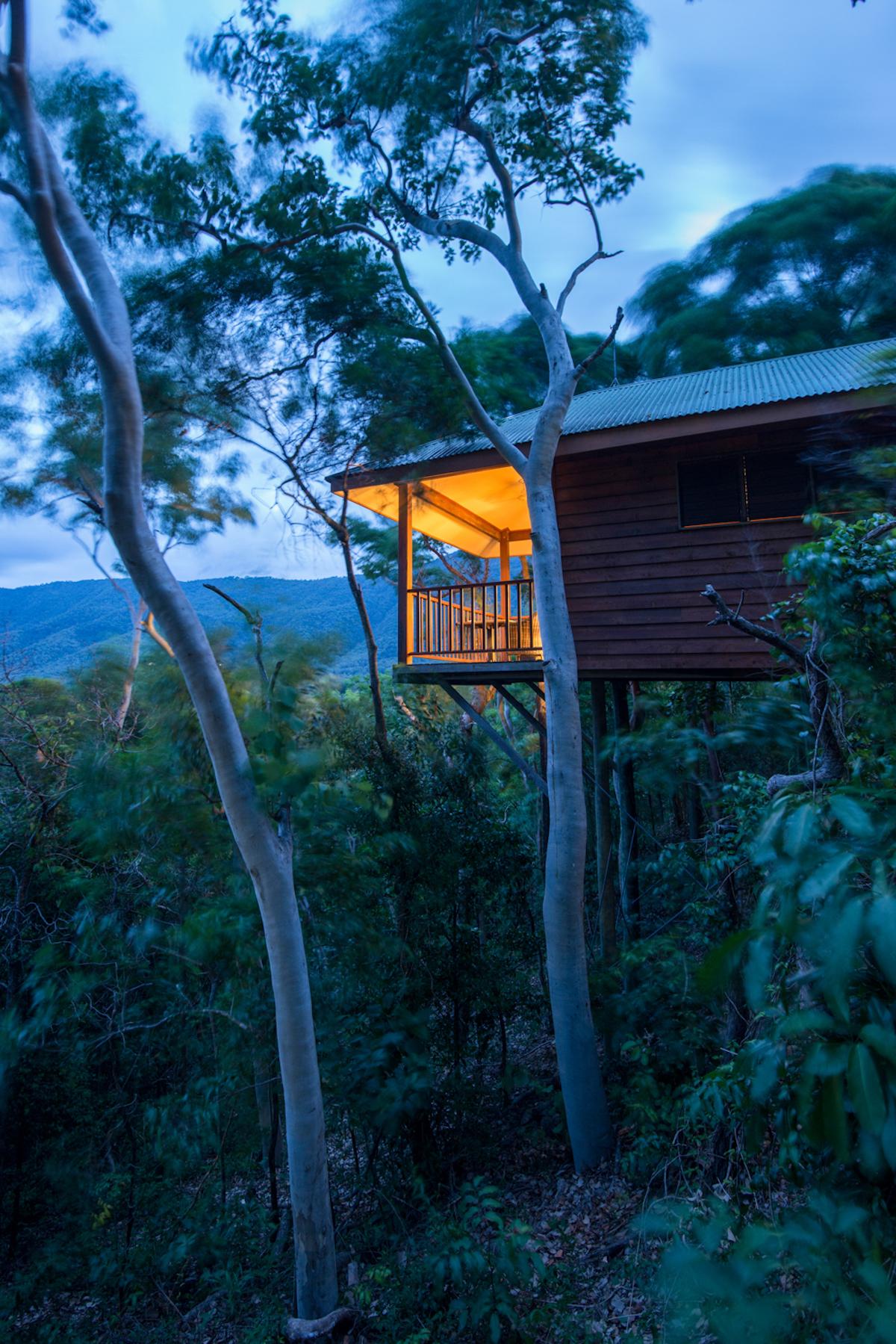 The Thala Beach Nature Reserve, located near the Great Barrier Reef in Australia, is not only eco-friendly, but also an ecotourism paradise for nature lovers. According to the resort's website, it has received the highest possible Advanced Eco Certification. Thala Beach is also a member of the National Geographic Unique Lodges of the World, which Nat Geo awarded the resort based on "four pillars of sustainable tourism: protection of natural heritage, protection of cultural heritage, support for local communities, and environmentally friendly practices," according to Thala's website.
Some of the ways Thala Beach has made the property sustainable include: building its timber bungalows on stilts in the forest canopy; instituting a revegetation program in the 1970s to encourage biodiversity; and its restaurant Osprey's features locally-sourced, seasonal produce and open-air architecture. 
Proximity Hotel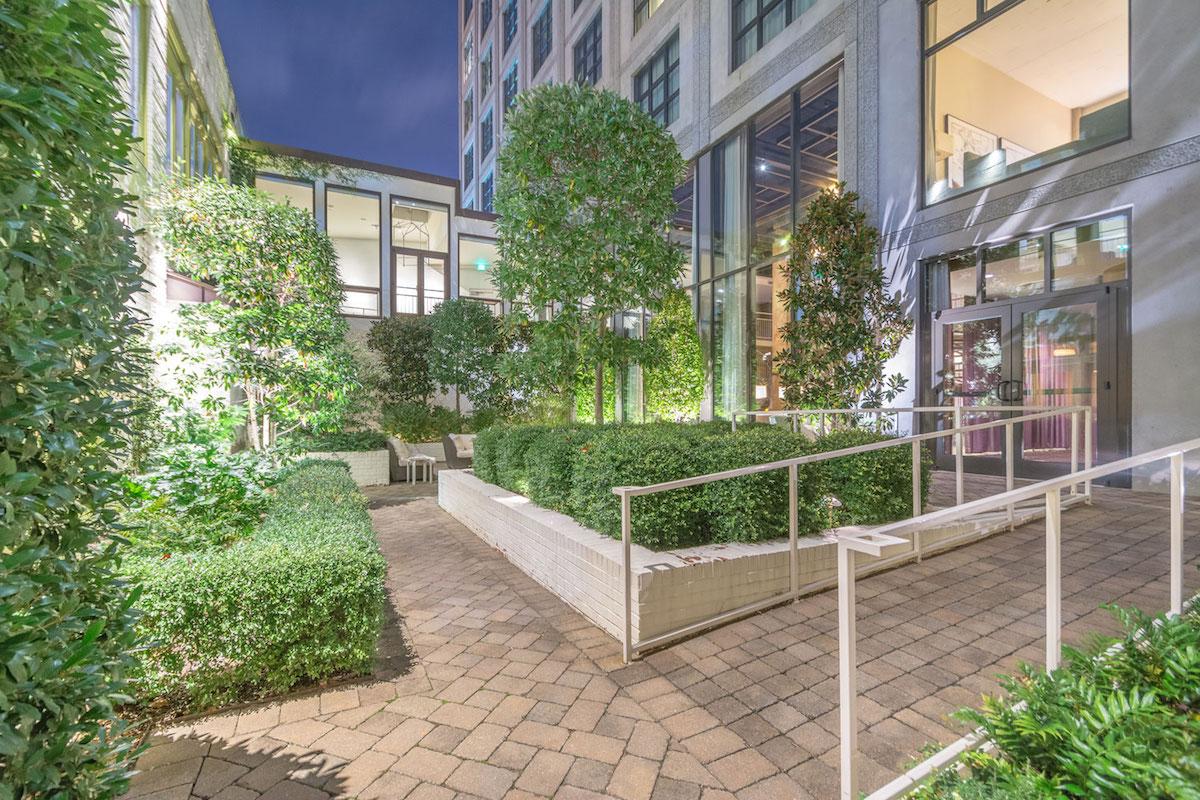 Proximity Hotel in Greensboro, North Carolina was voted the No. 1 eco-friendly hotel by TripSavvy earlier this year. According to its website, Proximity Hotel was the first hotel in the U.S. to be awarded the LEED Platinum certification.
Some of the ways Proximity Hotel achieved that sustainability certification include: installing a roof with 100 solar panels; serving locally-sourced food; following "reduce, reuse, and recycle;" conserving energy and water use; installing an elevator that re-generates power; and more.
Tambo Del Inka Hotel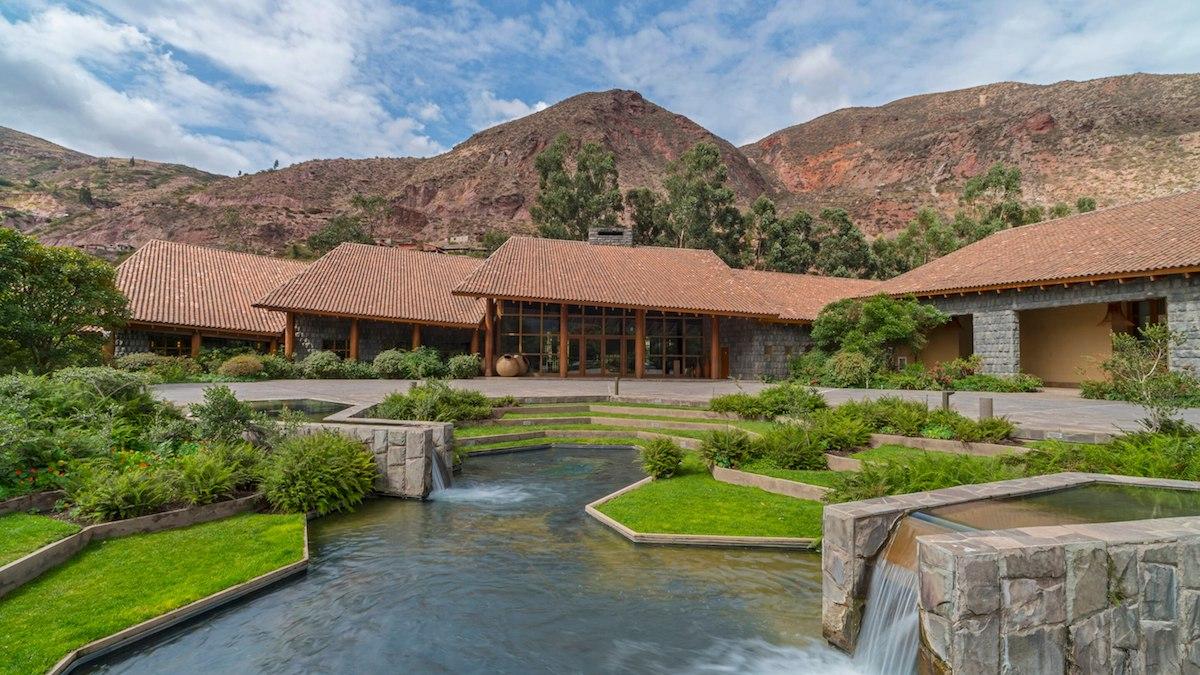 Tambo Del Inka Hotel, A Luxury Collection Resort and Spa, is located in Valle Sagrado, Urubamba, Peru, and it's surrounded by nature and mountains. The USGBC's website showcases Tambo Del Inka as a noticeable LEED-certified hotel on its website, noting that it was the first hotel in Peru to receive the certification. 
Tambo Del Inka, which is owned by Marriott, did a lot to become Peru's first LEED-certified hotel. According to a press release, Tambo Del Inka: created its own wastewater treatment plant; it uses low-flow plumbing to save water; it has indoor climate monitoring; there is a well-enforced recycling program and towel reuse program; and local lumber was used to build the hotel.
TreeCasa Resort, Nicaragua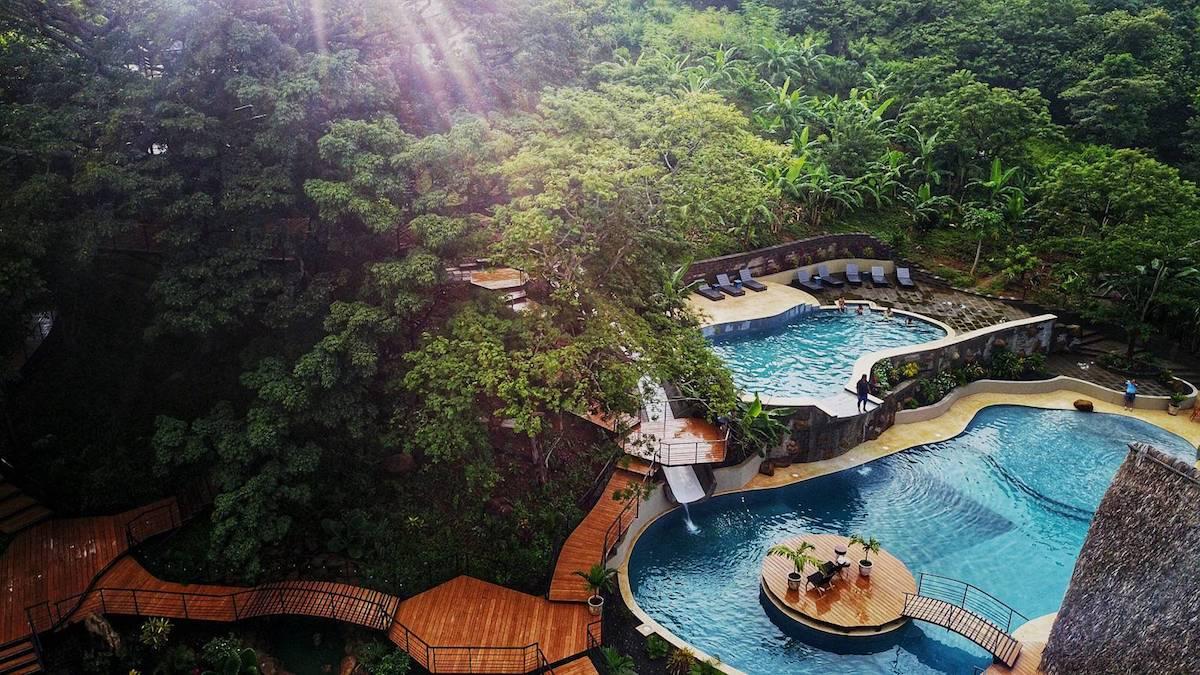 The TreeCasa Resort in San Juan del Sur, Nicaragua is basically a luxury treehouse for adults. The resort is made up of canopy treehouses on two giant Ceiba trees within Nicaragua's El Encanto jungle, and the business' mission is to use sustainable practices to celebrate nature and the jungle's ecosystem.
The resort was built "in and with the land, not on top of it," according to TreeCasa's website. Every structure at the resort was constructed with all-natural eco-friendly materials (including bamboo, teak, and palm leaves); a naturalist pond helps with sustainable water management and also provides natural habitats for animals like iguanas and turtles; the surrounding forest is maintained with organic agriculture, and it even provides fruit that is served to guests; and the facilities use all-natural, biodegradable cleaning products.
The Brando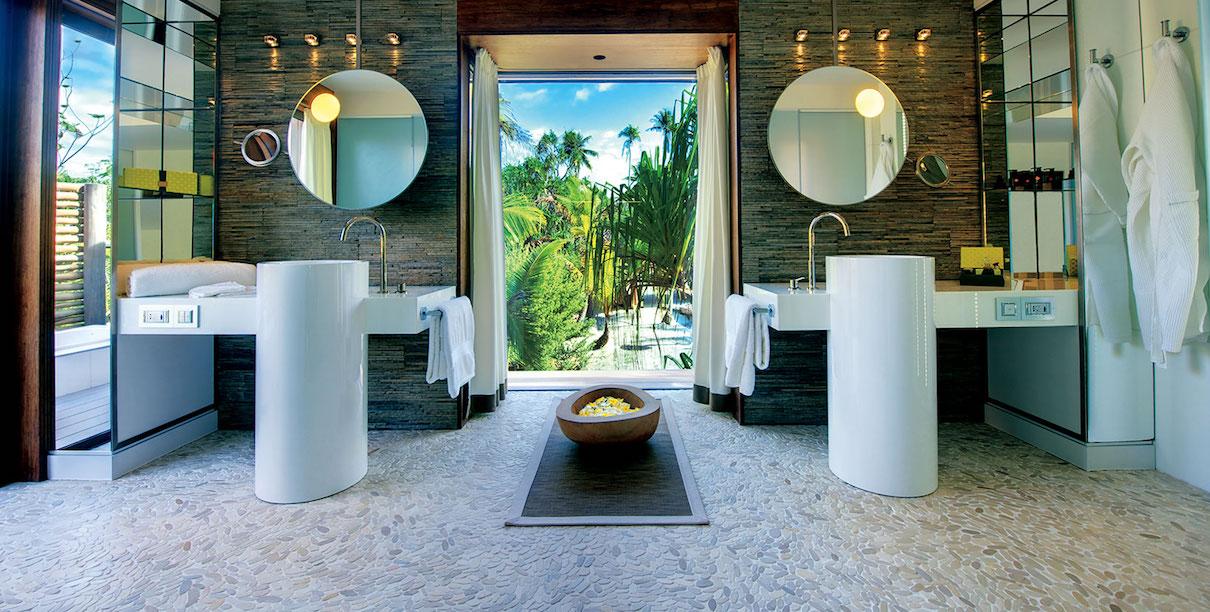 Located in the middle of the Pacific, French Polynesia's The Brando is a LEED-certified hotel that aims to "blend harmoniously into the trees." If you are interested in sustainable tourism, a beachside villa at The Brando may be the perfect spot for your next getaway.
The Brando was built with local materials that are also natural or recycled; the hotel uses a deep seawater air-conditioning system; it mostly relies on renewable energy; it is on track to eventually become carbon neutral and self-sustainable; the hotel has an organic garden; and The Brando also runs a variety of programs to preserve the island's biodiversity and cultural heritage.