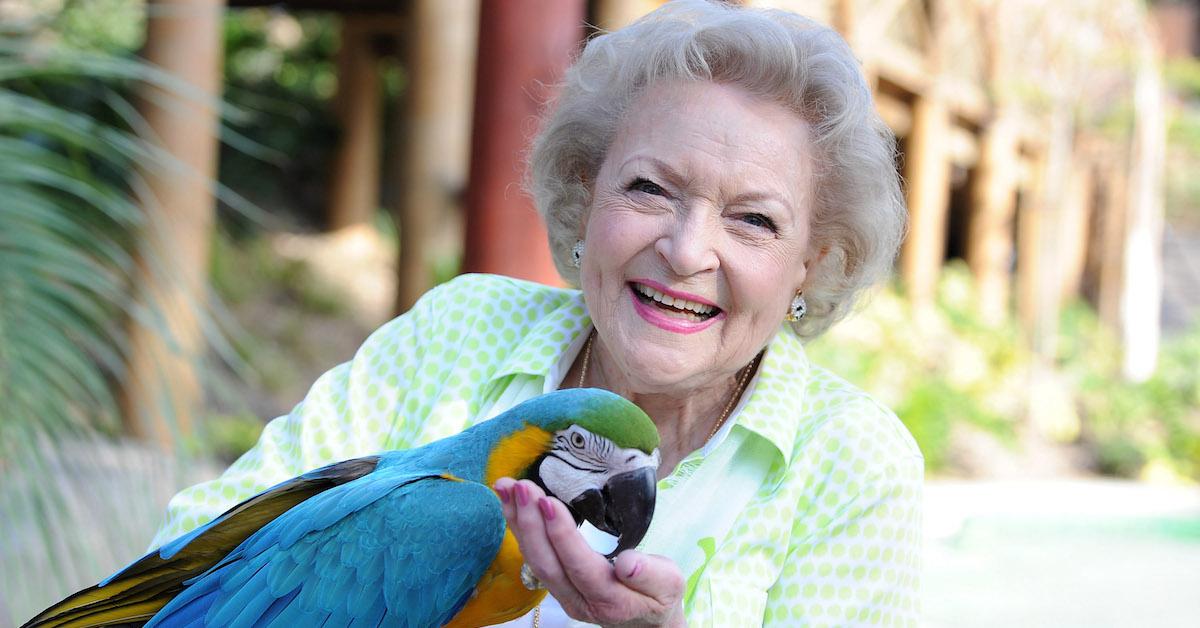 Best Animal Charities to Donate to for Betty White's 100th Birthday
Just a few weeks shy of becoming a centenarian, iconic actress and animal advocate Betty White passed away this past New Year's Eve. In response to the heartbreaking news, many of her fans — and she had many fans — promptly began encouraging people to donate to animal charities.
Article continues below advertisement
And as her 100th birthday approaches on Jan. 17, 2022, many have started using social media to ask people to donate at least $5 to animal rescue groups or shelters, in a campaign called the Betty White Challenge. White dedicated much of her life to helping animals, and likely would have been overjoyed to see that so many fans are honoring her life by donating to protect animals.
Here are some of the best animal charities to donate to for what would have been Betty White's 100th birthday.
Morris Animal Foundation
Article continues below advertisement
On Morris Animal Foundation's website, you can donate directly to the Betty White Wildlife Fund, which White founded in 2010 in response to the Deepwater Horizon oil spill, which inflicted endless harm on marine life. Her fund uses donations to provide immediate aid to wildlife researchers. "We continue to honor the wishes of Betty White to help animals around the world have longer, healthier lives," the website reads.
Article continues below advertisement
Society for the Prevention of Cruelty to Animals Los Angeles (spcaLA)
Betty White was a true Hollywood queen — and as such, she did a ton of work for Society for the Prevention of Cruelty to Animals Los Angeles (spcaLA). According to the charity, White took part in a number of in spcaLA telethons, she lent her voice to multiple of its PSAs, and in 2001, she helped raise money to construct the spcaLA PD Pitchford Companion Animal Village & Education Center, which helps homeless animals in need.
Article continues below advertisement
Article continues below advertisement
American Humane
If you're a movie fan, you may have noticed the American Humane logo in the credits of most American movies made with animals. As part of its Humane Hollywood initiative, the organization works with over 1,000 films every year to protect and monitor the well-being of animal actors.
Article continues below advertisement
Article continues below advertisement
The Humane League
The Humane League has a goal of ending "the abuse of animals raised for food," which the charity does by working to influence lawmakers and corporations to make changes, as well as inspiring people to stop eating animals.
Donations made to the Humane League will help "defend animals and help dismantle factory farming," and the charity has a 90.33 percent rating on Charity Navigator. The Humane League also looks for volunteers, and the website has a ton of resources and info on campaigns, such as the Student Alliance for Animals.
Article continues below advertisement
Your local animal shelter or rescue group
There are numerous animal shelters and rescue groups all around the world — and your local ones would certainly appreciate your donation. You can simply google your town, city, or county's name + animal shelter or animal rescue; once you find one, read up on it a bit before making a donation. And if you can't afford to make a donation right now, consider volunteering or fostering with your local rescue or shelter, or even just following the organization on Instagram and sharing its posts.
Article continues below advertisement
Article continues below advertisement
UPDATE, Monday, Jan. 24, 10:16 a.m.: The Betty White Challenge brought in millions in donations.
Meta, the parent company of Facebook and Instagram, reported that 390,000 people donated a total of $12.7 million to animal rescues and shelters as part of the #BettyWhiteChallenge, between Monday, Jan. 17 and Friday, Jan. 21, as per Variety. On Monday alone, which would have been White's 100th birthday 26,000 people donated just under $900,000, meaning the challenge picked up steam as the week went on.
Those stats are only for donations made through Facebook and Instagram, and don't account for donations made directly on the websites of animal shelters, rescues, and nonprofits in White's honor.