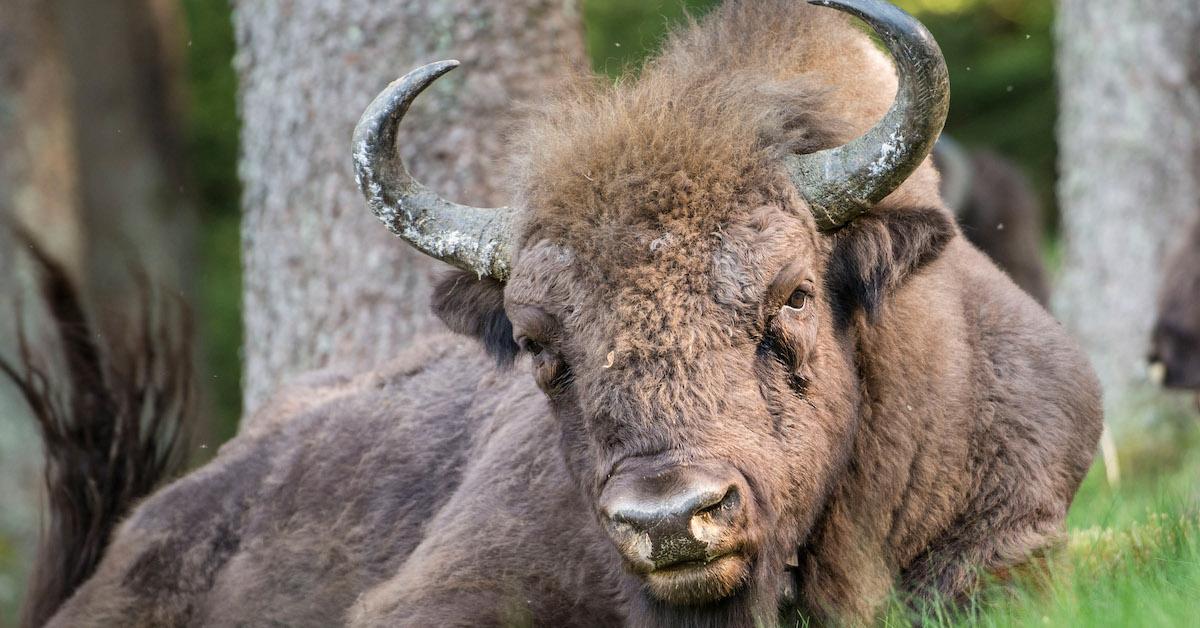 After Thousands of Years, Wild Bison Return to the U.K. to Repair Land
For the first time in thousands of years, wild bison have returned to the U.K.
In an effort to sustainably manage woodland in Kent, U.K., wild bison have been reintroduced to their natural habitat. Keep reading for the details on this project, and how the bison will naturally work with the land — and other introduced animals — to restore it.
Article continues below advertisement
Wild bison have returned to the U.K.
Two U.K.-based conservation organizations, Wildwood Trust and Kent Wildlife Trust, recently partnered up on the Wilder Blean project, which aims to show how wild European bison can "provide a sustainable solution to woodland management" in South East England.
Using funds donated by winners of People's Postcode Lottery, the Wilder Blean project just introduced three bison to the Blean woods, located near Canterbury, in East Kent, England. Specifically, the bison were released into the West Blean and Thornden Woods nature reserve, which Kent Wildlife Trust notes is one of the biggest ancient woodland areas in the country.
Article continues below advertisement
Wild European bison will eat bark and trees, helping to wild the Kent reserve.
Before the Wilder Blean project purchased this wooded area, it was used for commercial timber production. For that reason, nearly half of the area is populated with conifer trees that are not native to the area, and also do not provide any significant benefits to native animals.
Article continues below advertisement
Fortunately, European bison happen to have an appetite for bark and other woody parts of plants and trees — which means they will wild the land by eating the conifer trees. "These are the only remaining species that can do the job they do," stated the Wildwood Trust.
The project will also introduce cows, horses, and pigs to graze the site, as they all eat different types of vegetation, and impact land differently. "It is when introduced all together that these animals can be most effective, and this is what is intended in the project," Wildwood Trust added.
Article continues below advertisement
Additionally, this project involves making improvements to the visitor experience, including new paths and viewing platforms, "to ensure the impacts on visitor experience are as amazing as the impacts for species diversity and abundance," as per Wildwood Trust.
Article continues below advertisement
What is wilding?
As the two organizations behind the Wilder Blean project noted, this is not a rewilding project — it is a wilding project.
"Wilding is when nature is given the freedom and space it needs to recover itself and has the potential to increase the abundance of wildlife to levels beyond what human management achieves," explained Wildwood Trust. "It also can help tackle many manmade issues such as climate change, soil degradation, and flooding."
Kent Wildlife Trust shared a video of the three bison being released from a pen into the nature reserve; they are seen exploring their new surroundings, promptly snacking on vegetation, and then disappearing amidst trees.
"The restoration of naturally functioning ecosystems is a vital and inexpensive tool in tackling the climate crisis," Evan Bowen-Jones, CEO at Kent Wildlife Trust, said in a statement, as per The Guardian.
Article continues below advertisement
"We want Wilder Blean to mark the beginning of a new era for conservation in the U.K.," he continued. "We need to revolutionize the way we restore natural landscapes, relying less on human intervention and more on natural engineers like bison, boar and beaver."
The project's initial phase will last until May 2023, at which point the area will presumably be assessed for the project's next phase — so if you are local to Kent, make sure to plan your visit sometime soon. There are also various volunteer opportunities for locals.