Google Confirms It Runs On 100% Renewable Energy
Google announced that it had reached its goal to run on 100-percent renewable energy.
After signing onto three wind-generated power plants, Google announced toward the end of 2017 that it had reached its goal to run on 100-percent renewable energy. The company's SVP of Technical Infrastructure, Urs Holzle, has officially confirmed that fact in a blog post last week. Google is now the largest corporate buyer into renewable power.
Article continues below advertisement
Combining all the energy that Google uses in its offices and data centers, the company buys more renewable energy than it's able to consume. These sources don't directly power the company, but each kilowatt-hour they use is replaced by wind and solar projects exclusive to Google. That puts clean energy back into the power grid in greater measure than the company uses.
Article continues below advertisement
Google has enough contracts to purchase three gigawatts of renewable energy output. Most of these 26 projects are of the wind-generating variety, and the company invested more than $3.5 billion into them. Google added wind farms totaling 535 megawatts late last year to bring its sustainability stat to 100 percent.
With new offices and data centers coming in the future, Google will continue expanding its portfolio with renewable sources. The company will be working in regions where local renewable power isn't an option yet, with a goal to make it available. It's also not unrealistic that these sources will someday power Google's operations on their own.
Article continues below advertisement
"We do want to get to a point where renewables and other carbon-free energy sources actually power our operations every hour of every day," Holzle said in Google's blog post. "It will take a combination of technology, policy and new deal structures to get there, but we're excited for the challenge. We can't wait to get back to work."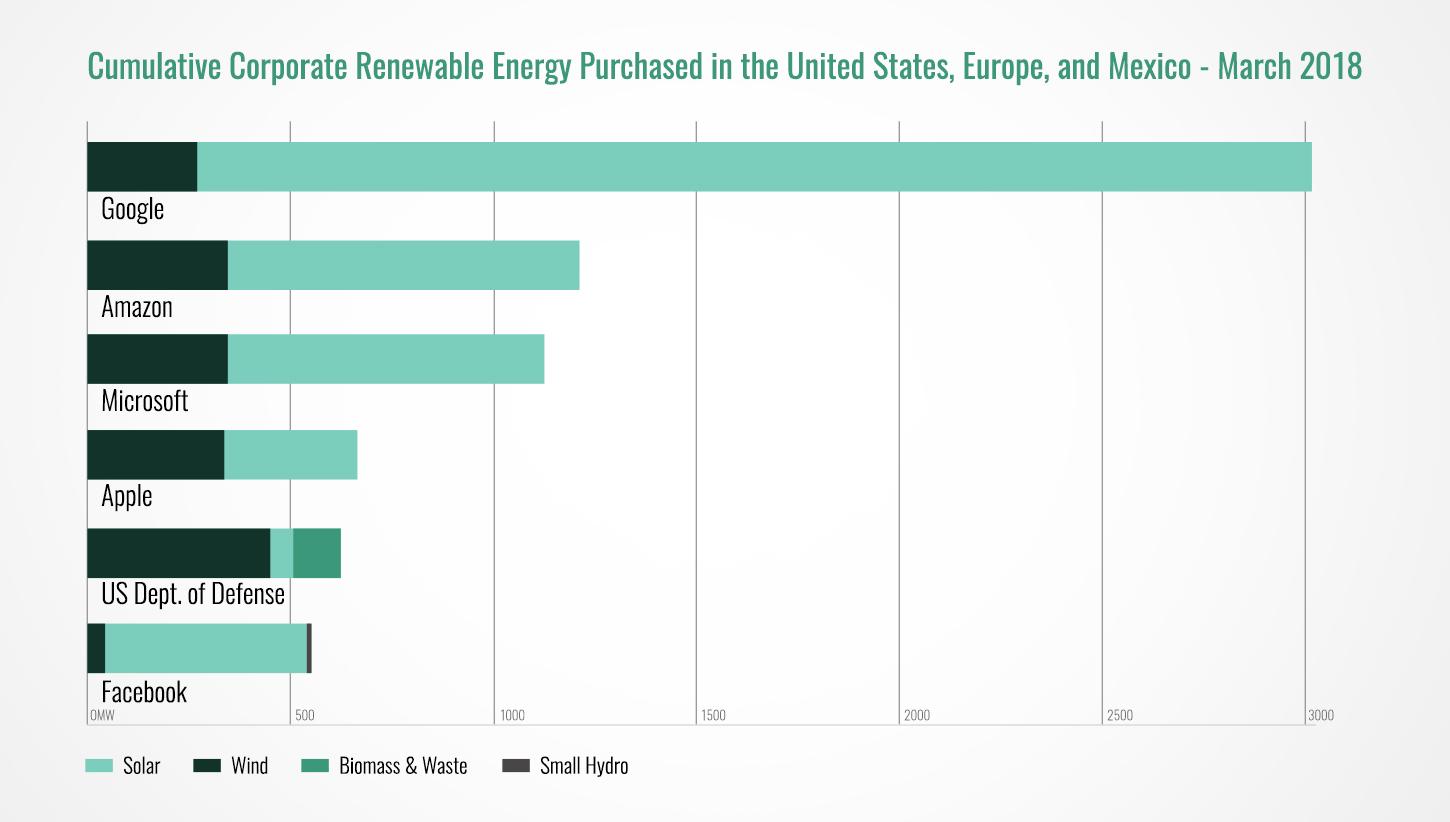 Article continues below advertisement
Google's announcement leaves other corporations reaching for sustainable energy in the dust. Microsoft and Amazon are the only two companies on Google's level that are above one gigawatt — a number that's not even in the same ballpark as Google. But to be sure, corporations are looking to catch up. Microsoft announced last November its plan to cut carbon emissions by 75 percent by 2030. Facebook will run on 50-percent renewable energy by the end of this year. And many of Amazon's distribution centers are already run on solar power.
Google has gradually upped its sustainable energy efforts over the years. The company in 2015 gleaned 44 percent of its energy from renewables. That number jumped to 57 percent in 2016, then to 100 percent by the end of 2017.