Woman Aghast to Discover Coconut Water Filled With Goopy Brown Mold: "Vita Coco Gone Wrong"
One woman went to social media to get a manufacturer's attention after she found mold in her container of Vita Coco coconut water.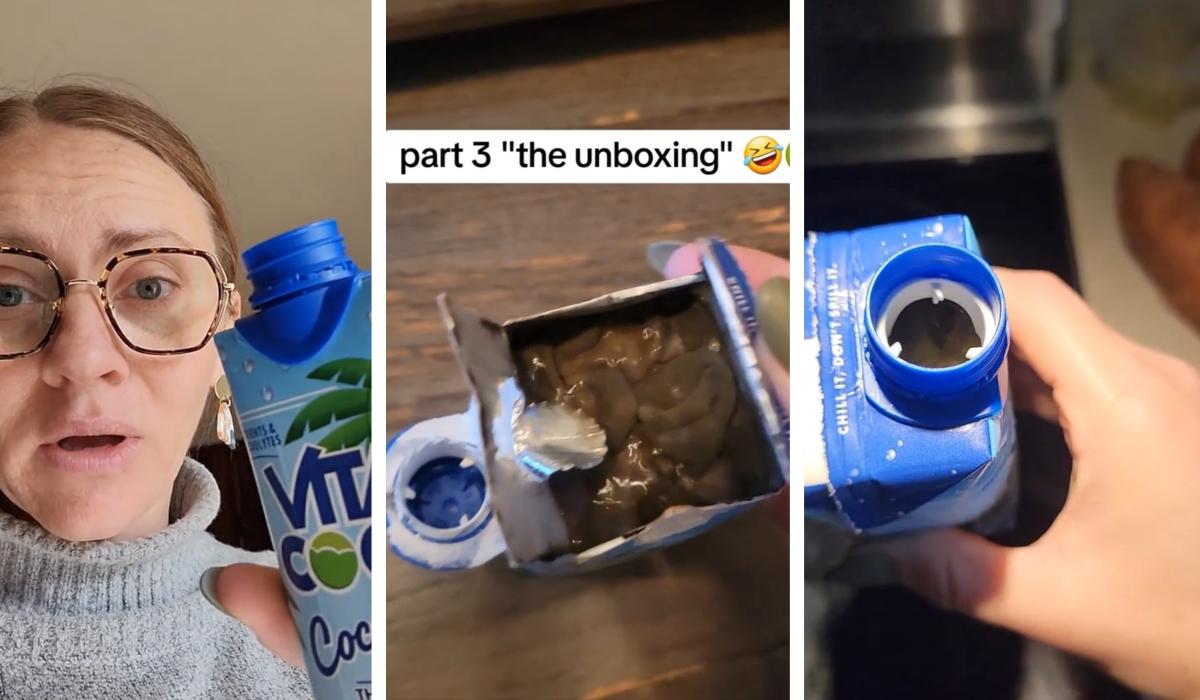 One woman has learned the hard way the risk of drinking directly out of a manufacturer's carton. She shared the stomach-turning experience on social media in part to gain the attention of the company and to alert her friends to the potential problem: Her Vita Coco coconut water cartons were filled with mold.
Article continues below advertisement
The TikTok user explained the Vita Coco mold problem in a series of short videos, also making sure that viewers could see the horrific sight she found. Here's what her coconut water contained, and how the company responded to the gross goop.
Article continues below advertisement
A woman shared her experience finding mold in Vita Coco on TikTok.
On Tiktok, creator Joan (@joan.er5) shared a series of five videos explaining the problem. The first video showed her holding an open Vita Coco coconut water container. She explained that she had opened it and tilted it to drink, but nothing came out; she then noticed that the bottle felt heavy. She even weighed the container on a scale, which showed a total weight of 12 ounces, while the labels said it was 11.1 ounces.
As she explained further, she said, "There's something in it... almost looks like mold." She then tried to find the best angle and lighting to show viewers what she saw from the top of the container, which looked like a dark brownish-green blob (not exactly what you want to find in a container of liquid).
Article continues below advertisement
This first video garnered dozens comments, several of which indicated she's not the first person to find mold in a Vita Coco container.
"I've seen so many videos about this exact product having SO MUCH MOLD inside! You're not alone!!!!" said one commenter. Several people fixated on correcting her for expecting the container to weigh the same as the product's net weight. Others like this one said she was overreacting: "Why are you making this video. So stupid. Take it back or email customer service."
Article continues below advertisement
Joan made several more videos in response to the public's comments. In video No. 3, she cut the package open, calling it "the unboxing." This provided a clearer and more disgusting picture of the slimy glob of mold resting at the top of the package. Then in part 4, she dumped the contents of the container into a glass bowl, revealing that plenty of liquid was still inside, but the mold remained stuck on the package.
Article continues below advertisement
Vita Coco explained why the coconut water had mold in it.
Vita Coco commented on a few of Joan's TikTok videos. The company wrote: "Hi there, we're sorry that you've had this experience. This appears to be mold that can occur when the [Tetra Pak] is damaged in transit to you." The company also stated that it would replace the Vita Coco for her.
Further down the comment thread, Vita Coco offered further explanation: "Vita Coco is a natural product, so if the packaging is damaged and air gets into the package before you're ready to drink it, mold can occur."
Article continues below advertisement
Joan said in her fifth video about the incident that she "won't be drinking Vita Coco again," and added that she would return it to the Costco where she had purchased it. Further, she recommended that either people avoid the product, or at the very least, pour drinks into a glass rather than drinking directly from the container, to make sure there's no mold inside before taking a sip.