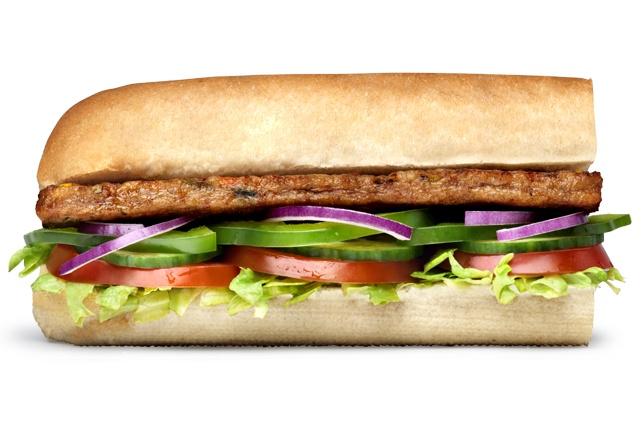 Subway's New Spicy "Steak" Sandwich Has Vegans Rejoicing
Subway joins the list of fast food chains across the world that are creating more vegan options. They've debuted a new Vegan Delight sandwich in Finland that features a soy-based "steak" patty and people are pumped. While it's not Subway's first venture into vegan options, they haven't used plant-based "meat" until now.
Article continues below advertisement
The fast food chain is calling the soy-based patty a "spicy vegan steak" that includes red onion, various peppers, carrots, spinach, corn, peas, green chili and garlic. In total, 44 percent of the sandwich is made with vegetables. There's a number of vegan sauces that can be added to the sandwich, including barbecue, sweet onion, and red vinegar and oil.
Article continues below advertisement
Vegan Delight had a soft launch across a dozen Finnish stores for Veganuary, a worldwide event that's inspiring people to try a vegan diet. While the focus was in the month of January, they'll still be promoting veganism through the rest of the year. Their official website has everything you need to learn about eating healthier options.
Subway has jumped into vegan options before on a limited basis in the US. Back in 2012, they introduced Sweet Riblet, Malibu Greek, and Italian Black Bean sandwiches in the Maryland, Virginia, and Washington D.C. markets. Over the years, the options expanded to around 1,000 locations by 2015.
Article continues below advertisement
On a more national scale, Subway has a number of bread and toppings that are already vegan. This includes the Hearty Italian Bread, Roasted Garlic Bread, and the wraps. Many locations in the United States and Canada have a Veggie Delight sandwich available. Assuming customers use a vegan bread and top it with items like yellow mustard, sweet onion sauce, or guacamole, the item can be entirely vegan.
Article continues below advertisement
While some options already exist in fast food chains, what's been making a splash is plant-based meat. McDonald's has recently introduced the McVegan burger that features a soy-based patty and various traditional toppings without a slice of cheese. This product also had a trial run through Finland along with Sweden.
Another chain that's made a significant impact in the vegan food industry is Domino's with their vegan cheese. Three different pizzas contain the vegan cheese in their Australian stores. Their dairy-free cheese is so popular, they ended up running out of stock due to the high demand. Similar to the McVegan burger, it's become a permanent option and could be seeing worldwide growth. After all, the vegan mozzarella cheese is made by United States-based company, Follow Your Heart. Maybe Americans will see an influx of vegan fast food sooner than we think!