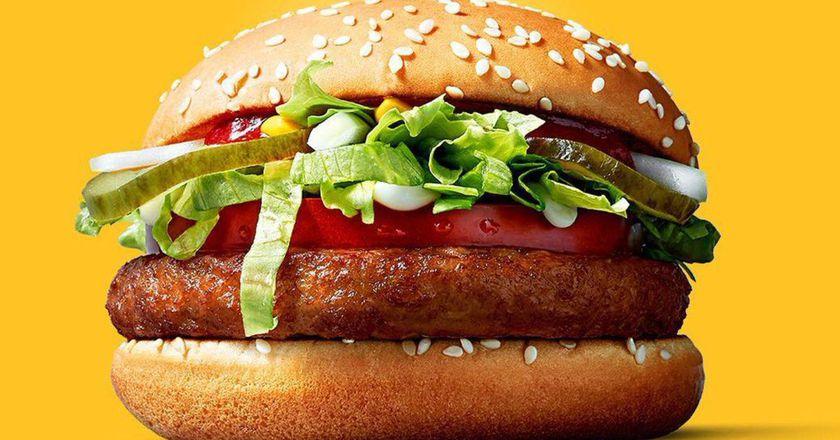 McDonald's Already Sold 150,000 Vegan Burgers In Limited Release
McDonald's has been rolling out the new "McVegan" burger at restaurants in Finland and Sweden, and the sales have been impressive. Orkla Foods, the company that helped bring the new vegan option to the fast food chain, announced that 150,000 burgers were sold in January. With the new product continuing to expand, it's probably a question of when, not if, the vegan burger will arrive in your neighborhood.
Article continues below advertisement
The McVegan had a trial run four months ago at a McDonald's location in Tampere, Finland. After proving successful, the company expanded the new meal in other locations across Finland and Sweden right before the new year. Peter Ruzicka, CEO of Nordic-based Orkla Foods, told FoodNavigator that these stores sold 150,000 burgers since being launched and their new partnership with McDonald's was "very successful" so far.
"People want to eat more plant-based food, partly because of health reasons, but also because of environmental reasons," Ruzicka said. "Less climate impact than a regular burger made of meat…and this has received a lot of attention worldwide. This is a trend, of course, not only in the Nordics."
Article continues below advertisement
Add the United States to one area that's seen a significant boost in veganism. Six percent of Americans have adopted alternative meat consumption as the country has become more aware in what they eat and how it impacts the environment. That's up from just one percent in 2014.
Article continues below advertisement
The new vegan sandwich is a soy patty that has all the standard trimmings from other burgers, such as a tomato slice, onion, and lettuce, with the exception of cheese. One customer told CNN Money that "it tasted like a normal, regular hamburger" and said they would try it again as "there wasn't such a big difference" from the traditional option.
Article continues below advertisement
No announcement has been made yet on McDonald's bringing the McVegan burger stateside. Considering how successful it's been in the Nordic countries and how easily it can be mass-marketed, it would be an ideal addition across many American restaurant locations.
McDonald's has been improving their food selection for a while now, and they'll soon be bringing in 85 percent of their beef from sustainable suppliers in the next few years. Outside of food, the national fast food chain will make all of their restaurants fully recyclable by 2025. This means all of their customer packaging will be from renewable sources. As of now, it's at 50 percent.
Article continues below advertisement
"Our customers have told us that packaging waste is the top environmental issue they would like us to address," Francesca DeBiase, McDonald's Chief Supply Chain and Sustainability Officer said in a press release. "Our ambition is to make changes our customers want and to use less packaging, sourced responsibly and designed to be taken care of after use, working at and beyond our restaurants to increase recycling and help create cleaner communities."