Sixth-Grader Awarded $25,000 for Inventing New Smoke Detector That Sends Alert to Your Phone
Shanya Gill, a sixth-grader, won a youth science award for her invention using thermal imaging to detect fires. Here's how it works.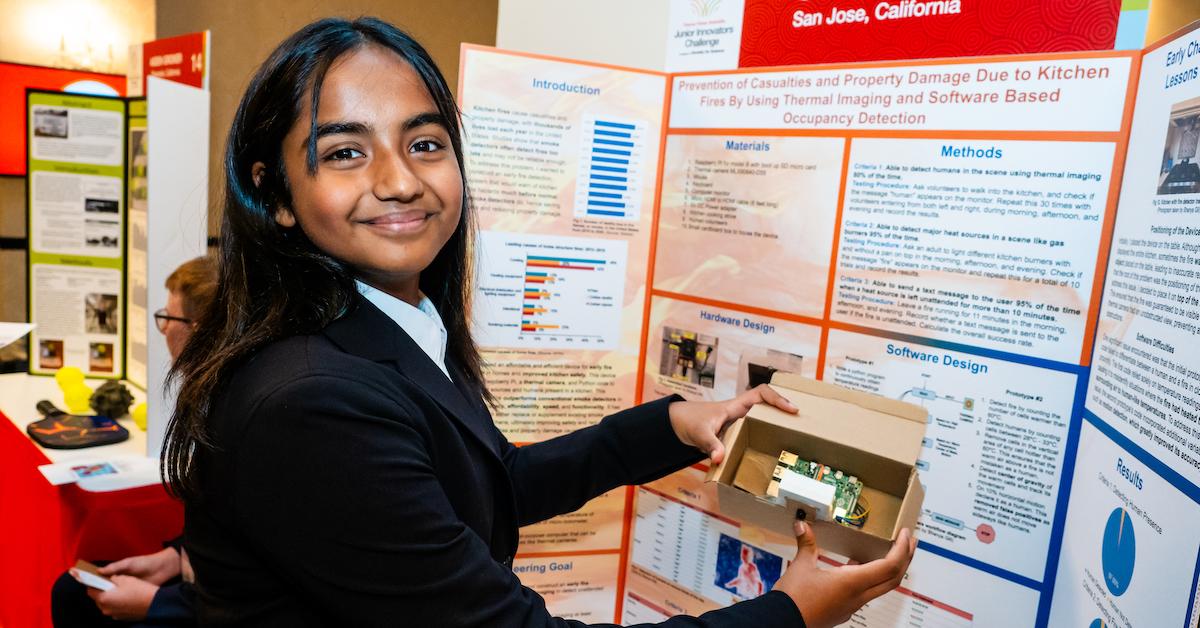 In a stunning display of intelligence and creativity, one sixth grade-student has designed a new fire detector. Unlike traditional smoke detectors, 12-year-old Shanya Gill's invention uses thermal detection to identify possible fires more quickly, as well as send an alert to the owner's phone.
Article continues below advertisement
Per Society for Science, Shanya impressed the judges in the Thermo Fisher Scientific Junior Innovators Challenge (JIC), coming away with the top prize of $25,000. We've got all the details on how her fire detector works and what she plans to do next.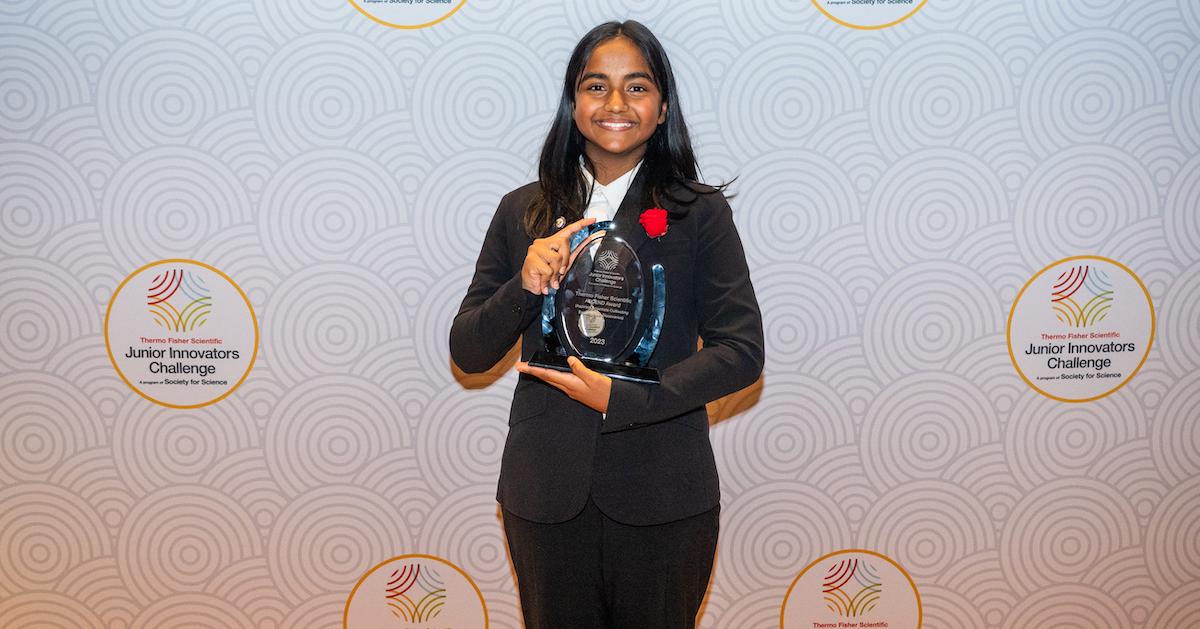 Article continues below advertisement
Middle school student Shanya Gill invented a new fire detector.
Shanya explained her invention in a video that Society for Science shared on its YouTube channel, noting that she came up with the idea after a restaurant near her home burned down.
Standing inside a kitchen next to the stove, she said that she used a Raspberry Pi computer and a thermal camera to build the fire detection device. "Imagine you forgot that you turned on the stove and left. That would be a huge safety threat," she said in the video.
As she explained the concept, she turned on the stove burner, then answered a phone call and walked away. The next scene showed her inside a vehicle, and while discussing the invention's value, received an alert on her cell phone. This staged scene demonstrated how her invention works — by detecting the heat of a fire that is unattended, then notifying the user rapidly.
Article continues below advertisement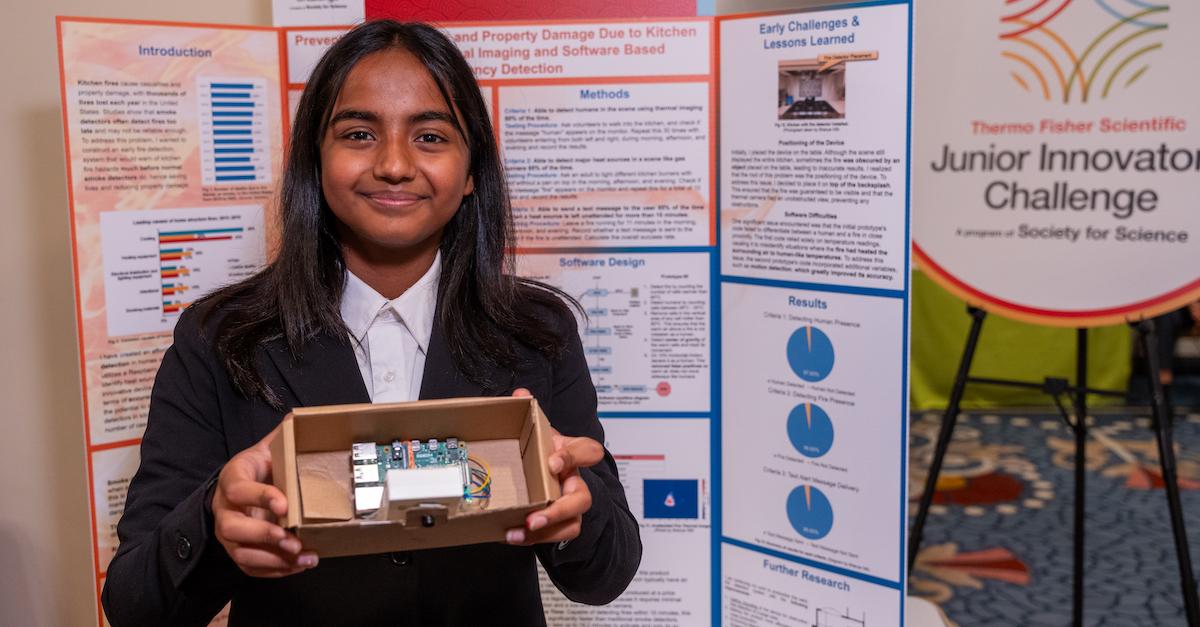 "I coded the Raspberry Pi with Python, and the thermal camera gives images to the Raspberry Pi to analyze," the 12-year-old explained to Business Insider how the device works.
Her invention can differentiate between heat sources likely to be a person or animal, and those that pose danger, such as smoke rising upwards.
Article continues below advertisement
Shanya's fire detector helped her win the Thermo Fisher Scientific ASCEND Award
According to Society for Science, Shanya was part of a pool of nearly 2,000 applicants who hailed from all across the U.S. as well as the Northern Mariana Islands and Guam.
With her fire detector that was 97 percent accurate in detecting heat sources, she won the $25,000 top honor in the Thermo Fisher Scientific ASCEND (Aspiring Scientists Cultivating Exciting New Discoveries) Award.
Article continues below advertisement
The Thermo Fisher JIC is a part of Society for Science that works with 65,000 middle-school participants in STEM areas. To win, Shanya not only had to present a top-notch project, but also compete in team challenges testing various skills. She and other winners were honored in a ceremony at the Kennedy Center in Washington, D.C.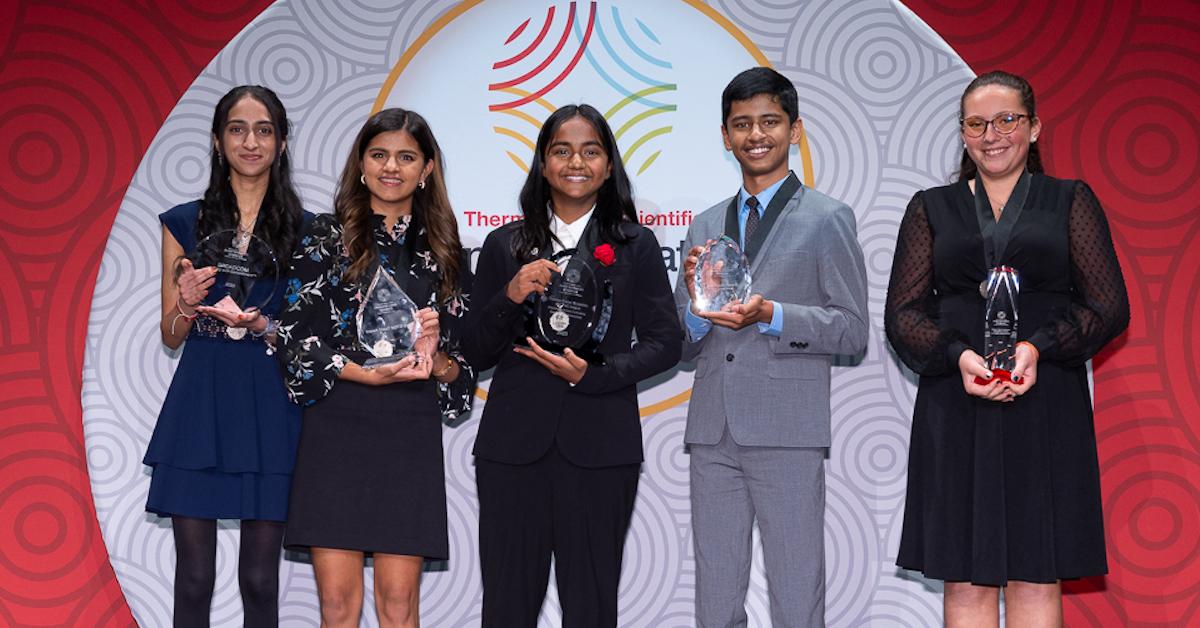 Article continues below advertisement
These applicants each won $10,000 in the competition, per a Society for Science press release:
Keshvee Sekhda: developed a smartphone app to detect cancer
Maya Gandhi: researched energy output of microbial fuel cells in plants
Adyant Bhavsar: created a device that generates electricity from energy of two objects when they separate
Elizabeth Olvera: found an eco-friendly fabric for reusable menstrual products.
According to Business Insider, Shanya plans to use her winnings to help get her product on the market. She'll give any remaining proceeds to charity — and of course, she said she'll focus on charities helping people impacted by fires.