Climate Activists Strike Art Again — This Time, With Maple Syrup
Shortly after various famous paintings were vandalized last month, two activists targeted an Emily Carr painting with maple syrup in Vancouver last weekend.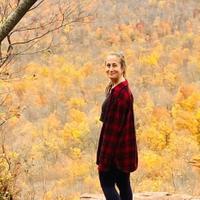 Environmental protestors have struck art again — this time, at the Vancouver Art Gallery.
This past weekend, the Vancouver Art Gallery confirmed that two climate activists vandalized a famous painting with maple syrup. After entering the British Columbia museum, they doused Emily Carr's famous painting "Stumps and Sky" in the beloved sweet and sticky substance.
Article continues below advertisement
"The Vancouver Art Gallery condemns acts of vandalism towards the works of cultural significance in our care, or in any museum," reads a statement from the museum, which was released following the Nov. 12 incident. "A central part of our mission is to make safer spaces for communication and ideas."
"As a nonprofit charity, we are an institution of memory and care for future generations," the statement continued. "We do support the free expression of ideas, but not at the expense of suppressing the ideas and artistic expressions of others, or otherwise inhibiting people from access to those ideas."
Full statement, below.
Article continues below advertisement
Activists vandalized a Vancouver Emily Carr painting with maple syrup last weekend.
Police investigations continue after two environmental activists from Stop Fracking Around entered the Vancouver Art Gallery on Saturday Nov. 12, doused Emily Carr's "Stumps and Sky" in maple syrup, and glued themselves to the wall beneath the painting.
According to Global News, the protest allegedly aimed to raise awareness of destruction caused by the Coastal GasLink Pipeline, which is currently in the process of being built.
Article continues below advertisement
"We are Stop Fracking Around. We are here to raise our voices and we are not going to be quiet," one of the activists stated, per Global News. "We demand that the government stop building the Coastal GasLink Pipeline, the government cancels fossil fuels infrastructure and that the government cancels the Trans Mountain pipeline."
No artwork was permanently damaged, though museum curators were seriously upset by the incident.
And while the group hears their frustrations, the organization maintains this is the only way to actually be heard.
"This is a move in desperation," Don Marshall from Stop Fracking Around stated. "This is the only way (activists) have found to actually have an impact. Those people that say, 'please protest in another way,' please do. If they think you can stand on the side of the road, hold banners and that will have an impact on the government… try it. We have and it didn't work."
Article continues below advertisement
This comes shortly after activists smeared cake on the 'Mona Lisa,' and threw soup on Van Gough's 'Sunflowers.'
So why are protestors targeting art?
While it's been happening a lot lately, this is nothing new. In fact, climate protestors have been targeting art for years, as it always draws quite a bit of attention. People tend to be more interested in pursuing personal interests — art and pop culture — than climate matters. And while this tactic may not be your cup of tea, it's certainly a good way to attract attention, which is what climate issues need most.