Can Dogs Eat Raspberries? Find out if the Popular Fruit Is Dog-Approved
Dogs can't eat all of the foods considered healthy for humans, so can dogs eat raspberries? Find out whether the sweet berry is safe for dogs.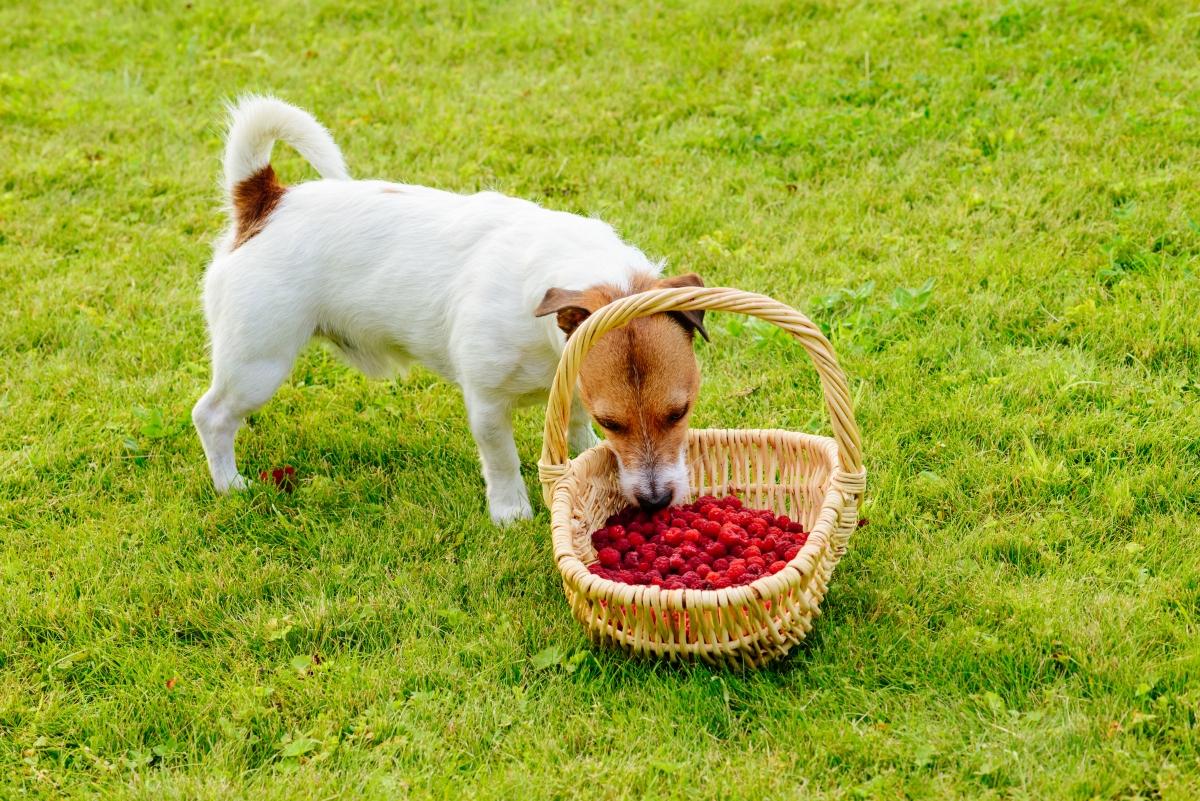 It can feel like navigating a minefield, figuring out which snacks are safe and healthy to give your dog. Of course, offering your dog foods off your plate is tempting, including that you know are good for humans. Cherries aren't good for dogs, but can dogs eat raspberries as a treat?
Article continues below advertisement
The good news about raspberries is that they're not toxic to dogs, so if a few berries fall to the ground and your pooch gobbles them up, it's no big deal. But you should know how much is safe for dogs to eat and how they should be prepared.
Article continues below advertisement
Can dogs eat raw raspberries or do they need to be cooked?
Yes, raw raspberries are fine for dogs to consume in small amounts. According to NativePet, you should only feed dogs fresh, raw, or thawed raspberries that are unsweetened. So if the berries have been frozen and you let them thaw, you can safely feed them to your dog. Otherwise, raw fresh berries are fine too, but avoid any prepared raspberries.
Raspberries provide antioxidants and nutrients such as dietary fiber, Vitamin C, and Vitamin K. In addition, raspberries contain minerals like folic acid, manganese, and iron. According to the American Kennel Club (AKC), raspberries may benefit senior dogs due to their anti-inflammatory properties.
Article continues below advertisement
There's one ingredient in raspberries to watch out for, however.
Although raspberries are technically safe for dogs to eat, you'll need to be cautious about one ingredient found in the sweet berry. Raspberries contain extremely high levels of the natural sweetener xylitol. Some possible side effects of eating too many raspberries include low blood sugar, liver failure, and gastrointestinal distress.
Article continues below advertisement
Dogs can consume toxic amounts of raspberries if you're not careful. So it's essential to monitor how much your dog eats of treats like raspberries. Only allow them one raspberry at a time and no more than one cup of the fruit (though that's somewhat excessive).
While some dogs can eat small quantities of raspberries safely, dogs that are diabetic shouldn't consume them. Ask your veterinarian if you're unsure about your dog's case.
Article continues below advertisement
Can dogs eat raspberry jam?
Don't assume that raspberries being safe for dogs means they're safe in all forms. You should not feed dogs frozen berries (they're fine if you thaw them first, though). Avoid other products such as raspberry jam, jelly, or sweetened raspberry. Jams and jellies typically contain high levels of sugar.
What's the best way to feed a dog raspberries?
Raspberries are a treat for dogs, which means moderation is key. Most of your dog's diet should consist of nutritious protein-based dog food, with raspberries reserved as a special treat. Consider your dog's size in determining the number of raspberries they eat. Pumpkin Pet Insurance suggests only 1-2 berries for small dogs under 20 pounds, 3-4 for dogs between 20 and 30 pounds, 5-6 for dogs over 30 pounds, and a "small handful" for a dog over 50 pounds.
It may be best to smash or cut up raspberries to reduce any risk of choking. Remember to avoid any jams or sweetened raspberries, and monitor your dog for any choking reactions or indications of upset stomach.