3D Pets Melts Hearts With Innovative New iPhone Ad of Dog Prostheses
Pets can regain mobility after losing a limb thanks to 3D Pets prosthetic devices. Check out the nonprofit's iPhone ad for dog prostheses.
Pets can astound us with their courage, as an iPhone ad called "The Invincibles" sets out to demonstrate. Dogs who have lost a limb due to injury or illness are front and center in the 3D Pets dog prostheses iPhone ad, showing off their amazing mobility, restored thanks to the nonprofit's work.
Article continues below advertisement
3D Pets is one of several companies giving pets back their lost ability to walk and run and thus restoring their quality of life. Check out the adorable pups featured in the ad campaign, including footage shot on the iPhone 14 Pro and iPhone 14 Pro Max. You won't be able to hold back tears of joy at these pets' happiness.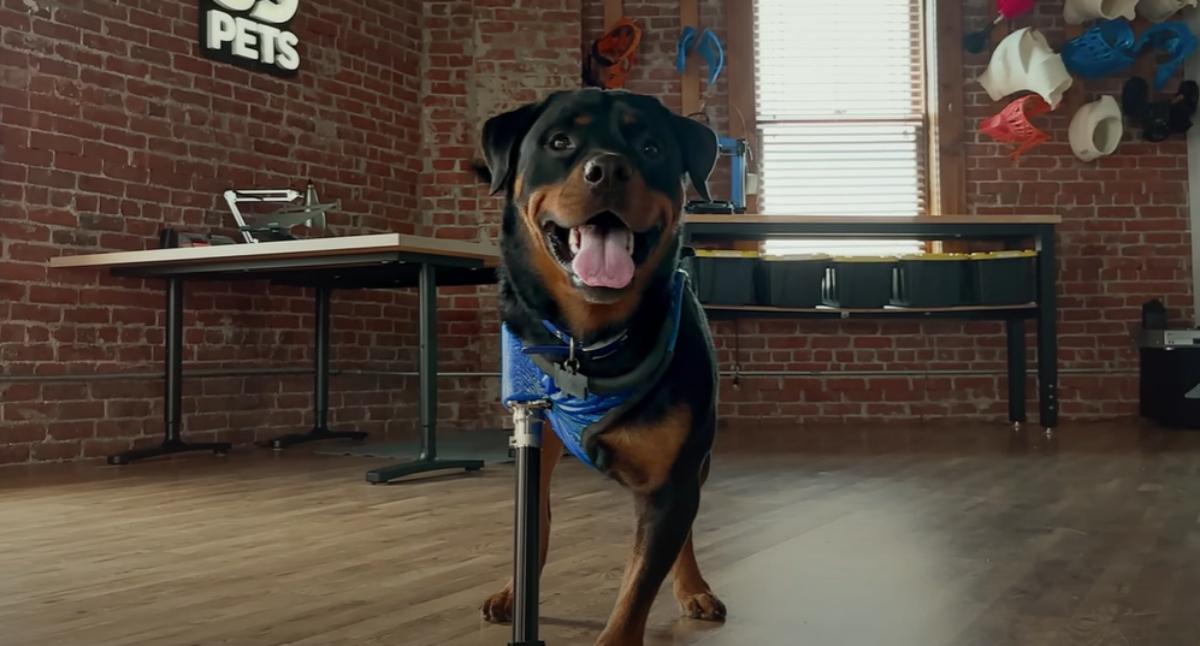 Article continues below advertisement
A new Apple iPhone ad shows dogs living with prostheses thanks to 3D Pets.
Apple has released an ad titled "The Invincibles," showing several dogs wearing prosthetic limbs or devices. Trip is the dog whose story is most prominent in the ad, as it explains he had birth deformities and had to have a leg amputated. According to People, Trip was one of the first clients of 3D Pets, a nonprofit creating custom mobility devices. He is also considered the mascot of the nonprofit.
In the clip, entirely shot on iPhones, footage of Trip shows his life pre-prosthesis and then his happy attitude as he runs through fields and streams, catches a tennis ball, and enjoys his life. The video then pans to several other dogs wearing their prosthetic devices and running around with delight, just as dogs should.
Article continues below advertisement
3D Pets is a nonprofit that makes prostheses for your furry friends.
People reports that Jordan Rosenfeld was a biomedical engineering student who worked on a prosthesis for his dog, Cleo, which led to starting 3D Pets, an organization that creates custom 3D printed prosthetics and carts for dogs and other pets. (Check the 3D Pets Instagram for more images of dogs, ducks, turtles, and other animals benefiting from this technology!)
Article continues below advertisement
3D Pets offers full-limb prosthetics for animals starting at $1,550 and carts for pets with no front limbs starting at $1,700. The company sends you a casting kit to make a mold of your pet, then creates a 3D scan of that mold and uses 3D printing technology to make the prosthetic that will fit most comfortably for the animal. Building the device after casting takes about 4-5 weeks.
Lydia Mindek tells People that Trip "comes with me everywhere" since getting his full prosthetic leg. Mindek is also 3D Pets' director of operations and says, "Seeing pets regain their mobility and the difference it makes in their lives, there's no more rewarding feeling."
Article continues below advertisement
According to Wired, pet parents must also realize that animals must often undergo weeks or months of rehabilitation before a prosthetic feels comfortable.
3D Pets also notes this in their FAQ section, saying that pet parents must be willing to work with their furry friends to help train them in using their prosthetic limb or cart. The prosthetics are not for constant wear but primarily when their creatures do activities like walks or hikes.