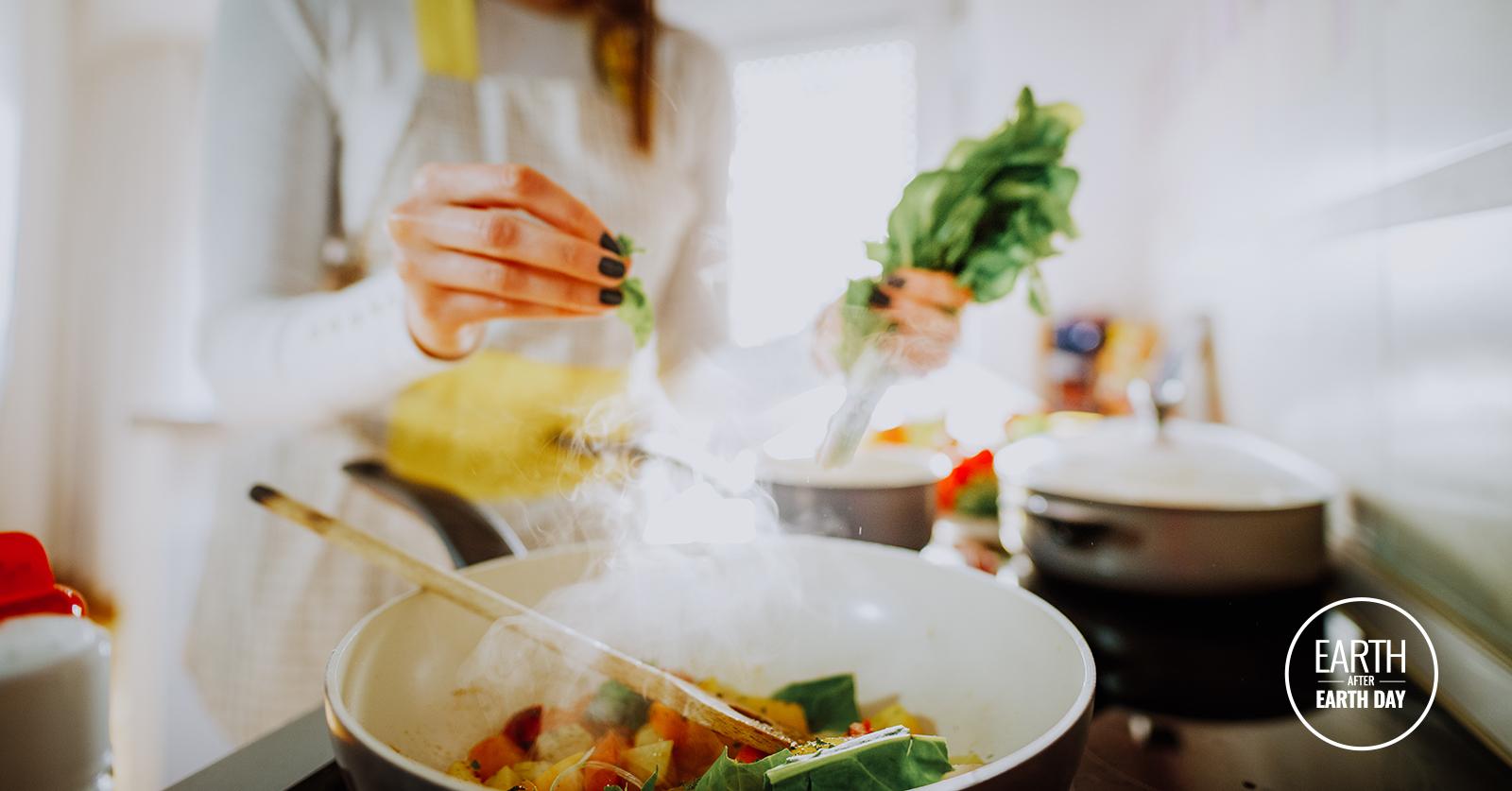 Oil-Free Cooking Basics: Why People Are Embracing the Trend
Here are the basics on cooking oil-free, and the reasoning behind why you may want to try it.
If you've ever heard of the oil-free cooking movement, you probably have a few questions. Why would I want to eliminate oil from my diet? Olive oil is healthy, right? Is it even possible to cook without oil? Don't worry, we've got you covered — here's everything you need to know about cooking without oil.
Article continues below advertisement
Firstly, it's important to note that there are wildly different opinions regarding oil floating all over the internet. Some people tout the positive health benefits of oils such as olive oil and coconut oil, and encourage slathering all your meals with the elixirs. Not to mention, oil can definitely make certain dishes tastier. However, others have noticed positive changes after eliminating oil from their diets, mostly in terms of their personal health. Plus, there are plenty of tips and tricks that make oil-free meals just as yummy.
What Is Oil, and How Is it Made?
Article continues below advertisement
Oil is essentially a liquid fat made from a plant. Whether it's olive, coconut, canola, grapeseed, or sesame, oil is made by pressing it from the plant of choice.
Don't You Need Oil to Cook?
Article continues below advertisement
Using oil can definitely make cooking easier — it helps prevent food from sticking to the pan and burning, it can help foods cook a bit quicker, and it can help certain foods crisp up nicely. But luckily for those trying to avoid their oil intake, cooking without oil is totally possible.
Article continues below advertisement
Why Cook Without Oil?
Cooking your food without oil has a few benefits, the largest one being your health. As explained by the Forks Over Knives blog, the pressing process used to make oil strips all nutrients from the plant, leaving you with pretty much just fat. If you look at the nutrition facts label on the oil bottle in your cabinet right now, you'll notice that the only nutritional properties with numbers greater than zero are: calories, saturated fat, polyunsaturated fat, and monounsaturated fat. Yes, our bodies need calories and fats, but if you're trying to up your nutrition game, it would be better to get your calories and fats from healthy whole foods, such as avocado, nuts, and seeds.
Article continues below advertisement
Additionally, as Forks Over Knives noted, oil is the No. 1 most calorically-dense food there is. So if your meal was cooked in a ton of oil, you'll fill up quicker thanks to oil being so high in calories. But if you use a little less oil when cooking, a bonus is that you'll have room to eat more food, and you'll be dedicating more of your calorie intake to nutritionally-dense foods, instead of calorically-dense, nutrient-void ones like oil.
Furthermore, some people claim that eliminating or reducing oil from their diets has helped clear up their skin. The science on this is mixed, but if you are hoping to clear up acne, it couldn't hurt to reduce your oil intake and see how your skin reacts.
Article continues below advertisement
Oil Free Cooking Basics
So no matter the reason you're planning to try cooking oil-free, the process is actually much easier than it seems. Here are a few tips for eliminating oil from your cooking routine, as well as videos from a few popular YouTube chefs who have mastered the art of oil-free cooking.
Article continues below advertisement
1. Non-Stick Is Your Friend
Article continues below advertisement
For the stove, invest in a non-toxic non-stick pan. If you use stainless steel or cast-iron, your food could burn without oil.
2. When Frying, Replace Oil With Liquids 
Article continues below advertisement
Instead of using oil to sauté or fry things on the stove, try replacing the water oil with water, veggie broth, vinegar, liquid aminos, soy sauce, or another liquid — or, just using no oil at all. If you're using a liquid, you'll want to deglaze the pan every time the liquid dries up, until your food is cooked through.
Article continues below advertisement
3. Try Steaming
Article continues below advertisement
Steaming your veggies not only means you won't need to use oil, but it also means your food is going to cook so much faster. Veggies that can take up to an hour to cook in the oven, such as potatoes and broccoli, can cook in about 10 minutes when steaming them in a steamer basket inside of a pot or pan on the stove. Just know that steaming produces a different flavor than roasting, and as noted in the above YouTube video by High Carb Hannah, it may take a little time to get used to cooking without oil, as your food may taste a bit different than your usual meals.
4. Utilize Your Oven
Article continues below advertisement
Cooking without oil in the oven is a pretty easy swap, and could be a good place to first try oil-free cooking. You can make things easier for yourself by lining your cookie sheets with either compostable parchment paper or a reusable silicone mat instead of greasing the pan, to ensure that your food does not stick or burn — although many veggies can be roasted straight on the pan without burning.
Article continues below advertisement
5. Try An Air-Fryer
Article continues below advertisement
An air fryer has a few benefits. It doesn't need to preheat, it cooks your food in half the time, and, because it cooks your food from every angle, no oil is needed. So while some methods of oil-free cooking (namely, frying) require constant attention, the air fryer is a great way to throw in your food and forget about it until the timer goes off.
Like with any other kitchen skill, there are so many more tricks you can learn to perfect your oil-free cooking game. Use the internet as a resource, and play around until you figure out how you want to incorporate oil-free meals into your diet. That said, it's important to note that if you're unsure about any major dietary change, you should consult with a doctor, nutritionist, or dietician.