Is Your Cookware Zero-Waste?
Find out whether your cookware is zero-waste — and what you can do to make changes in your kitchen!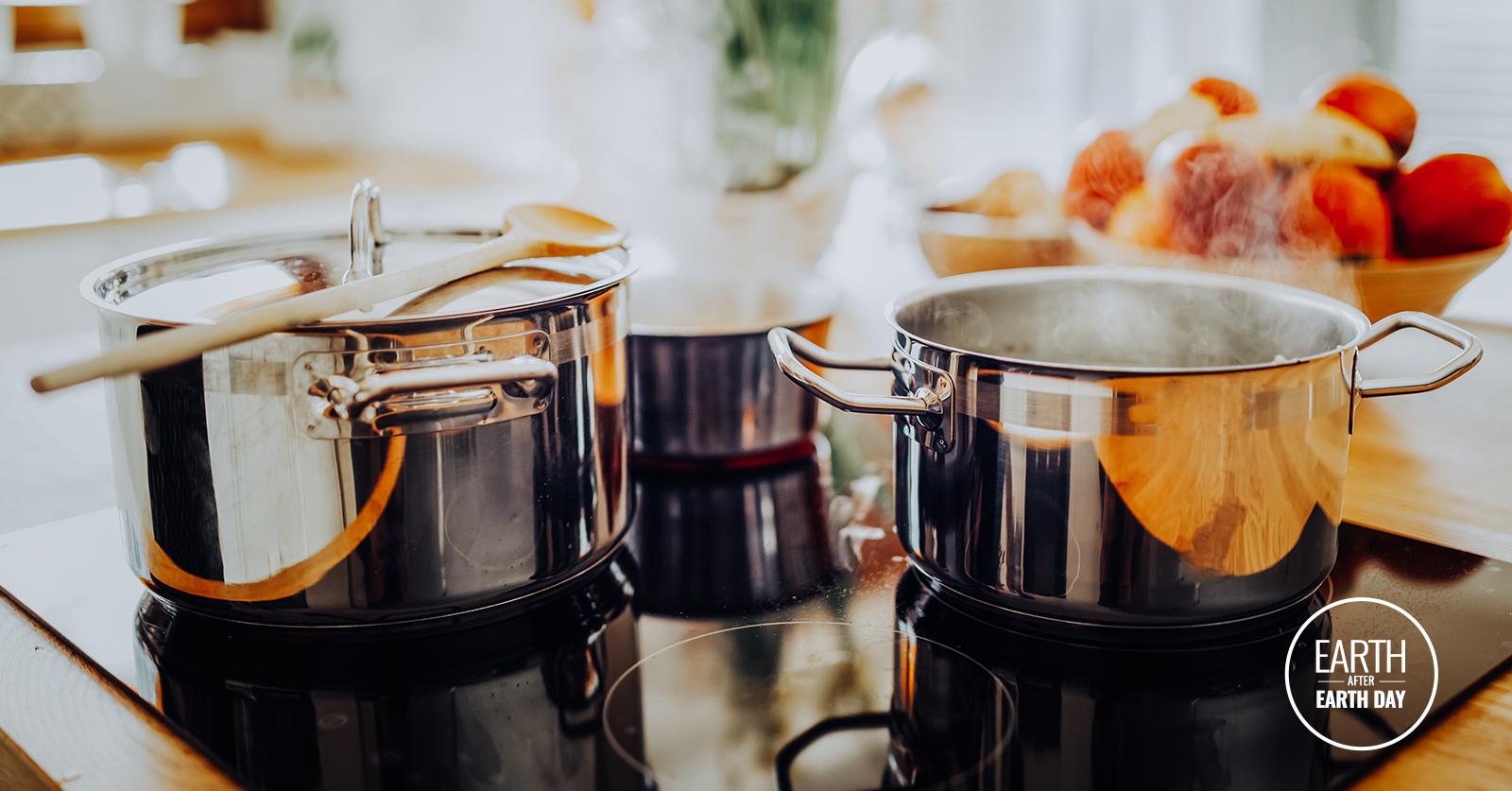 You've got the silicone sponge, you buy food and soap in bulk, and un-paper towels sit on your kitchen counter. Basically, you're doing everything you can to live an eco-friendly, nontoxic, and sustainable lifestyle. But is your cookware zero-waste?
Article continues below advertisement
Cookware can be pricey, especially if you're shopping with the intention of longevity. Since a huge part of being zero-waste is choosing products that will have a long shelf-life, it's safe to say sustainable cookware might be on the steeper side, financially. The good news is sustainable options are usually healthier and cheaper in the grand scheme of things. You might have to lay out more money now, but when you don't have to replace a pan every few years, you'll be grateful you decided on quality versus quantity.
But before we get into buying sustainable cookware, in true zero-waste fashion, it's important to take inventory of what you already have. What's in your cabinets? Is the cookware you already own safe, nontoxic, and sustainable? Keep reading to find out!
Article continues below advertisement
Sustainable cookware materials
Stainless steel
Stainless steel is 100 percent recyclable and has a long shelf-life. While some people worry about the toxicity of stainless steel because of its inclusion of aluminum layers, brands like Calphalon, Cuisinart, and Cook N Home sandwich the aluminum between other layers of stainless steel. This is thought to prevent metal leaching. Additionally, some stainless steel pans may include enamel coating, which also has drawbacks to our health. If possible, it's best to find a stainless steel option sans coating. Good brands to look out for include Mauviel, Demeyere, and All-Clad.
Uncoated cast iron
Durable and virtually indestructible, cast iron is another sustainable cookware option that lasts a very long time. Like stainless steel, there are some toxicity concerns with cast iron, as iron can leach into food and change the enzymes inside. However, enamel coatings are still under health review, as it's not yet clearly determined what the risks and benefits are. Some quality cast iron brands include Staub, Le Creuset, and SolidTeknics, all of which offer 30+-plus year guarantees on their products.
Article continues below advertisement
Titanium cookware
Titanium might be the healthiest sustainable option on the cookware market. It's 100 percent recyclable and because it's a natural resource, environmentally-friendly. From a nontoxic perspective, titanium cookware is not thought to react with cooking food negatively. While it can get costly, it might just be the best option for both our health and our Earth. Most titanium cookware should be safe but some good brands include Woll and Snow Peak.
Unsafe cookware materials
Teflon
It's one of the worst possible options for cookware. Teflon is manufactured using PFOA, an unsafe chemical called perfluorooctanoic acid that is noted as an emerging health concern. High levels of perfluorooctanoic acid in human blood are linked with cancer, high cholesterol, thyroid disease, and fertility issues. While PFOA has been more thoroughly regulated since 2015, traces of it may still be found at manufacturers. It's best to avoid Teflon cookware altogether.
Article continues below advertisement
Aluminum
When food is cooked in an aluminum pan, the toxic metals absorb are released and absorbed into the food. High levels of aluminum in the body have been linked to Alzheimer's Disease and breast, uterine, prostate, endometrial, and ovarian cancer.
Copper
Many people like copper alternatives because they are relatively scratch-resistant and non-stick. But like aluminum cookware, copper cookware also has the problem of leaching into the food it cooks. Copper cookware also often contains nickel in the coating, which is another toxic metal that can negatively affect cooked food.
Article continues below advertisement
Questionable cookware materials
While ceramic and glass cookware options are both heralded as sustainable, they might have nontoxic properties that outweigh their eco-friendly benefits. Cookware that is ceramic, glass, or formulated with enamel is generally thought to be manufactured with lead.
Knowing what's in your pots and pans is a responsibility that comes with living a sustainable lifestyle. But no matter what kind of cookware you have — nontoxic or not, sustainable or not — one thing we can all do to keep our cooked food safer is rely on lower temperatures. Did you know cooking food with high temperatures destroys nutrients? It also damages the cookware.
Cooking meats (fish, pork, beef, or poultry) on high temperatures over an open flame creates heterocyclic amines (HCAs), which increase the risk of pancreatic, stomach, colon, and breast cancers. Lowering cooking temperatures isn't just better from a health standpoint; it's also a better option for the environment as it lessens energy consumption.
If switching over to sustainable cookware is not feasible, or if you still occasionally cook with some unsustainable materials, the best thing you can do is to lower cooking temperatures.