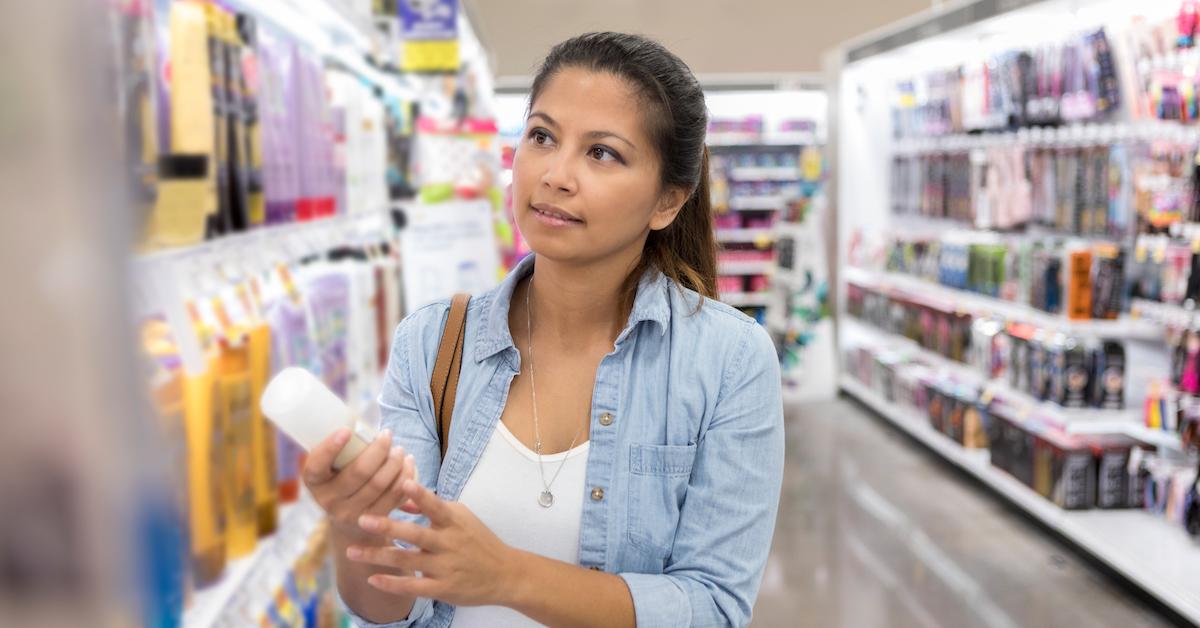 Finding Clean Beauty and Home Products at Target Just Got a Lot Easier
Target's new "Target Clean" label will make shopping for chemical-free home, beauty, and hygiene products much easier.
Shopping for safe hygiene, beauty, and home products at Target just got way easier. As reported by Salud America, Target recently announced its new Target Clean icon, which will help customers quickly identify products that do not include any "commonly unwanted chemicals."
Article continues below advertisement
As explained on Target's website, to be awarded the Target Clean icon, products must be free of: propyl-parabens, butyl-parabens, phthalates, formaldehyde, formaldehyde-donors, nonylphenol ethoxylates (NPEs), Oxybenzone, SLES, retinyl palmitate, hydroquinone, triclosan, triclocarban, BHA or BHT, aluminum (for deodorant only), and artificial sweeteners (for oral care items only). The new Target Clean symbol has already been added to online product pages, and it will roll out on in-store displays throughout April.
Target's website and stores already feature a slew of other icons relating to wellness. For example, in the Essentials and Beauty category, icons besides Target Clean include Biodegradable, Vegan, Cruelty-Free, No Added Fragrance, Non GMO, Non Toxic, and Organic. There are also specific wellness icons for Food and Beverages, Supplements and Nutrition, and Pet Food and Treats.
Article continues below advertisement
"Our guests are increasingly interested in better-for-you products, and by introducing Target Clean, we're able to help them identify products that meet their needs and save time," said Target SVP Christina Hennington in a statement. In fact, in 2017, Grocery Dive reported that Target customer demand for clean labels was growing — and it looks like Target finally listened. That's a great example of how important it is to tell stores what you'd like to see from them, because they really do listen to customer demands.
Article continues below advertisement
The new Target Clean label is part of the brand's chemical strategy, which Target first announced in January 2017. "Part of knowing what's in products is understanding where they come from and how they're made," Target VP Irene Quarshie said in a statement at the time. "So we'll build on our work in the responsible sourcing space to help us verify that supply chain processes are sustainable, as well as ethical and responsible, from beginning to end."
Article continues below advertisement
Target is not the first brand to make finding clean products easier for customers. For example, in June 2018, beauty chain Sephora launched a new category called Clean at Sephora, Allure reported at the time. The Clean at Sephora seal was awarded to 50 brands, all of which make products free from a list of commonly unwanted ingredients. The seal was added to in-store displays for each brand, as well as on product pages for more than 2,000 items online.
That said, just because a product has the Target Clean icon doesn't mean it is no-questions-asked "good." For example, Target Clean products might still include other chemicals that you may not want on your body or in your home, so always do your research. Additionally, items that use animal-based ingredients or are tested on animals can still qualify under the Target Clean icon, so if that's an important issue to you, make sure to check for the Vegan and Cruelty Free icons, too. Basically, the Target Clean icon is a solid launching point for those wistfully browsing Target's aisles, as it can help filter out chemical-laden products.