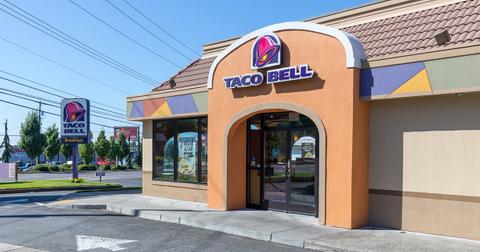 Is It Possible to Eat Vegan at Taco Bell? How to Order Vegan at Taco Bell
By Stephanie Osmanski

Updated
Eating plant-based is one of the most sustainable choices you can make for the environment. Yes, even more so than ditching single-use plastic straws! After all, it's a proven fact that following a mostly plant-based lifestyle can combat the impacts of climate change. Eating vegan can feed more people and use less land and resources; scientists for the United Nations' Intergovernmental Panel on Climate Change (IPCC) say that if we use land more effectively, it can actually store more of the carbon emissions that humans send into the atmosphere. It's a win-win for everybody!
Eating vegan, vegetarian, or plant-based may mean working a little bit harder to meal plan and require extra effort to cook at home, but we all know that there are some scenarios when a person needs to eat out. And when you don't eat cheese or any kind of meat or dairy, eating out can be more complicated and feel daunting. But it shouldn't be. Vegans need to eat out, too. Vegans need fast food (sometimes), too!
That's why so many people question how vegan-friendly Taco Bell is. Sure, it sounds like a plant-based person's dream: beans, beans, and more beans. While vegetarians can opt for alternatives like cheese quesadillas and cheese burritos, vegans don't have the option of supplementing with dairy. So, does Taco Bell's vegan-friendliness really hold up? Not to mention, beans may be classified as legumes, but that doesn't mean they are totally innocent of animal byproducts. In fact, some beans are prepared using animal fat.
Say what?! It is certainly shocking but refried beans — especially fast food refried beans — are often made with an animal fat called lard. Lard is fat from the abdomen of pigs and is used to enhance the flavor of refried beans. So, when ordering beans at a restaurant or fast food eatery, if you are vegan, it is important to ask if the beans have been prepared with any animal fat.
Now, that brings us to the question of Taco Bell: Is it vegan-friendly? Keep reading to find out all about Taco Bell's Make It Meatless menu, how to order vegan, and more.
Can Vegans Eat at Taco Bell?
Absolutely, vegans can eat at Taco Bell. Historically, Mexican food features a lot of bean- and vegetable-based dishes, making it a perfect option for vegan and vegetarian people. Taco Bell's refried beans are not made with animal fat, such as lard, so vegans can order refried beans on tacos, quesadillas, burritos (and whatever else) with no qualms.
How to Order Vegan at Taco Bell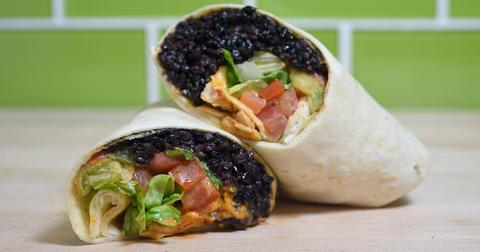 Ingredients like refried beans, black beans mild breakfast salsa, cilantro, fire roasted salsa, jalapenos, iceberg lettuce, romaine lettuce, onions, pico de gallo, guacamole, and tomatoes are all vegan at Taco Bell.
According to Spoon University, the flour tortillas, soft and hard taco shells, flatbread, and the tostada shell are also vegan.
Any dish at Taco Bell can be converted into a vegan dish with the appropriate swaps. All you have to do is order it "fresco style," and specific to "Make It Meatless," and your dish will automatically be turned into a plant-based alternative. Dairy products will be replaced with pico de gallo and meat will be replaced with refried beans.
That being said, there is an additional sort of "menu" that is difficult to classify. Several seemingly vegan items at Taco Bell are not "certified vegan." This is because Taco Bell does no guarantee fried items to be prepared in a fryer that doesn't use animal fat oils. So, items like potatoes, hash browns, chips, and cinnamon twists may actually be made of vegan ingredients but could be contaminated while frying in the fryer. If that doesn't bother you, then have at it.
Are Refried Beans at Taco Bell Vegan?
As mentioned above, Taco Bell's refried beans are not cooked with animal fat such as lard. Though lard is usually added to refried beans to refine the flavor, Taco Bell skips this step so vegans can rest assured that TB beans are 100 percent plant-based.
What Sauces Are Vegan at Taco Bell?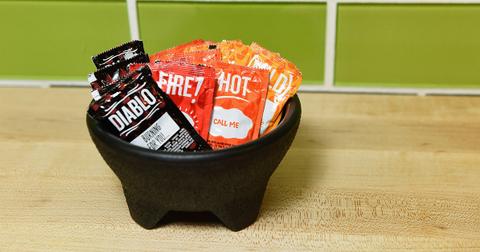 Good news, Taco Bell lovers. According to VegOut, all of Taco Bell's sauces are certified vegan. These include border sauce, diablo border sauce, fire border sauce, hot border sauce, green chile sauce, green tomatillo sauce, and red sauce.
In short, don't be afraid to sauce it up. Sauce is one of the for-sure vegan ingredients at Taco Bell. You wouldn't want to miss out on flavor!
That being said, Spoon University maintains that creamy sauces at Taco Bell are in fact, and unsurprisingly, not vegan. These include chipotle sauce and, of course, sour cream. Except for the red sauce. That one's vegan.
What Drinks Are Vegan at Taco Bell?
There are a lot of soda options at Taco Bell, but vegans have to be cautious and look up ingredients. Some sodas — such as Coca Cola and Diet Pepsi — are not technically considered vegan. Cokes contain trace amounts of fish gelatin and while Diet Pepsi maintains it's not suitable for vegans, the company won't specify what animal byproduct is on the ingredients list that makes the soda non-vegan.
On the other hand, Dr. Pepper, Sprite, Gatorade, and 7Up are all vegan soft drink alternatives. Of course, there's always water, too.