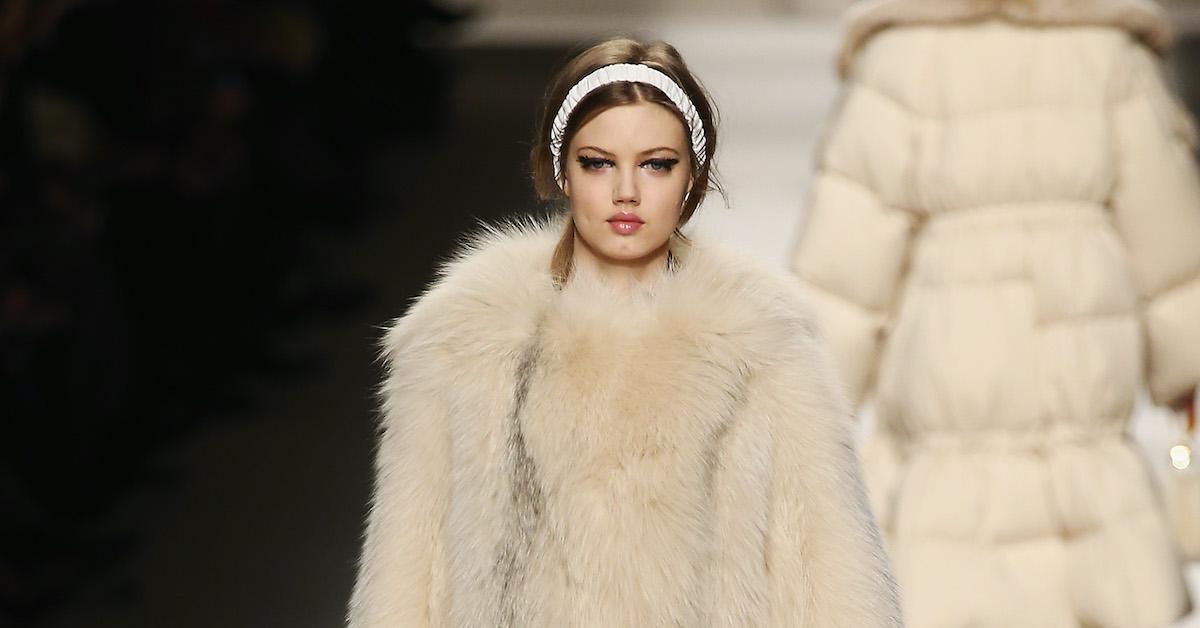 Kenneth Cole, Ellen Tracy, and More Than a Dozen Other Brands Ban Fur
In 1994, Calvin Klein announced he would stop using fur in his eponymous company's collections, making it one of the first major fashion houses to do so. Now, over two decades later, Calvin Klein's parent company is bringing the rest of its brands up to speed — Global Brands Group just announced that it will no longer be selling fur via any of its brands.
Article continues below advertisement
Global Brands Group, a Hong Kong-based apparel management company, owns Aquatalia and licenses more than a dozen fashion brands, including Calvin Klein, Kenneth Cole, Ellen Tracy, Juicy Couture, Frye, Spyder, Tahari, Jones New York, Sean John, Goats, Dakine, Katy Perry, Karen Millen, Taryn Rose, and AllSaints. Every brand listed will no longer sell any products with fur (though other materials from animals, such as sheepskin and leather, will still be permitted).
People for the Ethical Treatment of Animals (PETA) shared the news in a press release on Tuesday, Feb. 18. According to PETA, Global Brands Group made the decision after discussions with PETA about the matter.
Article continues below advertisement
"PETA applauds Global Brands Group for its compassionate and business-savvy decision to ban fur, which shows that the future of fashion is vegan," said PETA Executive Vice President Tracy Reiman in a statement sent to Green Matters. "PETA urges all retailers to meet the rising demand for luxurious, cruelty-free alternatives or be shunned by ethical shoppers, who simply don't want animals to be abused and killed for coats, collars, or cuffs."
Article continues below advertisement
Global Brands Group follows in the footsteps of many other fashion labels that have pledged to go fur-free in recent years, including Prada, Furla, Michael Kors, Gucci, Zara, H&M, Burberry, Versace, Asos, Hugo Boss, Timberland, The North Face, Jimmy Choo, Esprit, and Lacoste, according to Fur-Free Retailer.
Fur farming is an incredibly cruel practice, not unlike factory farming animals for the meat, dairy, and egg industries. On fur farms, foxes, minks, and other animals spend their entire lives in small wire cages, and are killed using merciless methods such as suffocation, poisoning, and neck-breaking, according to PETA.
Article continues below advertisement
Furthermore, fur farming is not an environmentally-friendly process, despite all the marketing suggesting fur is a natural material. Raising animals on fur farms results in an estimated 2.7 million tonnes of feces and urine produced every year, according to Fur for Animals. That waste becomes pollution in the communities surrounding the fur farms. Not to mention, the resources needed to sustain the animals increases the footprint of the trade, as does the chemical-laden practice of processing the fur.
Article continues below advertisement
It's about time that Global Brands Group transitions its portfolio of fashion brands to being completely-fur free. With all the fashion houses doing away with fur lately, it's clear that killing animals is not necessary to create a killer look.