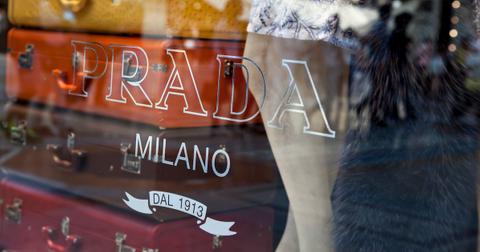 Prada Is Going Fur-Free Later This Year
By Sophie Hirsh
Get green news right to your inbox!
Thanks for signing up!
Prada is officially going fur-free! The luxury fashion house has responded to animal welfare groups by taking action, and beginning with the company's Spring/Summer 2020 (SS2020) women's collections, Prada will no longer use any fur. Most designers debut their Spring/Summer collections during the previous fall, meaning Prada will be fur-free in just a few months, come fall 2019.
According to the Prada Group's press website, Prada will follow Fur Free Retailer's definition of fur, which is defined as "the pelt of any animal — including, but not limited to, mink, fox, rabbit, karakul lamb, and raccoon dog — killed mainly for its fur." By the time the SS2020 collections debut, Prada will no longer use fur in any of its garments — and neither will Prada's subsidiaries Miu Miu, Church's, or Car Shoe, according to the BBC.
Prada will continue selling garments made with fur that have already been produced beyond this fall, until inventories are depleted. Prada will also continue using other fabrics that require animal slaughter, including leather and sheepskin.
"The Prada Group is committed to innovation and social responsibility, and our fur-free policy — reached following a positive dialogue with the Fur Free Alliance, in particular with LAV and the Humane Society of the United States — is an extension of that engagement," said Miuccia Prada, head designer of Prada, in a statement. "Focusing on innovative materials will allow the company to explore new boundaries of creative design while meeting the demand for ethical products."
In September 2018, the Fur Free Alliance launched a global campaign to encourage Prada to go fur-free. As part of the campaign, thousands of people emailed Prada, demanding that the house stop using fur. In response, Prada said that fur products made up less than 0.1 percent of Prada's inventory, and that the brand was headed toward a "gradual and concrete reduction in the marketing" of fur products, WWD reported at the time.
That claim was still not enough for people concerned with the welfare of animals. Shortly after, actress and animal advocate Pamela Anderson sent a letter to Miuccia Prada on PETA's behalf, asking her to commit to eliminating fur from future products. It's pretty amazing that less than a year after that campaign launched, Prada has taken the leap and will be omitting fur from all collections.
Not to mention, Prada is far from the first major fashion house to stop manufacturing clothing with fur. Other luxury designers part of the Fur Free Retailer group include Versace, Jimmy Choo, Michael Kors, Gucci, and Armani. With so many fabulous trendsetting designers moving away from fur, it's clear that the future of fashion is cruelty-free.
More From Green Matters
.

Style

The Plant Shoe can be composted at its end-of-life.

.

Style

Green Matters spoke with Poshmark's co-founder to learn about the new Home Market.

.

Style

Nuuly will launch this summer, for $88 a month.