How to Make a Mask With a Sock
Learn how you can repurpose an old sock into a mask.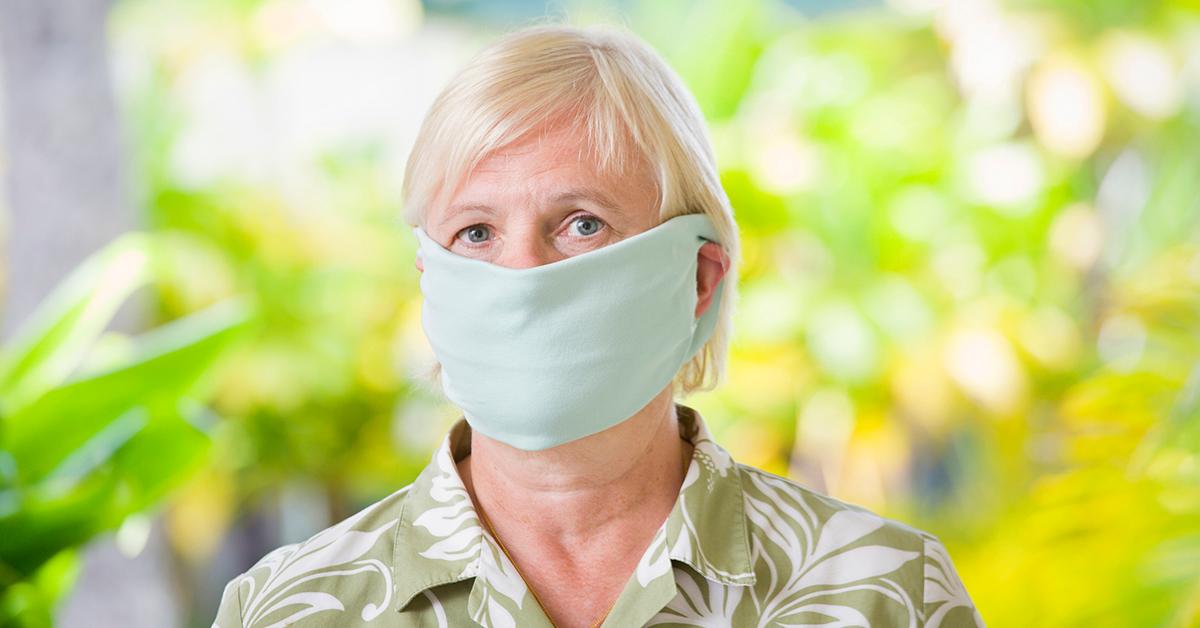 As the coronavirus outbreak continues to be a threat globally, people are figuring out how to make their own DIY masks at home. After all, as a result of COVID-19, medical personnel everywhere have been experiencing mask shortages.
If you can't get your hands on personal protective equipment (PPE) such as N95 or KN95 masks, the Center for Disease Control and Prevention (CDC) has released an official statement that cloth masks and other face coverings are, essentially, better than nothing.
Article continues below advertisement
Cloth face masks can be made out of bandanas, scarves, and basically any other cloth fabric. As long as the DIY mask covers both your nose and mouth, the CDC you should be generally safe from passing on coronavirus, which can be transmitted by coughing, sneezing, or even speaking.
According to the CDC, "In light of this new evidence, CDC recommends wearing cloth face coverings in public settings where other social distancing measures are difficult to maintain (e.g., grocery stores and pharmacies) especially in areas of significant community-based transmission."
This new recommendation from the CDC has given many a permission slip to make their own masks at home, and the newest DIY mask sweeping the Internet is the sock mask.
Want to learn how to make a DIY mask with a sock? Keep reading for instructions!
Article continues below advertisement
How to make a sock-mask:
To make a sock mask, you only need two materials, which is one reason why so many people are getting on board. It's really easy to make and simply requires cutting the sock in the right places.
Materials needed for making a mask out of a sock:
To make a sock-mask, you need only two materials — both of which you can definitely find laying around the house. You will need a long sock like a tube sock –– before you ask: No, an ankle sock or no-show sock won't work — and a pair of scissors.
Article continues below advertisement
Instructions:
To make a mask out of a sock, you just need to know where to cut the sock. That's right — this tutorial is 100 percent no-sew!
First, cut the heel of the sock off. You don't need this part — the heel — so you can repurpose it or just set it aside. You're going to use the five or so inches from the ankle on. Now, turn the sock so the ankle part of the sock is at the top. Cut from the bottom cut you already made, lengthwise, all the way to the ankle.
Article continues below advertisement
Now, unfold it then fold it up widthwise and make a one inch cut about ¾ inches in from the side on each side. These two cuts are for the ear straps. Unlike some other at-home masks you can make, this one doesn't require sewing on or adding any elastic for it to attach to the ears.
How to clean your sock-mask:
Like any old tube sock, this DIY mask is totally safe to clean in the laundry. However, you should be careful because of the cuts for the ear slats. If you load too much laundry in with your mask, it might cause it to rip the slats. For this reason, you may want to hand wash your new mask only.
The best way to prevent contracting or spreading coronavirus is with thorough hand washing and social distancing. If you feel you may be experiencing symptoms of coronavirus, which include persistent cough (usually dry), fever, shortness of breath, and fatigue, please call your doctor before going to get tested. For comprehensive resources and updates, visit the CDC website. If you are experiencing anxiety about the virus, seek out mental health support from your provider or visit NAMI.org.