Goat Herd Moves Into NYC Park for the Summer to Eat Invasive Weeds
The second annual Running of the Goats in Riverside Park celebrated five goats moving into the NYC park for the summer to manage weeds.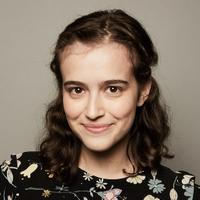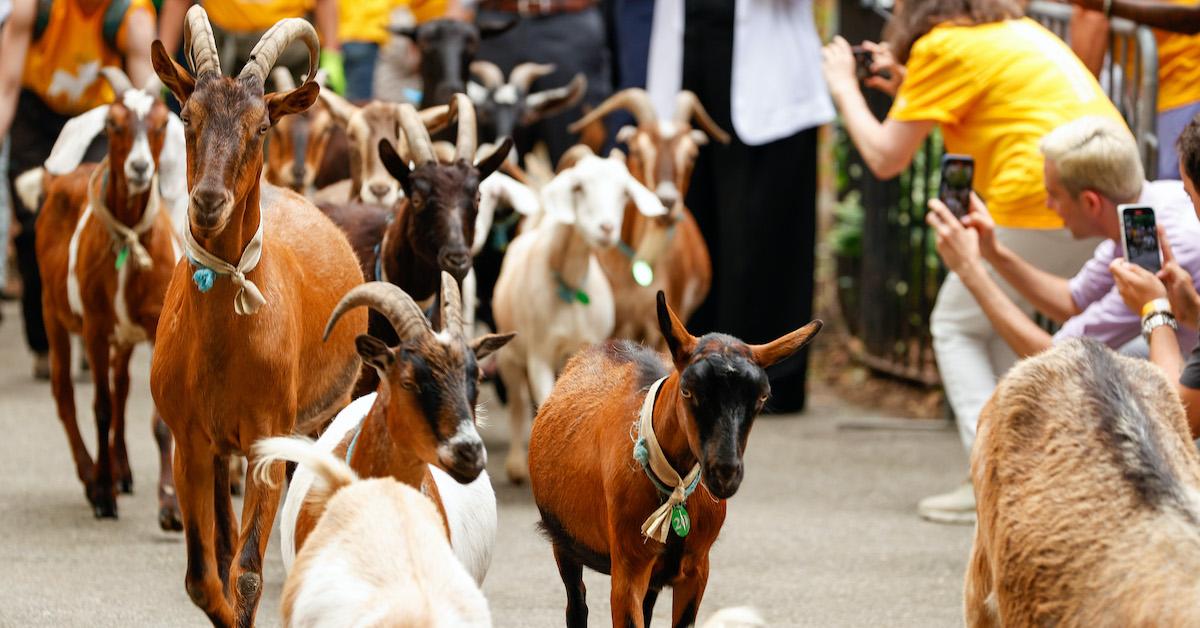 When it comes to animal-watching, most New Yorkers are accustomed to primarily observing mice, rats, roaches, pigeons, and squirrels — not exactly Discovery Channel-worthy. But this week, locals on the Upper West Side got to observe a herd of goats in action, as the animals kicked off the second annual Running of the Goats in Riverside Park.
Article continues below advertisement
The event drew quite the crowd, as it was canceled last year due to the coronavirus pandemic. Keep reading to learn more about how these adorable goats will help maintain weeds in the park all summer long.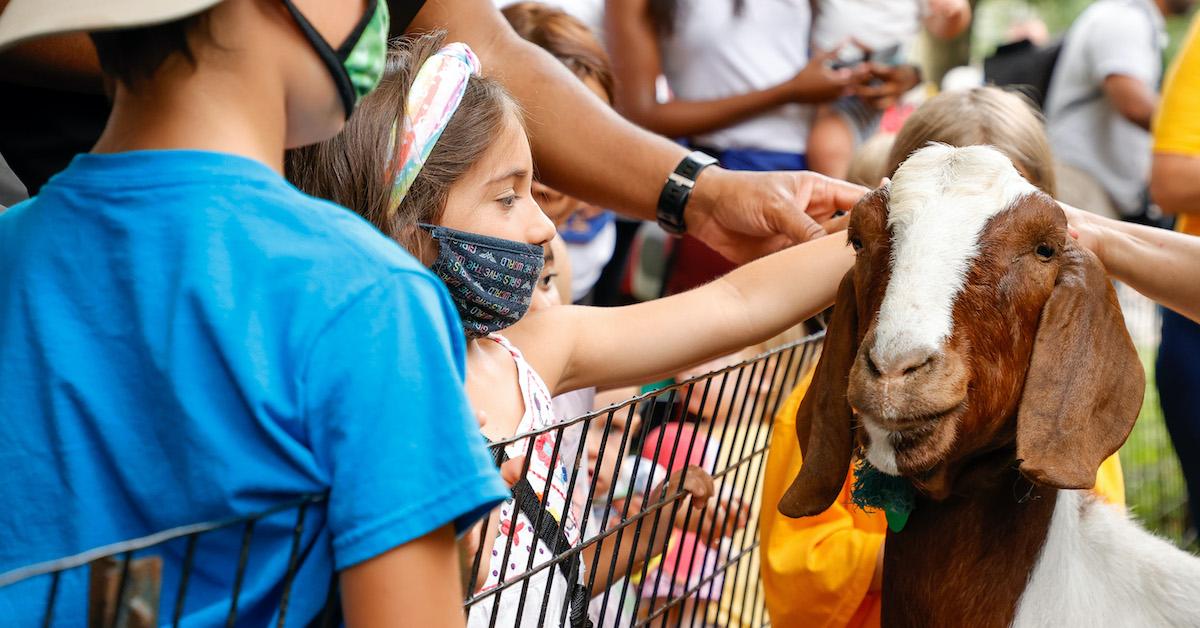 Article continues below advertisement
What is Running of the Goats?
Running of the Goats is a project to help with invasive plant removal in Manhattan's Riverside Park. The project first began in 2019, when Riverside Park Conservancy organized a herd of goats from an undisclosed local farm to visit a section of the park that is overrun with weeds and difficult for humans to access. This agreement gives the goats the chance to eat all the plants they want — keeping the goats full, and the park free of invasive weeds.
"The site is on a really steep hill, and it's very difficult to access," Lynda Tower, Riverside Park Conservancy's vice president of operations, told The New York Times. "We have volunteers come clear the species, and it comes back like three weeks later. It's hard to do plantings. It's hard to diversify the site," she added, noting that the conservancy hopes the goats will help avoid having to resort to herbicides, which can be environmentally damaging.
Article continues below advertisement
As Riverside Park Conservancy noted, New York City's nickname "Gotham" actually translates to "goat town" in Old English — so the group is calling the weedy area in question "Goatham."
NYC's Riverside Park just hosted the 2021 Running of the Goats.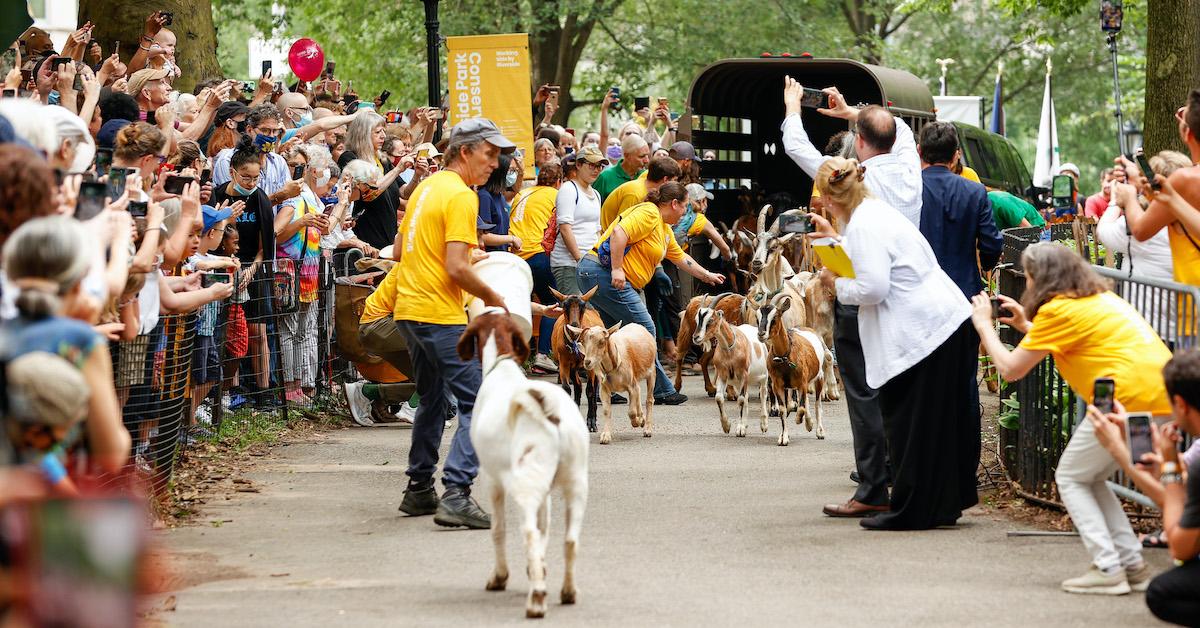 On the morning of Wednesday, July 14, 2021, New Yorkers excitedly gathered near the north end of Riverside Park, at 120th Street and Riverside Drive. The group was entertained by musicians (including yodelers) and local politicians as they waited for a herd of 24 goats to emerge from their trailer.
And as soon as the goats were let out, they excitedly ran to the weedy fenced-in area, with the crowd cheering them on, The New York Times reported.
Article continues below advertisement
"They chowed down on Japanese knotweed, they noshed on porcelain berry, they snacked on multiflora rose, they easily traversed the hard-to-reach terrain behind me and gulped down poison ivy without even giving it a second thought," Dan Garodnick, the president and CEO of Riverside Park Conservancy, said at the event, as per Reuters.
Article continues below advertisement
Don't worry — goats are immune to poison ivy's allergens, and it's totally safe for them to eat, according to crop science and animal science professor, Jean-Marie Luginbuhl, as per NPR.
You can vote for your favorite G.O.A.T.
The 24 goats had all of July 14 to chow down on the natural feast — but only five goats will remain for the rest of the summer: Skittles, Buckles, Chalupa, Mallemar, and Ms. Bo Peep. And inspired by New York City's recent ranked-choice election, Riverside Park Conservancy is inviting everyone to visit its website and rank the five goats in the Vote-the-GOAT election.
Article continues below advertisement
To help make your decision easier, you can stop by Riverside Park and observe the weed-whacking goats in action — in fact, Garodnick encourages locals to stop by and meet the cuties in person before casting their votes.
It's unclear exactly where Riverside Park's goats come from, and what their fate will be after their summer internships in Manhattan come to an end — though the numbered tags around their necks seem to indicate that they are being farmed for their milk or meat, sadly. Riverside Park Conservancy did not immediately respond to Green Matters' request for comment.
Support goat rescue by participating in the virtual Goat Games.
If observing rescue goats is more your thing, consider participating in the second annual Goat Games, this August 14 through August 21. Hosted by Catskill Animal Sanctuary and the Global Federation of Animal Sanctuaries, the virtual event will feature 10 farmed animal sanctuaries "competing" to help raise awareness and funds for farmed animals. You can participate by registering as an athlete for one of the sanctuary teams, pledging to do the physical activity of your choice (such as running, biking, or hiking) throughout the week, and asking your friends and family to donate money in your honor.