This Stunning New Multi-Colored Fish Was Recently Discovered in the Maldives
A new species of fish, known as the Rose-Veiled Fairy Wrasse, was recently discovered in the ocean surrounding the Maldives.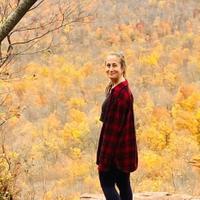 It's safe to say environmental news has been somewhat of a drag recently — between ongoing droughts, storms, and wildfires — though it's always promising to hear that a new species was discovered. Recently, in the waters surrounding the beautiful Maldives, a new fish called the rose-veiled fairy wrasse was officially discovered. Not only is it absolutely gorgeous, boasting an eye-catching array of colors, but it's also a scientific phenomenon.
Article continues below advertisement
Yi-Kai Tea, a University of Sydney doctoral student, told Sci News it wasn't identified as one specific species until now — which is ground-breaking for conservation purposes.
"What we previously thought was one widespread species of fish, is actually two different species, each with a potentially much more restricted distribution," Tea explained. "This exemplifies why describing new species, and taxonomy in general, is important for conservation and biodiversity management."
However, some worry it could be quickly exploited.
"Though the species is quite abundant and therefore not currently at a high risk of overexploitation, it's still unsettling when a fish is already being commercialized before it even has a scientific name," California Academy of Sciences, San Francisco researchers, Dr. Luiz Rocha, added, per Sci News."It speaks to how much biodiversity there is still left to be described from coral reef ecosystems."
Article continues below advertisement
What to know about the rose-veiled fairy wrasse:
In the depths of the ocean in the Maldives, in an area so deep, it's referred to as the "twilight zone," the rose-veiled fairy wrasse was recently discovered. According to CNN, the fish, whose scientific name is Cirrhilabrus finifenmaa, lives 131 to 229 feet below the surface of the ocean. It's named is not only derived from the fish's beautiful colors, but also the Maldives' national flower, the pink rose.
A study published Tuesday in ZooKeys describes the species in-depth.
Article continues below advertisement
"It has always been foreign scientists who have described species found in the Maldives without much involvement from local scientists, even those that are endemic to the Maldives," study coauthor Ahmed Najeeb, a Maldives Marine Research Institute biologist, stated. "This time it is different and getting to be part of something for the first time has been really exciting, especially having the opportunity to work alongside top ichthyologists on such an elegant and beautiful species."
As previously mentioned, the fish had been spotted in the 1990s, but it was assumed to be an already-discovered red velvet fairy wrasse with slightly different coloring. Adult fish of this species tends to change colors as they age, so this wouldn't have been an anomaly. However, in 2022, it was officially identified as its own species. Now, it's been heavily researched, scientists are taking conservation measures for it, and unfortunately, it's already caught the eye of the aquarium trade.
Article continues below advertisement
Why is identifying new species important for conservation?
Although discovering new species is cool and exciting, finding and identifying new species is also crucial in protecting them from harm's way, according to Science Daily. Doing so gives scientists insight regarding their habitats, roles, and more.
"Biodiversity is declining at an accelerating rate and, according to estimates, even a million organisms are in danger of becoming extinct in the next few decades. University of Turku, Finland Biodiversity Professor, Ilari E. Sääksjärvi, stated, per Science Daily.
Article continues below advertisement
If we want to protect nature's biodiversity as efficiently as possible, we have to discover as many species as we can," they added.
Needless to say, this is a major feat in the realm of marine biology.
Green Matters' new book, Green Living, is the perfect guide to living an eco-friendly lifestyle for people at every stage of the process. You can order Green Living here.
This article, originally published on March 11, 2022, has been updated.