Hack: Make Pizza Hut's Beyond Meat Pies Completely Vegan With This Easy Trick
Pizza Hut announced it would be offering Beyond Meat-topped pizzas, which can be made completely vegan with one easy hack.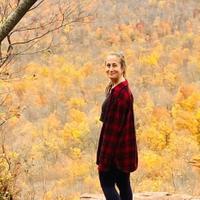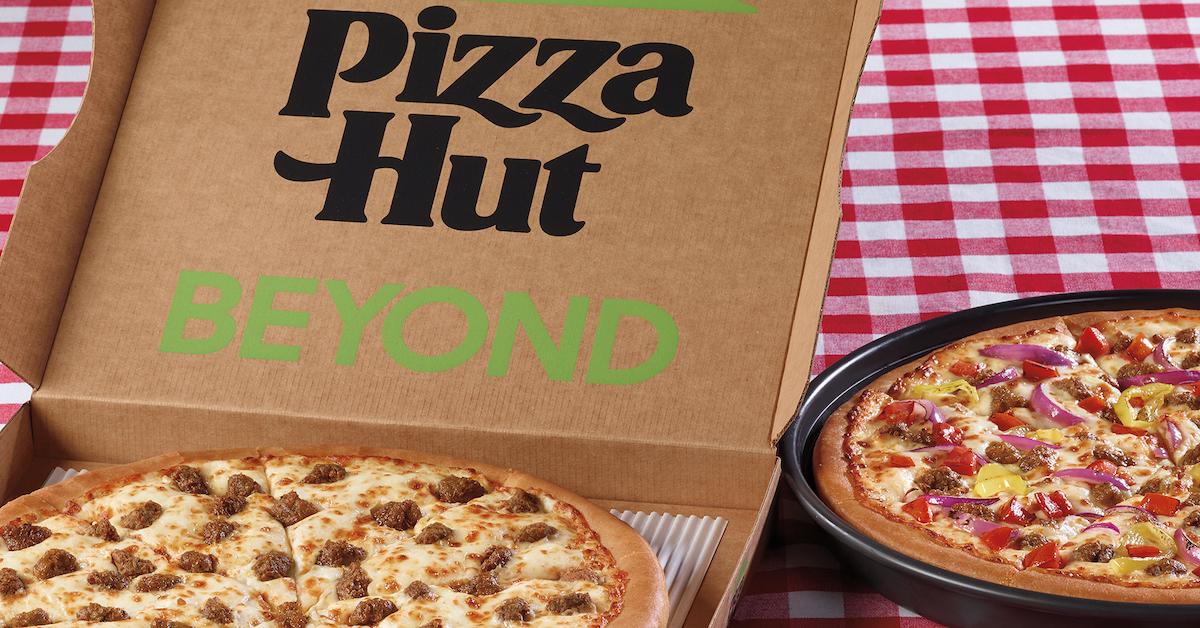 Between pepperoni pies and chicken wings, Kansas-based pizza chain Pizza Hut isn't necessarily known for its plant-based options — that is — until now. On Tuesday, Nov. 10, Pizza Hut announced it would be offering Beyond Meat-topped pies, completely changing the game for vegans and vegetarians who are looking for a quick, easy, and cheap option for Friday night delivery. And apparently, the new offerings appeal to non-vegans as well.
Article continues below advertisement
"I'd challenge anyone to go try the new Beyond Pan Pizza and tell the difference. I shared it with friends and family, and they couldn't," said Pizza Hut's Chief Brand Officer, David Graves. "The Beyond Italian sausage is rich, juicy and has the signature Pizza Hut flavors — pizza lovers everywhere are going to love it."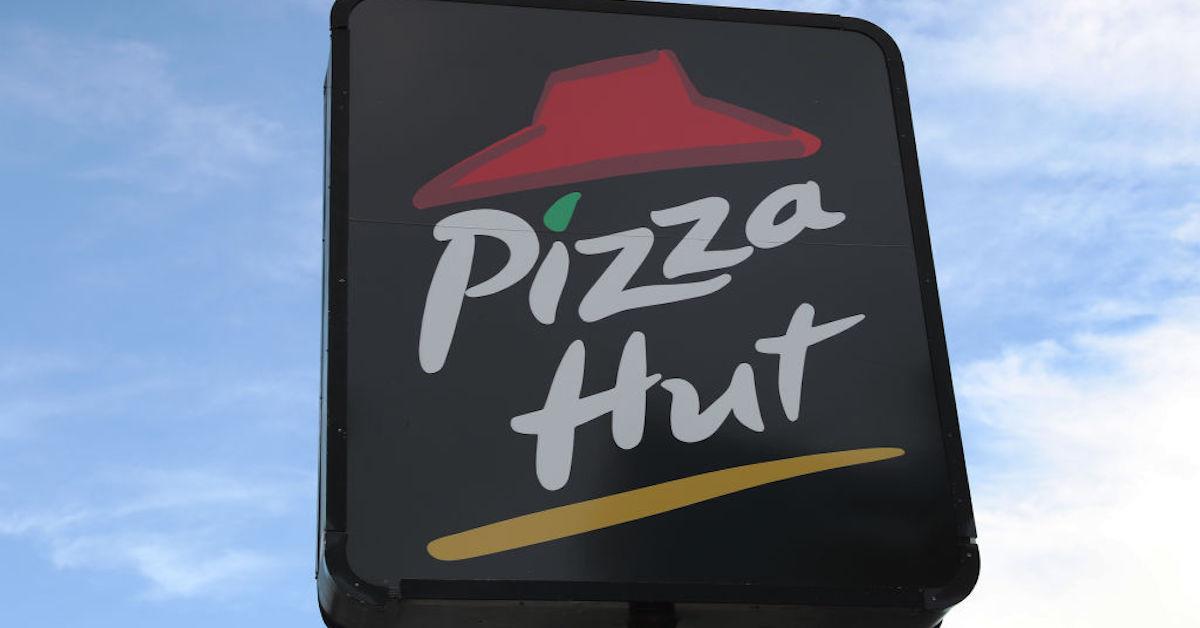 Article continues below advertisement
Pizza Hut is going to offer two pies with Beyond Meat toppings.
Although Pizza Hut's vegan offerings have been quite plentiful at Pizza Hut Australia and across the U.K. for a while now, all U.S. Pizza Hut restaurants will now officially be offering two new Beyond Pan Pizzas, which will be two of the first fast food plant-based pies in the country, according to a press release sent to Green Matters. The two choices — the Beyond Italian Sausage Pizza and the Great Beyond Pizza — sound truly unreal.
The Beyond Italian Sausage Pizza is a classic cheese pizza topped with Beyond's plant-based Italian sausage crumbles that provide a savory kick, while the Great Beyond Pizza includes a fresh veggie pie (including tomatoes, sliced red onions and tangy banana peppers) and Beyond Italian Sausage. You can order the original, which comes on a pan crust, or if you're feeling wild, order an Original Stuffed Crust, a Hand-Tossed, or a Thin 'N Crispy Crust for a small upcharge.
Article continues below advertisement
Both pies will be available for a limited time while supplies last in the U.S. and in the U.K., however, if they prove to be popular, they will most likely secure a permanent spot on the fast food menu. Order contactless delivery, carryout, or curbside pickup — the choice is yours.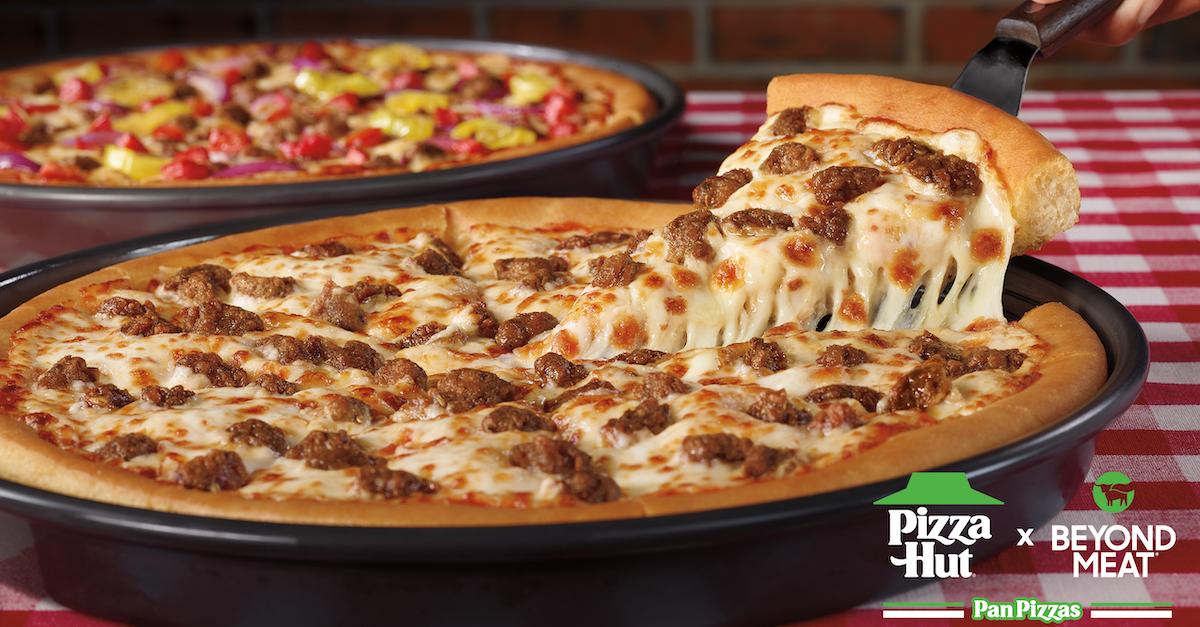 Article continues below advertisement
So, how do you make the Beyond pizzas vegan? Lo and behold — we have an easy hack.
You may have noticed that both of Pizza Hut's new Beyond pies come topped with classic dairy cheese, which means neither pie is totally vegan, though both are vegetarian and meatless. However, if you're vegan and you'd like to order one of these pies, doing so is completely possible, as long as you're comfortable making a simple request.
The pies aren't pre-made, so you can simply ask for no cheese to make it completely vegan. The chain's Original Pan Crust, the Thin 'N Crispy crust, and the Hand-Tossed crusts are completely free of animal byproducts, and so is the marinara sauce. So as long as you omit the cheese, you're set up for a completely plant-based meal. If you feel like adding additional vegan toppings, you can do so, but just note it may include an upcharge.
Article continues below advertisement
Pizza Hut's new Beyond pies are truly game-changing in the realm of pizza parties — Friday truly couldn't come sooner.