With Strange Timing, Pittsburgh Bridge Collapses Hours Before Infrastructure Meeting
A bridge in Pittsburgh's Frick park collapsed before a presidential infrastructure meeting, reiterating the importance of sustainable development.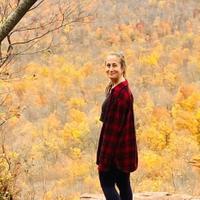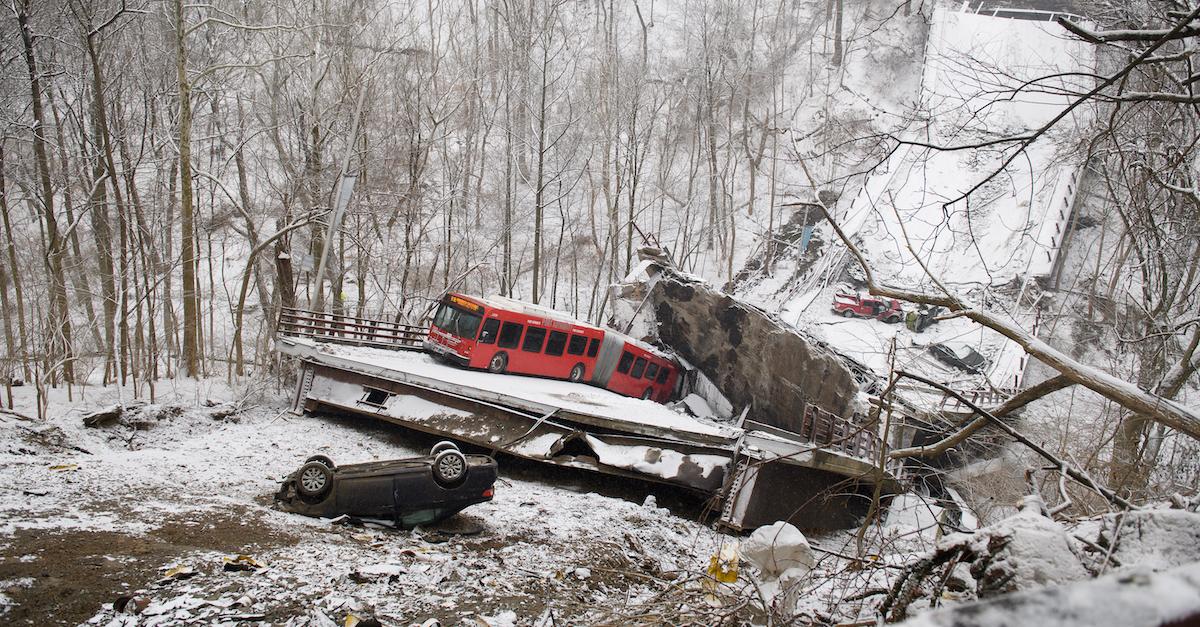 Disaster struck the Steel City on Friday, Jan. 28, when a bridge in Pittsburgh's Frick Park collapsed shortly before President Biden was to visit for an infrastructure meeting. Passengers aboard crossing vehicles required a physical rescue, and the accident caused a major gas leak — reiterating the need to invest more in sustainable infrastructure. The bridge was less than 60 years old, and it was reported to have been neglected in terms of necessary repairs for many decades.
Article continues below advertisement
"Today a bridge collapsed near Forbes and S Braddock. I am thankful there are no reported fatalities or critical injuries at this time," Pittsburgh Mayor Ed Gainey tweeted shortly after the incident, along with four shocking photos documenting the devastation. He continued:
"Thank you @PghPublicSafety for the quick response and thank you to the county, state, and federal governments for the cooperation and assistance."
Article continues below advertisement
Why did Pittsburgh's bridge collapse? Short answer: neglect.
Friday morning around 6:45 a.m., Frick Park's bridge collapsed into itself. According to The New York Times, nobody was seriously hurt, but 10 passengers that were aboard a bus and in crossing cars are currently being treated for minor injuries. The accident also triggered a major gas leak, requiring nearby residents to evacuate their homes. Strangely, this all took place just a few hours before President Biden was to to hold a meeting regarding infrastructure restoration in the city of Pittsburgh.
At the time of its collapse, the bridge was only 52 years old. It spanned across a wooded ravine, and tends to get quite busy during morning and evening rush hours. Unfortunately, it's been deemed unsafe for years — its last inspection took place in September 2021, but reports between 2011 and 2017 indicated the bridge's condition wasn't safe. Reportedly, it only met "minimum tolerable limits to be left in place as is," echoing the need for more sustainable and sturdy infrastructure.
Article continues below advertisement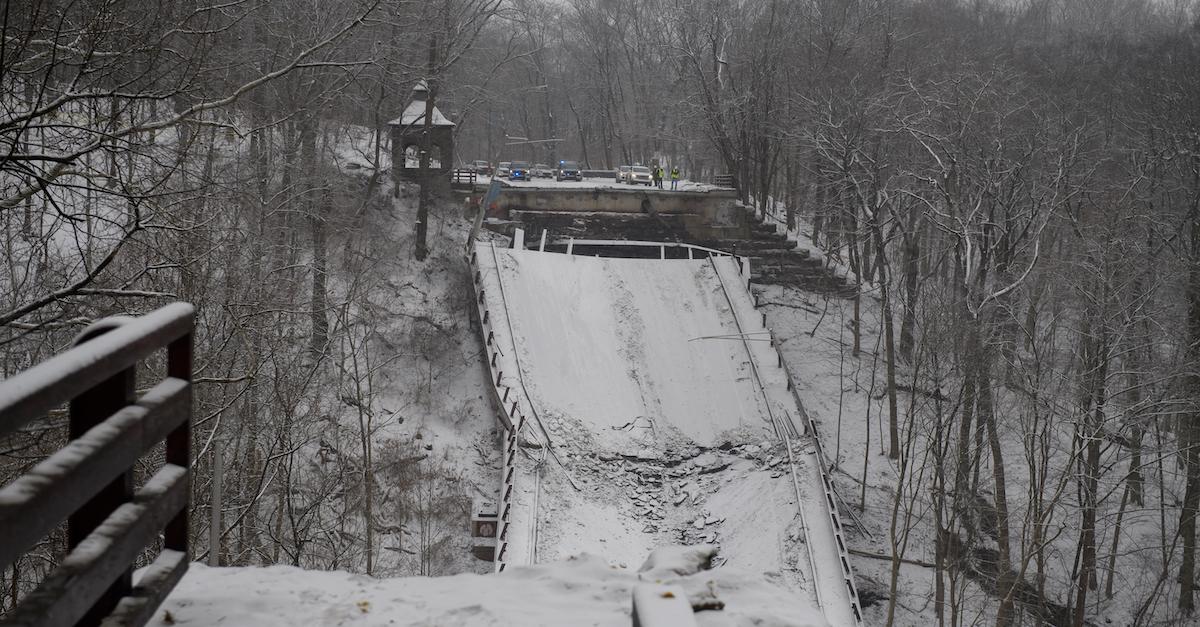 This is yet another reason why we need to value more sustainable infrastructure.
Although a major bridge completely collapsing is generally pretty uncommon, this incident echoes the necessity for the U.S. to invest more money in building sustainable infrastructures. According to Freight Waves, Biden's Bipartisan Infrastructure Law (BIL), which was signed into effect in November 2021, was set to be the focal point of their afternoon meeting. The meeting was set to take place at Pittsburgh's Carnegie Mellon University, a few miles from where the accident took place.
Article continues below advertisement
According to The New York Times, the American Society of Civil Engineers released a somewhat daunting report which stated that 7.5 percent of bridges across the country are considered "structurally deficient." About 11 percent of bridges in Pennsylvania's Allegheny County are in poor condition, while almost 61 percent are only in "fair" condition.
Using longer lasting infrastructure building methods and materials will hopefully fix these types of issues, seeing as Biden enforces the 2021 BIL.