Brad the Boxer, aka Just Brad, Might Be TikTok's Hottest and Happiest Vegan Chef (Exclusive)
Bradley Jimenez, aka Brad the Boxer and Just Brad, is a vegan chef taking over TikTok.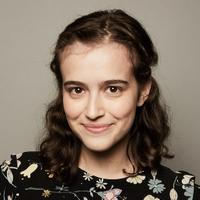 It's impossible not to feel joy when watching TikToks posted by Brad the Boxer, a vegan chef with nearly 1 million followers on the app. Bradley Jimenez is the man behind the exuberant videos, which have gained popularity due to Jimenez's delightful combination of infectious positive energy, speedy vegetable-chopping, awesome music choices, and — I can't not say it — charming good looks.
Article continues below advertisement
But Jimenez, 29, is so much more than his ever-enduring smile that makes viewers wish they could swipe right and bring Brad the Boxer, aka Just Brad, to life. He's a Florida-based personal chef, personal trainer, bodybuilder, and former MMA fighter with a unique vegan origin story, and he's so grateful for his platform where he can inspire others to enjoy more plant-based meals.
We recently caught up with @bradtheboxer himself, where he shared his top tips for joyfully cooking vegan meals, the story behind the back injury that changed his life, and more.
Article continues below advertisement
Brad the Boxer, real name Bradley Jimenez, started eating vegan after a harrowing injury at age 19.
When Jimenez was a 19-year-old MMA fighter, he broke his back in the ring. A doctor told him he would need surgery, and that he may never be able to be an athlete again. Instead, he decided to try eating a primarily plant-based, anti-inflammatory diet — and it worked. He was able to avoid the operation, naturally heal his injury through food and rehab, and return to his athletic lifestyle.
He continued to eat mostly plant-based, but soon after, took a job working as a steakhouse chef. While working there, Jimenez found himself feeling very turned off from animal products.
Article continues below advertisement
"It was just so much meat, and so much dairy, all the time, and cleaning primal cuts and stuff, and I really didn't like it," he says. "I love cooking, it's my passion, it's everything to me. But I just couldn't do it anymore. So when I moved to Florida, just to be close to my family, I was like well, I ain't cooking for nobody, I'm a personal trainer now, I don't have any reason that I can't eat exactly what I want."
Article continues below advertisement
Two years ago, after about eight years of eating largely plant-based, Jimenez fully committed to the vegan lifestyle, mostly due to how incredible his body felt after completely ridding it of animal products.
Now, as a personal trainer and chef, Jimenez recommends a vegan diet to all of his clients, many of whom he meal preps for every week. He prefers to cook vegan for them, but he also offers meal plans following any diet for his clients.
Brad the Boxer started documenting his personal chef work on TikTok during quarantine.
When coronavirus lockdowns began in March 2020, a friend suggested to Jimenez that he join TikTok. Pretty quickly, his meal prepping videos started to grow a major following. These days, the comment sections of Jimenez's TikToks are basically mini love letters from his fans.
Article continues below advertisement
"Does it even matter what he's cooking?" one fan commented on a recent video of Jimenez's. "I'm married but it ain't serious," wrote another. "I thought I was a lesbian," another follower commented.
Jimenez says he doesn't know why his fans are so enamored by him, but he's "definitely not complaining."
Article continues below advertisement
"I always liked that everybody told me that it makes them really happy to watch my videos. I feel like that's the best compliment in the world," he says. "I absolutely love that I can make people happy just from cutting some frickin' onions."
He's been told on many occasions that he's a "living cartoon character," and he believes he is "the most obnoxiously happy human you're ever going to meet." Just like Chris Traeger, Jimenez says his positivity and happiness stems from his back injury.
Article continues below advertisement
"I spent a good two years laying in my bed, had to move back home, with my parents crying every night thinking I was just absolutely done," he says. "And then the first day I ran my first 5K again, I was like, 'OK, I'm good, life's great, everything's going to be fine.'"
Here's Brad the Boxer's best advice for cooking vegan.
If you're looking to get into more plant-based cooking, Jimenez's No. 1 piece of advice is to "start with the ingredients."
"Don't ever think of what you're going to make before you make it," he says. Instead, go to the market and pick out the produce that looks best to you. Then, try to envision a dish from there, while keeping an open mind, bopping along to a "really banging playlist" — and maybe even open a bottle of wine.
Jimenez finds this mindset is the best way to cook, because you never know exactly what you'll discover. He adds: "That's what I think is so romantic about cooking."