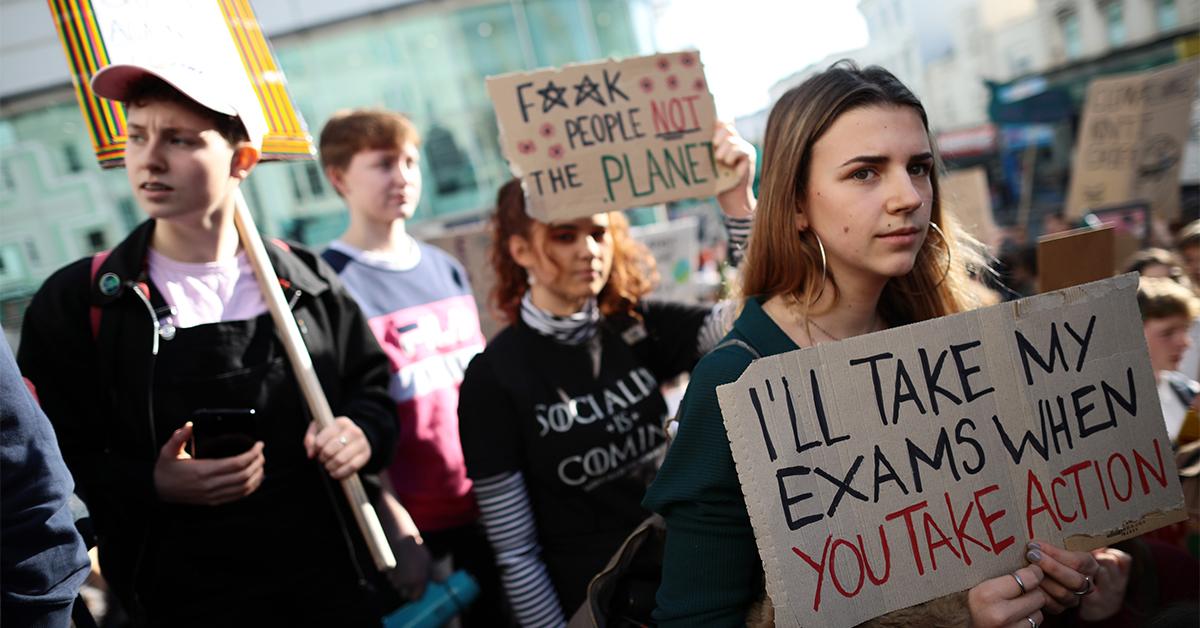 Everything You Need to Know About the Youth Climate Strike on March 15
This Friday, March 15, students all over the world will play hooky for the day. But they won't be skipping school for the typical Ferris Bueller-inspired activities — instead; they'll be using the day to participate in the Youth Climate Strike. Those striking are skipping school to protest the climate crisis affecting our planet, and to demand that political leaders do a better job in fighting against climate change.
Article continues below advertisement
Here's everything you need to know about Friday's strikes, from why the strikes are happening to how to get involved.
Why Students Are Striking
Article continues below advertisement
The U.S. Youth Climate Strike's website includes a detailed list of the organizers' mission, demands, and solutions. Their mission is to get more world leaders to address issues regarding climate change, and they believe skipping school is the way to do that because "if the social order is disrupted by our refusal to attend school, then the system is forced to face the climate crisis and enact change," according to their mission statement.
Article continues below advertisement
The group's demands of the government include: a Green New Deal; stopping any fossil fuel projects; the incorporation of scientific research into policymaking; declaring climate change as a national emergency; required education on climate change for children; better nature preservation; and cleaner water supplies. As for solutions, the group suggests: planting more trees (known as reforestation); new emission standards; a shift in the agriculture industry; a shift towards renewable energy; and ending fracking.
Why Two D.C. Organizers Are Striking
Article continues below advertisement
Green Matters spoke with high school sophomore Serena Moscarella, 16, and junior Navraj Singh, 16, both of whom are both organizers for the Washington, D.C. chapter of the strike, to hear more about why they are participating on Friday. "I'm striking school on Friday because I believe that adults aren't doing enough," Moscarella tells Green Matters in an email. "I am Brazilian and I believe that the deforestation of the Amazon Rainforest must stop. If we are not indifferent we will have enough time to make a change."
"I am striking because I feel that when the older generation, especially those in positions of power, refuse to hear our voices and think about futures, it's up to us to make sure we are heard and we disrupt their power," Singh writes to Green Matters. "That's why we are rallying at the doors of the Capitol to show them our demands and to also show them the next wave of voters who will remove them from office if they neglect our futures any longer."
Article continues below advertisement
How This All Started
Article continues below advertisement
This movement began in August 2018 by Greta Thunberg, a 16-year-old Swedish activist. As explained by The Guardian, at the beginning of the school year, Greta decided to skip school in favor of sitting on the steps of the Swedish parliament, aiming to raise awareness about the climate crisis. She did this every single day for a few weeks, up until Sweden's general election.
Since then, Greta has continued skipping school to strike every Friday, and she's inspired many other students around the world to do the same. The movement has become known as #FridaysForFuture — and this Friday, March 15 will be the biggest one yet. As Greta tweeted on Thursday, March 14, a total of 1,659 places in 105 countries are scheduled to participate in the Youth Climate Strike.
Article continues below advertisement
Are Students Really Organizing This?
Article continues below advertisement
At the national level, the U.S. Youth Climate Strike is being organized by a group of five student activists, who live in different cities across the country. The group is made up of Isra Hirsi, 16, from Minneapolis; Haven Coleman, 12, from Denver; Alexandria Villaseñor, 13, from New York City; Feliquan Charlemagne, 17, from Ocala, Fla.; and Maddy Fernands, 16, from Edina, Minn. At the local level, there are students organizing strikes by state and by city.
Each strike is planning different activities for the day. For example, Singh tells Green Matters that the D.C. strike has speakers scheduled to address the crowd. The group will also be rallying and chanting in front of the U.S. Capitol.
Article continues below advertisement
How to Get Involved
Article continues below advertisement
If you are not able to rally with the students on Friday, there are plenty of other ways to show your support. You can donate to the U.S. Youth Climate Strike via its GoFundMe page, to help fund things like permit fees, stages, and speaker systems at various strikes. The U.S. chapter is also selling Youth Climate Strike merchandise for additional fundraising. Furthermore, you can spread the word on social media, and encourage students in your life to join in on the protests.
Students from all over the world have already caused a stir by skipping school on Fridays to fight for the planet, so it will be exciting to see how leaders respond to the Youth Climate Strike.