"Shopping Your Stash" Is the Beauty Trend That'll Make You Quit Shopping for More Makeup
"Shopping your stash" is a beauty trend that will have you appreciating what you already own.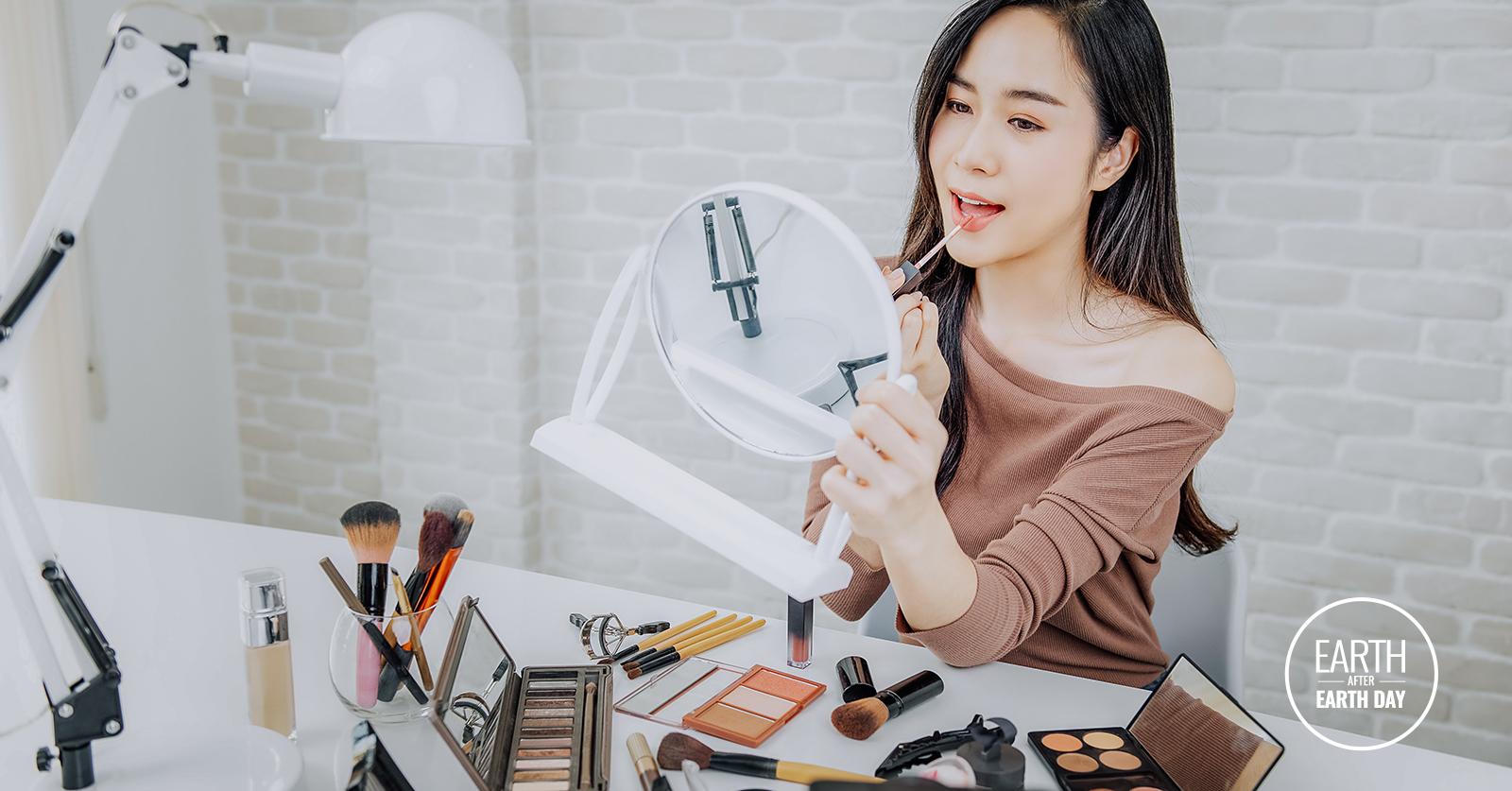 In 2017, the "global cosmetic products market" was estimated to be worth more than $532 billion — and with projections predicting that figure could swell to $805 billion by 2023, it's clear that the world is buying a lot of makeup. But there's a group of small — but dedicated — beauty enthusiasts on the Internet who are trying to slow that down, despite the new brands that are constantly popping up and the new releases that seem to come out daily.
Article continues below advertisement
Their solution? They're "shopping their stash" — or looking into what they already own to enjoy what they have, rather than falling into a trap of consumerism that preaches the message that more is more.
And this mentality is evidenced in the way makeup is marketed — some email subject lines I've received in the past month include "MUST-HAVE: Ignited Eyeshadow Palette"; "Makeup Need a Spring Refresh?"; and "You NEED This Foundation Brush."
Article continues below advertisement
Thanks to the growing "Shop Your Stash" movement — which has been heavily endorsed and supported by pages like the /r/MakeupRehab subreddit, and the popular Estée Laundry watchdog Instagram account (which has also become an advocate in calling out wastefulness and problematic behavior in the beauty industry) — more and more people are realizing that no, there isn't anything we "need" or "must have," and many serious beauty enthusiasts are not in need of any new makeup being released.
Article continues below advertisement
Part of the reason why it's so important for people to buy less when it comes to makeup is because of the waste created in the beauty industry. In addition to the often-excessive packaging, getting rid of makeup can also be challenging; first of all, most liquid products — be it foundation, lipstick, etc. — has an incredibly short self-life, so it's important to use your makeup while you can, otherwise it goes unused and into the landfill.
Additionally, for hygienic reasons, donating makeup isn't as simple as donating clothes and when you return makeup that you may regret purchasing or didn't necessarily work out for you, rumor has it that retailers like Sephora and Ulta destroy the makeup, since it's no longer suitable to be resold.
Article continues below advertisement
Per a 2015 article by Racked, when asked to comment on how they get rid of their returns, Ulta said, "We properly dispose of our products per our manufacturer requests." Last year, a representative for Sephora told Hello Giggles, "Sephora's foremost priority is the health and safety of our employees and clients. While we cannot disclose the specifics of our protocol for disposing of returned, damaged or used products, we can confirm that there are careful and consistent procedures in place across our stores to ensure items that are not fit for sale—due to use, damage or tampering—are entirely removed from inventory. To ensure the health and safety of our clients, non-sellable items are either shipped back to Sephora distribution centers or a third-party damage processor, and testers or other damaged goods at stores are also disposed of onsite in designated damage bins in such a way that they are not retrievable or reusable. We take product hygiene very seriously and we are dedicated to following best practices in all of our stores."
Fortunately, there are a few tips that will make it easier to "shop your stash" and, hopefully, create less waste — because it's important to make sure the planet looks as good as you do!
Article continues below advertisement
Find Dupes 
For those who may not be "familiar," a dupe is a product that is just like another product — in color, finish, and performance; usually, the "dupe" is a cheaper alternative, but it doesn't have to be.
The more invested I got in the makeup game (and I am, admittedly, a still-recovering makeup addict), the more I realized that a lot of products are more or less exactly like something that already exists — something that you may already own, especially when you consider that there are trends in makeup, and a lot of brands are doing essentially the same thing.
Article continues below advertisement
When a new release or a new-to-you product catches your eye, look into your collection and see if you have anything comparable. While there are a few products that are simply "undupable," there are pages like DUPETHAT dedicated to finding these similar products — and it's easy to avoid the temptation of a product if you already have something exactly like it in your collection.
Article continues below advertisement
Create Challenges 
A common problem in communities like Reddit's Makeup Rehab is that people generally own a lot of makeup, but use very little of it. The group has been able to combat this problem by creating challenges that may push you out of your comfort zone in terms of your "look" and will encourage you to not only use, but also appreciate products that you may have overlooked in the past.
A popular trend is challenges like "Project Pan," which encourages you to "pan" (AKA finish — traditionally until you can see the pan of a compact, but can apply to makeup in bottles or tubes as well) one thing that serves a specific purpose, for example a highlighter, before you buy another highlighter. After all, most of us are only using one type of product at a time!
Article continues below advertisement
Earlier this year, Makeup Rehab ran a "Palette a Week" challenge, in which people with multiple eyeshadow palettes used a different one every week, forcing them to use what they have instead of buying something new for their collection.
Article continues below advertisement
They also ran a "Weekly Basket," encouraging people to pick the products they are going to use for that week and then reflect on it at the end of the week. Again, this encourages people to "shop your stash" for "new" products — without actually buying anything new.
Try to Store Your Makeup Where You Can See It 
This may seem obvious — but it's the tip that actually helped me the most, and I didn't even think of it on my own! If you have hoards of makeup (and, again, no judgment: It's an amazing hobby and beautiful craft), you may even forget what you already own.
Article continues below advertisement
Storing it somewhere you can see it — on a vanity, in clear acrylic cases, or whatever works for you — will keep everything top of mind, and will allow you to not only see everything you own, but also "window shop" the way you would in a store.
And the best part is you won't need to spend any money!