Donate to These Organizations Directly Helping Animals in Ukraine
Wondering how to help animals in Ukraine? These organizations are on the ground and directly giving money to displaced animals.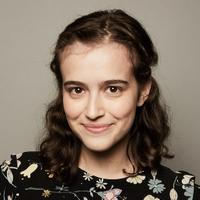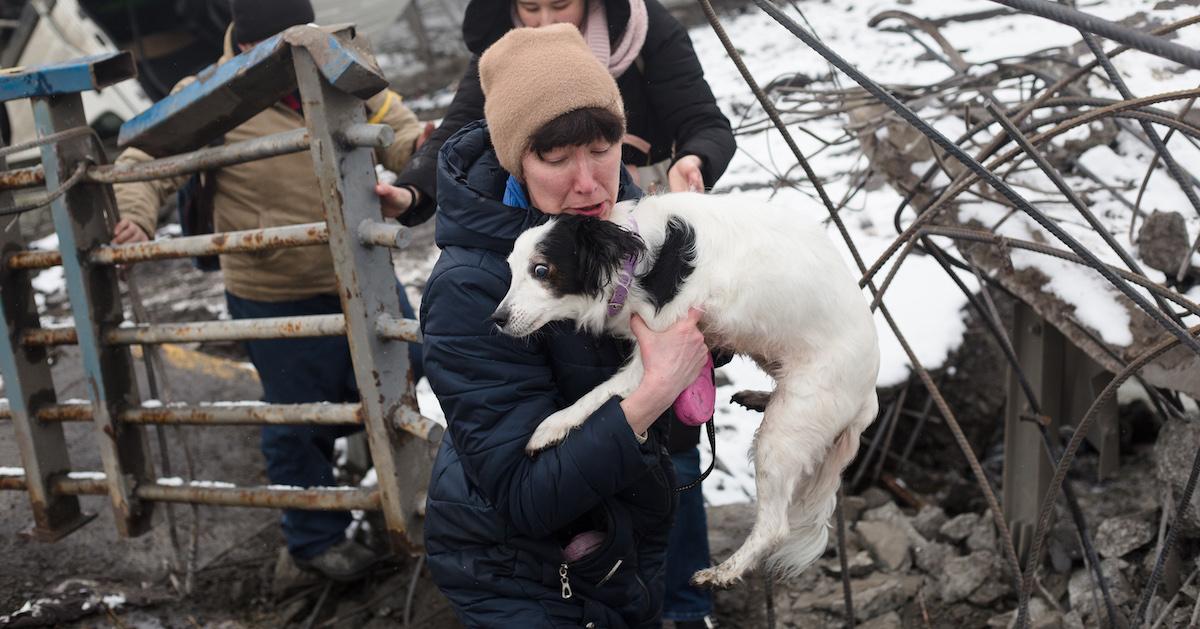 Since the Russian invasion of Ukraine began last month, not only have people across Ukraine been in immense danger, but so have animals across the country, leading people around the world to wonder how to help animals in Ukraine.
Article continues below advertisement
Many of these people have — or had — companion animals, but unfortunately, many were forced to leave their cats and dogs behind, while those who were able to take their animals are in need of pet food and other supplies. Not to mention, animals held captive in zoos or awaiting adoption at animal rescues or shelters across Ukraine are also in danger.
Article continues below advertisement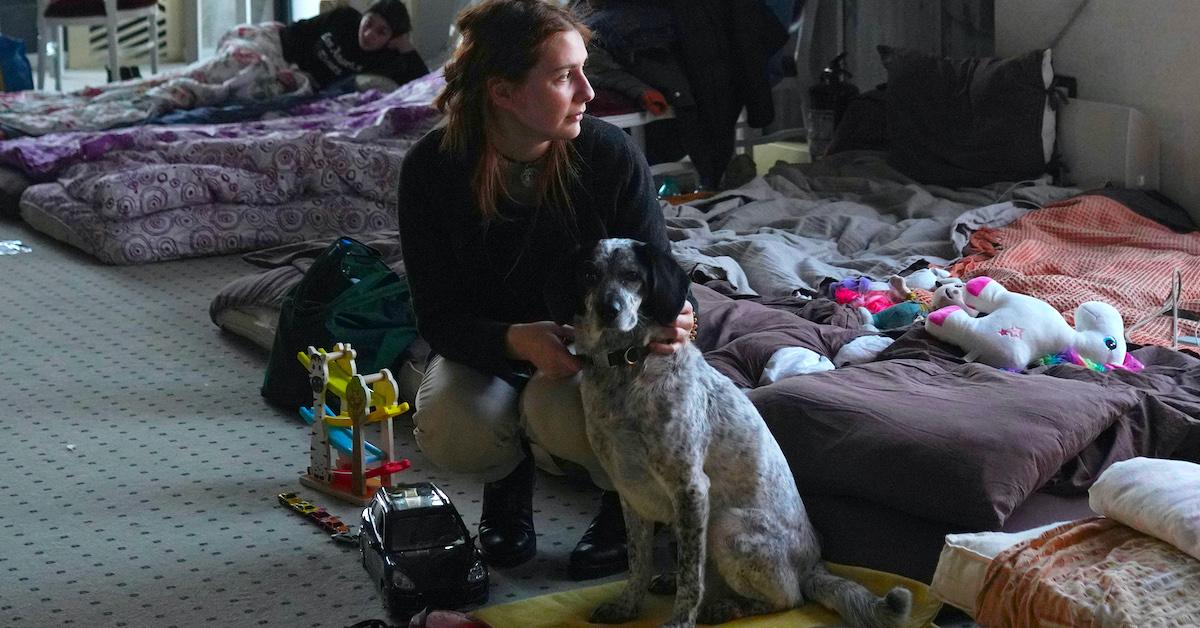 How to help animals in Ukraine
Fortunately, there are now a number of animal relief efforts happening on the ground in Eastern Europe, and with financial support, they'll be able to save even more displaced animals.
Article continues below advertisement
Humane Society International and its Polish partner groups are caring for animals rescued from Ukraine.
Animal protection organization Humane Society International has members of its disaster relief team positioned at a number of points along the Poland-Ukraine border.
As Ukrainian refugees enter Poland at these various points, the HSI team members are there to supply people who have animals with pet food, leashes, carriers, and other supplies "to make the onward journey more comfortable," according to Iga Glazewska, the Poland director for Humane Society International/Europe.
HSI is working with Polish partner groups including BOOZ and the Krakow Shelter for Homeless Animals, who are taking in homeless cats and dogs who came from Ukraine and are in need of adoption. As of March 25, HSI tells us that there are 120 cats and dogs from Ukraine at the shelter.
Article continues below advertisement
"At the Polish/Ukraine reception points we're continuing to see many people arriving with their dog and cat companions in their arms or riding along in their backpacks," Glazewska said in a statement shared with Green Matters. "These people have run for their lives, taking with them only the most precious things they have, which includes their beloved pets. We've seen very hungry, fatigued and bewildered animals, some with clear signs of stress from their ordeal."
HSI is accepting donations to its Animal Rescue Fund, which are passed directly onto groups helping Ukrainians and their animals. HSI has a rating of 83.79 out of 100 on Charity Navigator.
Article continues below advertisement
PETA Germany is providing housing, transportation, and pet food animals in need — and their families.
You can also donate to animal rights organization PETA's Global Compassion Fund, which will go directly to animal relief efforts in Ukraine. PETA Germany currently has people on the ground in various Ukrainian cities, helping dogs and cats living in shelters damaged by bombings; transporting animals in need of help across the Ukrainian border to Poland, Romania, and Germany; and supplying housing to Ukrainians who refused to abandon their animals.
So far, PETA Germany has provided hundreds of thousands of pounds of dog food to animals affected by this conflict.
Article continues below advertisement
The PETA Germany team has shared a number of stories of its rescues over the past few weeks. For instance, one family that fled to the Czech Republic was forced to leave its cats, Marius and Pamplemousse, with an animal rescuer in Lviv, Ukraine. Soon after, PETA Germany rescuers were able to transport the cats across the border, and reunited them with their family in the Czech Republic.
"Dogs and cats depend on humans, so it's imperative that we work quickly to get them out of danger, reunite them with their families when that's possible, and not let them starve," PETA President Ingrid Newkirk said in a statement sent to Green Matters. "Whether our rescuers are helping animals escape Kharkiv or Kyiv or supplying housing to the people who refused to leave their animals behind, PETA entities are doing all they can to help."
Charity Navigator gives PETA a 75.71 out of 100.
Article continues below advertisement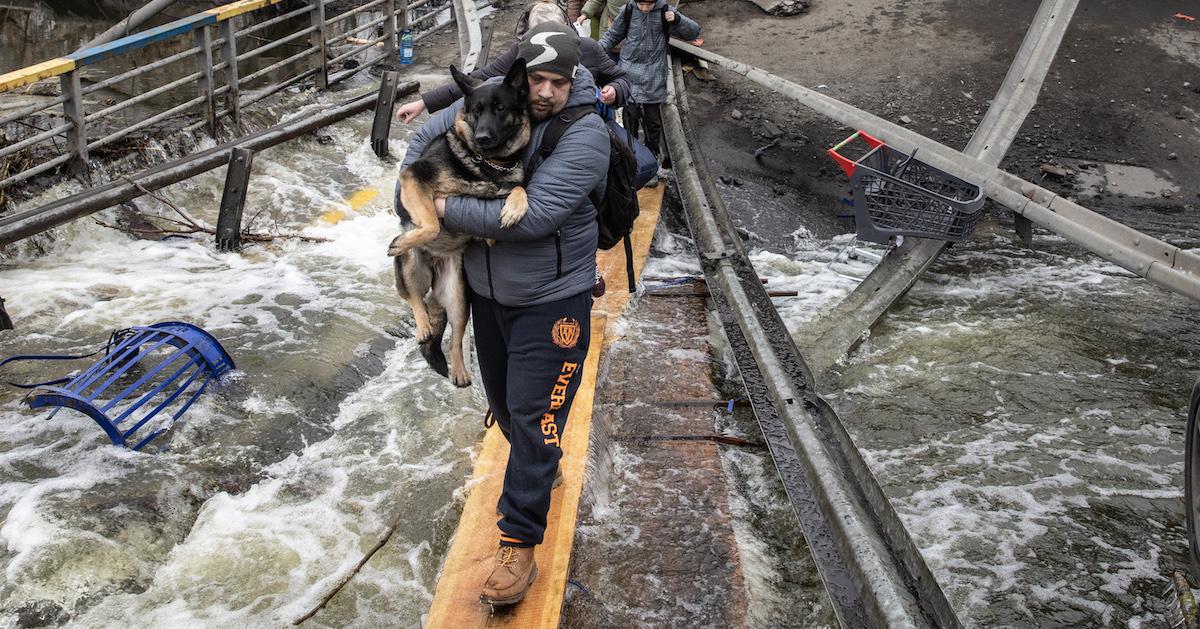 The Red Shed is funneling donations to animal shelters across Ukraine.
You Magazine recommends donating to the Red Shed. Originally supposed to be an Animal Welfare Education Series set to launch this summer, the Red Shed quickly pivoted at the onset of the conflict, and is using all of its resources and donations to help the animal crisis in Ukraine.
Article continues below advertisement
All donations given to the Red Shed are being directly distributed to several animal welfare charities that are caring for displaced Ukrainian animals across Ukraine, Poland, Romania, and other neighboring countries. Ac​​cording to the website, so far, the Red Shed has given more than €40,000 ($43,942 USD) in donations to emergency aid.
The Red Shed is also encouraging people to mail donated goods directly to several shelters across Ukraine — you can find the shelters' addresses and lists of needed supplies on the Red Shed's website.
Green Matters' new book, Green Living, is the perfect guide to living an eco-friendly lifestyle for people at every stage of the process. You can order Green Living here.