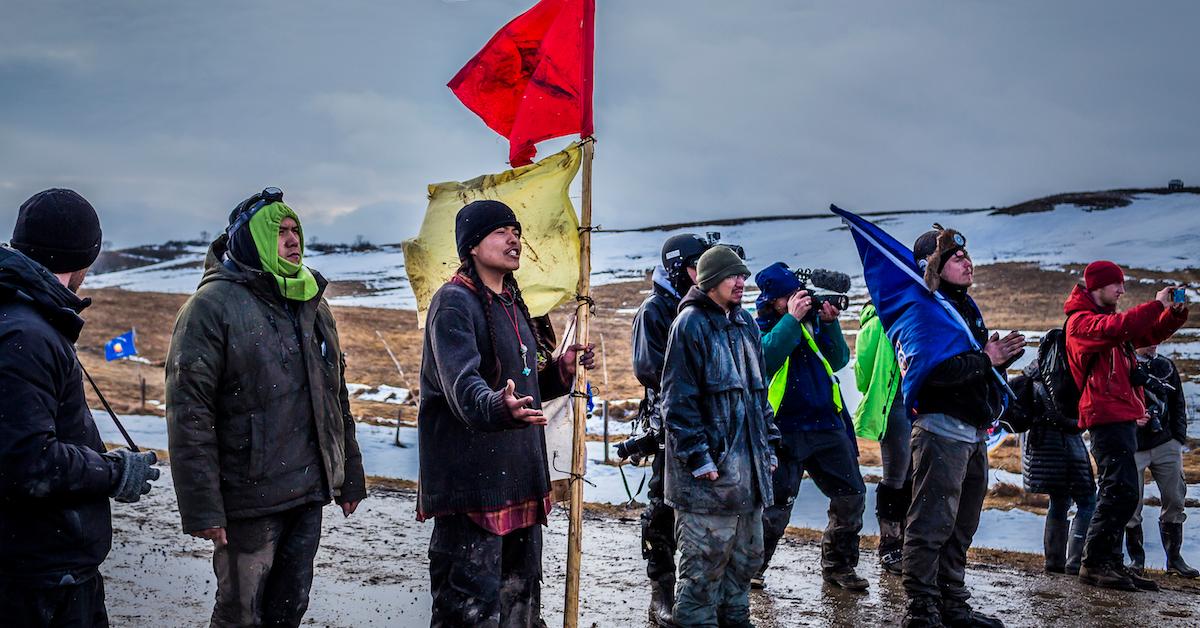 3 States Abruptly Make Protesting Fossil Fuel Pipelines a Felony
You may have seen articles that COVID-19 is causing air pollution levels to go down in certain locked-down areas, and thought, Oh, great, at least this pandemic will be a bit of a break for Mother Earth. But as more news has come out during the quarantines, it's clear that the climate crisis — and legislators perpetuating the climate crisis — is still growing, just like the pandemic. As reported by HuffPost, over the past two weeks, Kentucky, South Dakota, and West Virginia all discreetly passed laws criminalizing protests against the fossil fuel industry.
Article continues below advertisement
Greenpeace USA researcher Connor Gibson alerted HuffPost of the new laws (which are described below), suggesting that they were all put into place to criminalize civil disobedience. "While we are all paying attention to COVID-19 and the congressional stimulus packages, state legislatures are quietly passing fossil-fuel-backed anti-protest laws," Gibson told HuffPost. "These laws do nothing new to protect communities. Instead they seek to crack down on the sort of nonviolent civil disobedience that has shaped much of our nation's greatest political and social victories."
Article continues below advertisement
In Kentucky, Gov. Andy Beshear (D) signed House Bill 44 on March 16. According to the Kentucky legislature website, the bill changed the definition of "key infrastructure assets" to include natural gas and petroleum pipelines, and it dictated that anyone who tampers with or defaces one such asset worth more than $1,000 will be charged with criminal mischief in the first degree, a Class D felony.
On March 18 in South Dakota (which the Dakota Access Pipeline runs through), Gov. Kristi Noem (R) made a similar move. She signed Senate Bill 151, defining "critical infrastructure" to include oil and natural gas facilities and pipelines. The bill also defines interrupting or impairing any critical infrastructure facilities a Class 6 felony.
The following week, she approved House Bill 1117, which revised penalties for "riot boosting," a vague term that South Dakota developed in 2019, according to the AP. It essentially criminalizes people who seemingly pre-plan riots, violence, or damage at a protest. The ACLU argues that criminalizing "riot boosting" is a "clear First Amendment violation."
Article continues below advertisement
And then last week, on March 25, West Virginia Gov. Jim Justice (R) signed House Bill 4615, aka the West Virginia Critical Infrastructure Protection Act. The bill also revises the definition of critical infrastructure to include oil and gas pipelines and facilities. Protestors who cause damage of more than $2,500 could be fined between $5,000 and $20,000 and / or jailed between one and five years.
Article continues below advertisement
These are not the only changes to laws with an impact on the environment that have been made during the novel coronavirus outbreak. Last week, the U.S. Environmental Protection Agency announced it would stop enforcing several environmental regulations for the fossil fuel industry, which could lead to increased pollution, oil spills, and more.
As David Attenborough told the Sunday Mirror this week, COVID-19 is a short-term problem, with an end in sight — but the climate crisis is a long-term problem that has already caused more damage than COVID-19. And even though fighting the coronavirus is rightly a priority right now, that does not mean we can afford to put protecting the planet on the back burner.
The best way to prevent contracting or spreading coronavirus is with thorough hand washing and social distancing. If you feel you may be experiencing symptoms of coronavirus, which include persistent cough (usually dry), fever, shortness of breath, and fatigue, please call your doctor before going to get tested. For comprehensive resources and updates, visit the CDC website. If you are experiencing anxiety about the virus, seek out mental health support from your provider or visit NAMI.org.