Get green news right to your inbox!
Thanks for signing up!
April 22 marks Earth Day, an international and annual holiday that encourages people to make an effort to preserve the planet. Whether you're new to the environmental movement or you've been fighting for the planet since the very first Earth Day back in 1970, there are so many actionable things you can do this Earth Day.
For example, you can take the time to educate yourself on the climate crisis. But don't worry — there are ways to do that other than reading scientific studies and textbooks. Instead, you can keep up with your usual nighttime Netflix routine, and watch something about planet Earth.
To celebrate Earth Day, we compiled a list of documentaries that will boost your environmental knowledge — as well as a few sitcom episodes that will make you laugh.
Here are our best recommendations, all of which are available to stream:
1. Our Planet
Earlier this month, people all over the world Netflix-and-chilled to the stunning docuseries Our Planet, narrated by David Attenborough. Each episode is filled with jaw-dropping footage of animals in a variety of habitats, including flamingoes, walruses, whales, monkeys, insects, and frogs, to name a few. But Our Planet is more than just animals — throughout the series, Attenborough clearly expresses how desperately humans need to start protecting the Earth.
For more Attenborough-narrated Earth content, Netflix also has the nature documentaries Planet Earth, Planet Earth II, Blue Planet, Blue Planet II, and Frozen Planet.
2. Scrubs: "My Inconvenient Truth"
In November 2007, a slew of NBC shows featured environmental-themed episodes. For example, Scrubs put out an episode called My Inconvenient Truth, in which the Janitor watches Al Gore's documentary An Inconvenient Truth (feel free to add that doc to your list, too.) In the episode, the Janitor embraces his environmental enlightening, and becomes the Hospital Environmental Officer at Sacred Heart. To find out how that goes for him, the episode is available for streaming on Hulu, or on YouTube for $1.99.
3. Cowspiracy
The documentary Cowspiracy: The Sustainability Secret, available for streaming on Netflix, details an industry that is a leading cause of global warming, water depletion, deforestation, and more: animal agriculture. Cowspiracy is a super interesting look into the link between factory farming and climate change, and it will leave you feeling inspired.
4. 30 Rock: "Greenzo"
The same week that Scrubs aired "My Inconvenient Truth," Al Gore made a cameo as himself on 30 Rock. The former VP visited 30 Rock's Jack Donaghy to spread the word on how important it is to fight climate change. Unfortunately, Gore's ideas aren't embraced, and the episode ends with David Schwimmer's character, the Earth-obsessed Greenzo, setting fire to a papier-mâché globe. Liz Lemon finishes off the episode with some A+ commentary, declaring: "This Earth is ruined! We gotta get a new one." Check out the episode on Hulu.
5. The True Cost
Fast fashion may seem convenient and affordable, but unfortunately, the industry has catastrophic repercussions for the factory workers — and for the environment. The True Cost gives viewers an inside look into the wasteful fashion industry, and the documentary will leave you yearning for more info on shopping for sustainable clothing. You can watch the documentary on Netflix, and then click here for Green Matters' tips on sustainable shopping.
6. Chuck: "Chuck Versus the Alma Mater"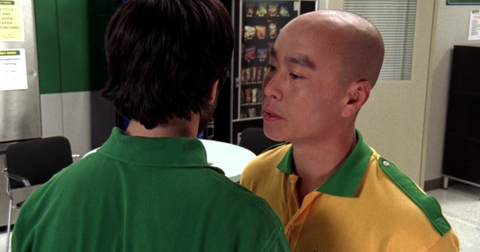 One more NBC show to address climate issues in 2007 was Chuck, which was in its first season at the time. In the show's seventh episode, Chuck Versus the Alma Mater, Buy More employee Harry institutes a Buy More Green program at the store, because "tree hugging is all the rage these days," and because Harry plans on "exploiting the burgeoning conscience of the American consumer." If you want to see how that goes over with the Buy More staff, you can stream the episode on Amazon Prime Video.
7. A Plastic Ocean
To learn more about how plastic pollution affects our planet's oceans and their inhabitants, check out the documentary A Plastic Ocean on Netflix. The documentarians behind the film originally set out to search for blue whales, but they changed their vision when they observed how much plastic was in the ocean. The documentary was shot in 20 underwater locations over the course of four years, and is a great way to learn about how plastic affects the Earth.