Celebrate Earth Day 2020 at Home With These Livestreams
Earth Day 2020 livestreams featuring celebrities, musicians, scientists, and more will help you celebrate the 50th annual Earth Day.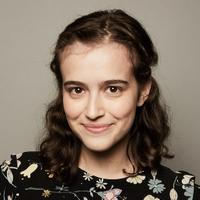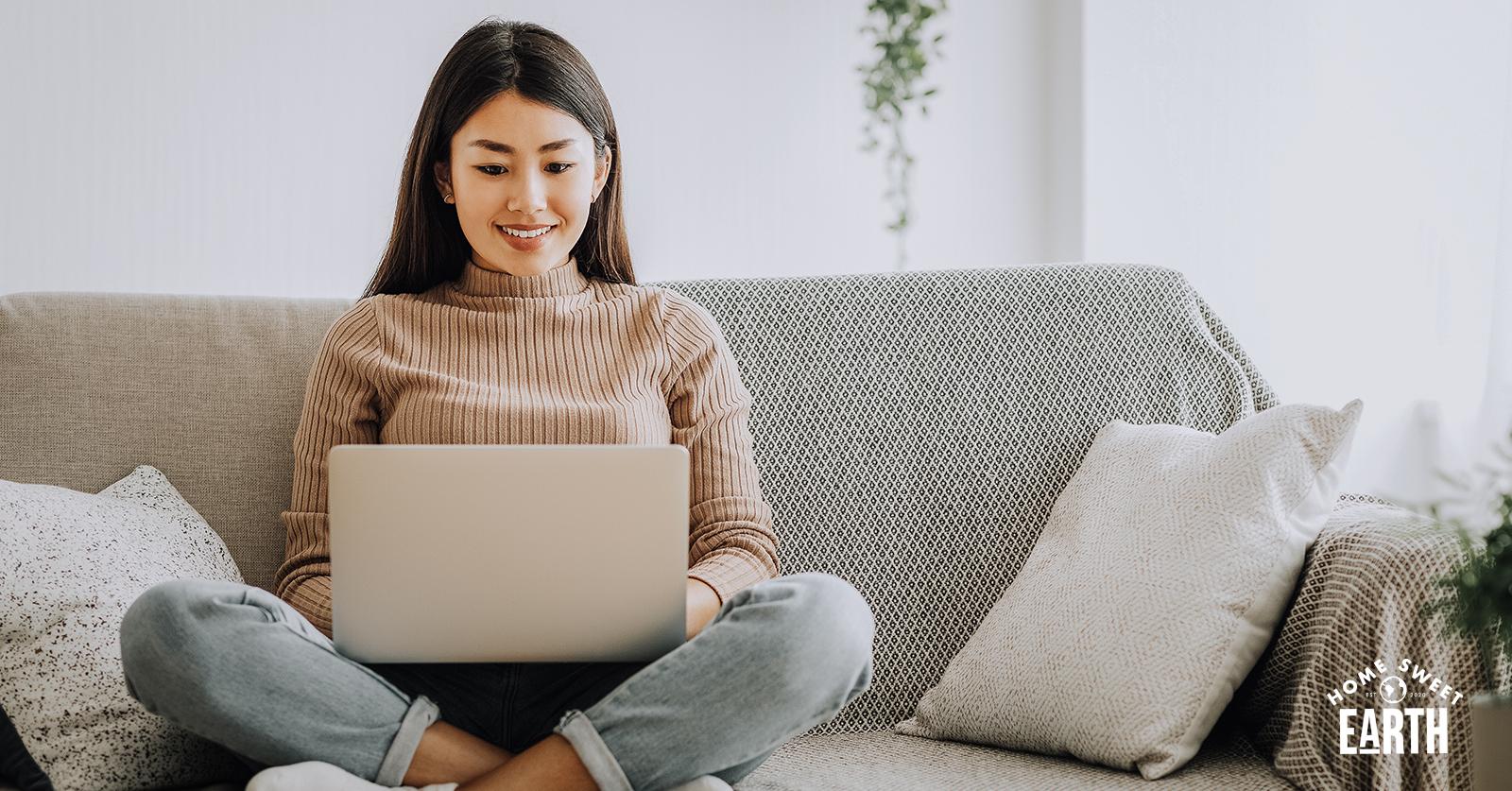 Just because we can't take to the streets doesn't mean we can't have a meaningful Earth Day. Due to the coronavirus pandemic, many organizations have pivoted to hosting digital Earth Day events this year, and there are numerous livestreams you can watch to celebrate the annual holiday.
Article continues below advertisement
In fact, some organizations rounded up have far better celebrities, musical acts, and scientists than they could have ever gotten to show up at an in-person rally. With guests ranging from Joaquin Phoenix to Alexandria Ocasio-Cortez to Patricia Arquette to Questlove, the following livestreams will certainly keep you occupied, entertained, and inspired to take action to protect the Earth this Earth Day.
Not to mention, this April 22 marks the 50th anniversary of the very first Earth Day — so if you're looking to reduce your environmental impact, ramp up your awareness of the climate crisis, or anything in between, there's no better time than right now to tune into these livestreams and start learning.
Earth Day Live
The US Climate Strike Coalition and Stop The Money Pipeline Coalition (two groups made up of more than 500 organizations) have partnered up to organize Earth Day Live, a three-day event of livestreams kicking off on Earth Day. Earth Day Live is hosting multiple panels throughout the day on April 22 (and on April 23 and 24 as well). On April 22, there will be musical performances from artists including Questlove, Jack Johnson, Jason Mraz, and Rain Phoenix, as well as messages from celebrities including Patricia Arquette, Chelsea Handler, and Rainn Wilson.
There will also be tons of exciting panels throughout the day — highlights include:
2:00 p.m. ET: "Blackness, Feminism, and the Climate Emergency"
3:30 p.m. ET: Moby, Joaquin Phoenix, Dr. Michael Greger, and more will discuss "The Link Between COVID-19 & The Climate Emergency"
4:00 p.m. ET: "Healthy Cooking For a Healthy Planet: A Plant-Based Cooking Segment"
Wednesday, April 22, 9:00 a.m. ET to Friday, April 24, 9:00 p.m. ET. Click here for the full schedule and to RSVP to the livestream.
Article continues below advertisement
Earth Day Network's Livestreams
Earth Day Network is hosting 24 hours of action on Earth Day, in partnership with more than 2,600 entities. Earth Day Network is making the focus of the day two of the world's largest crises: the climate emergency and the COVID-19 pandemic.
On Earth Day, the organization will share livestreams featuring messages and performances from Zac Efron, John Kerry, Al Gore, and more. Every hour, on the hour, Earth Day Network will prompt viewers with another suggestion of how they can demand action and drive change.
Wednesday, April 22, all day. Click here to tune in.
Article continues below advertisement
YES AND's Digital Earth Day Summit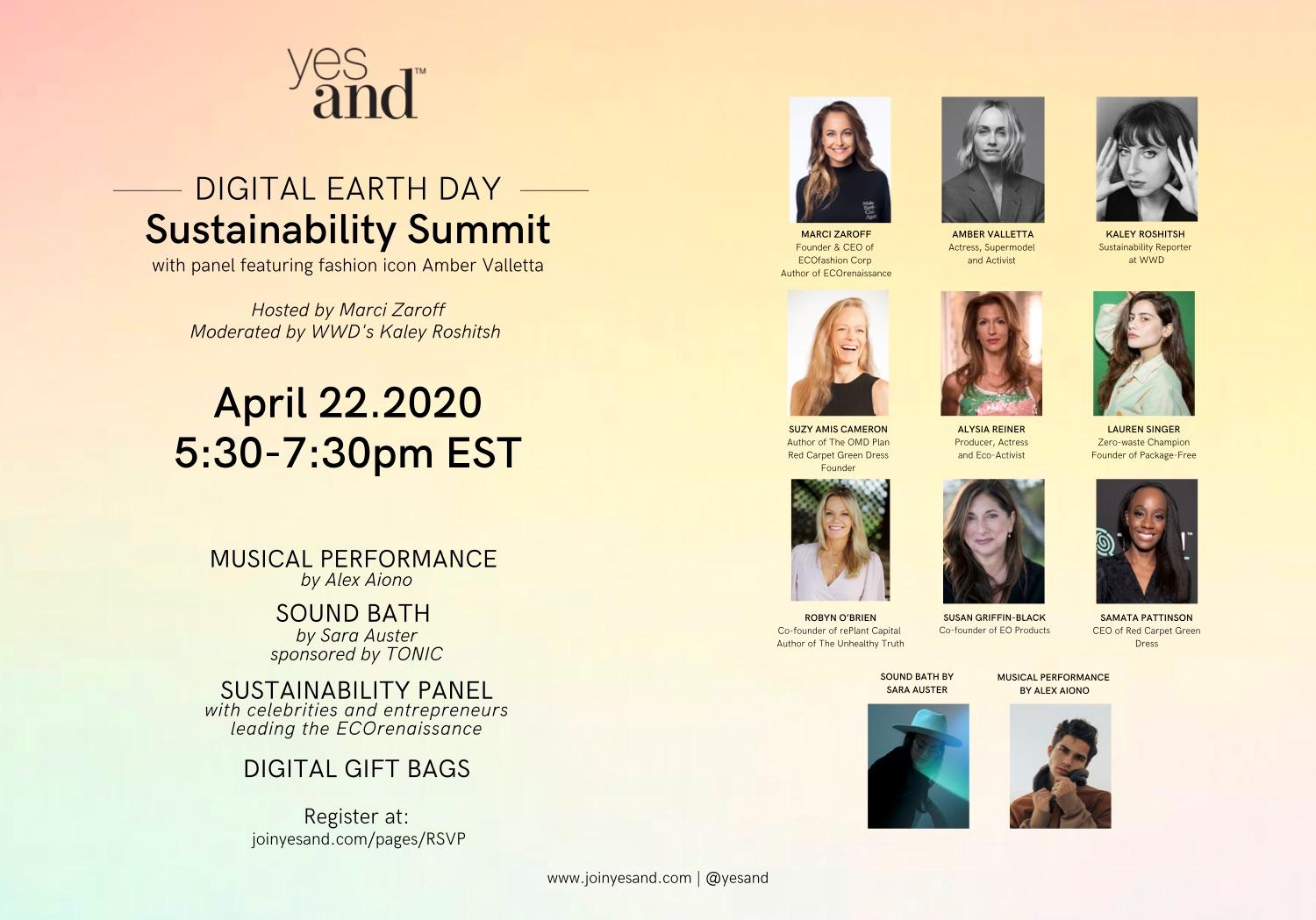 Marci Zaroff's sustainability-focused fashion brand YES AND is hosting a digital Earth Day Summit on Earth Day, "as a call to action to protect human and planetary wellness." Featured panelists will include Amber Valletta, Alysia Reiner, Suzy Amis Cameron, Lauren Singer, and Susan Griffin-Black, and Alex Aiono will open the event with a musical performance.
Wednesday, April 22, 5:30 p.m. to 7:30 p.m. ET. Click here to RSVP.
Article continues below advertisement
Exploratorium's Virtual Earth Day Celebration
San Francisco's Exploratorium (a public learning laboratory) is hosting a livestream on Earth Day, suitable for children ages 8 and up. (So if you're currently homeschooling your quarantined kids, feel free to stick them in front of this on Wednesday.)
The Exploratorium has invited experts onto its livestream for three kid-friendly discussions: Exploring Earth Science in Your Kitchen (Ages 8+), Environmental Benefits of Sheltering in Place (Ages 13+), and Exponential Growth (Ages 11+).
Wednesday, April 22, 4:00 p.m. ET to 5:30 p.m ET. Click here to watch.
Article continues below advertisement
NASA
NASA is hosting several digital events on Earth Day in honor of planet Earth. The most exciting is a livestream Q&A with astronaut Chris Cassidy, who is currently orbiting the Earth on the International Space Station. At 12:10 p.m. ET., Cassidy will answer viewer questions about being in space, what it's like to see Earth from above, and more.
Wednesday, April 22, various times. Click here for details.
Article continues below advertisement
Santa Barbara Earth Day's #TogetherWeEarthrise
According to Santa Barbara Earth Day's website, a 1969 oil spill off the coast of Santa Barbara was the largest oil spill in U.S. waters in history up until that point — and that oil spill was one of the catalysts for the very first Earth Day, which launched the following year. Every year since then, SB Earth Day has held an Earth Day festival in Santa Barbara, Calif. — but the group obviously had to cancel 2020's celebrations due to the pandemic.
Instead, SB Earth Day is hosting a livestreamed festival called #TogetherWeEarthrise beginning at 12:00 p.m. PT on Earth Day. Speakers will include Al Gore, Jeff Bridges, Alan Parsons, Sojourner Kincaid Rolle, and more.
Wednesday, April 22, 3:00 p.m. ET. Click here to watch.
Article continues below advertisement
This article is part of Green Matters' 2020 Earth Day campaign, #HomeSweetEarth, which aims to remind readers that the one thing we all have in common during this hectic time is our home: our shared home, planet Earth. We hope our stories this week will inspire you to connect with and honor the Earth during the pandemic — and beyond.