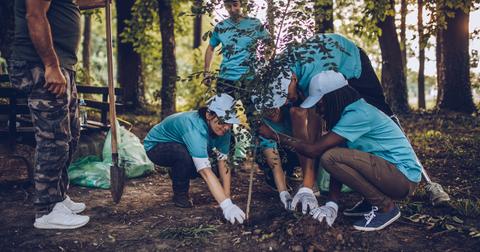 The Earth Is Greener Than It Was 20 Years Ago, According to NASA
By Carly Sitzer
Get green news right to your inbox!
Thanks for signing up!
When you think about our planet and all the changes the climate has undergone in recent decades, it's easy to become overwhelmed — and maybe even a little worried. But there are plenty of good changes happening in our environment, too. NASA recently released new satellite photos and confirmed that the world is becoming a greener, and leafier place — thanks largely in part to the efforts by India and China to plant new trees.
In the past two decades, NASA reports, the planet's green leaf area has increased a total of 5 percent, which is equal to about two million square miles or the entire area of all of the Amazon rainforests.
As Chi Chen — the study's lead author and graduate researcher at Boston University's Department of Earth and Environment — noted, China and India being leaders in the additional vegetation is especially unexpected given they are the two countries with the two largest populations. Chen added, "China and India account for one-third of the greening, but contain only 9 percent of the planet's land area covered in vegetation — a surprising finding, considering the general notion of land degradation in populous countries from overexploitation." However, as the reported explained, part of the reason these highly populated countries turned to agriculture was to help feed their growing populations.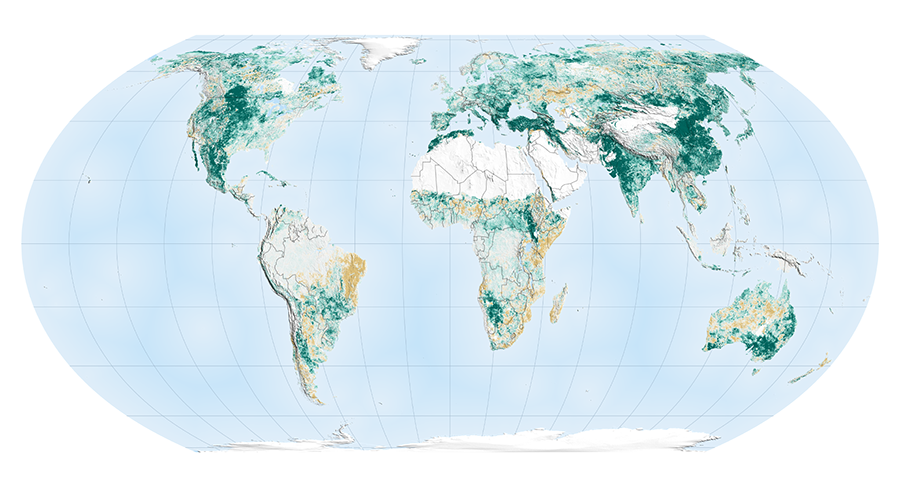 According to the report, China is responsible for about one-fourth of the increase in green leaf area (despite only possessing a 6.6 percent of the world's vegetated area) with forests making up 42 percent of the increase, and croplands making up 32 percent. Similarly, India has contributed to a 6.8 percent increase in green leaf area, with 82 percent coming from croplands and 4.4 percent coming from forests.
Despite the increase in the green leaf area, the researchers made sure to stress that the increase in greenery does not in any way negate or neutralize the effects of deforestation and the negative effects experienced by changing ecosystems.
In the report published in Nature Sustainability, the researchers also explained that the man-driven changes aren't the only factors responsible for these changes in the greenery we see on Earth.
"Satellite data show increasing lead area of vegetation due to direct factors (human land-use management) and indirect factors (such as climate change, CO2 fertilization, nitrogen deposition, and recovery from natural disturbances). Among these, climate change and CO2 fertilization effects seem to be the dominant drivers," the report stated. "However, recent satellite data reveal a greening pattern that is strikingly prominent in China and India and overlaps with croplands world-wide."
More From Green Matters
.

Food

Lab-grown meat and plant-based meat are on the rise.

.

Community

The summit will take place in mid-July.