Questionable Dyson Zone Headphones Cancel Noise, and Supposedly Purify the Air You Breathe
Although many believed it to be an April Fools joke, Dyson released new noise-canceling headphones that also purify the air you breath, too.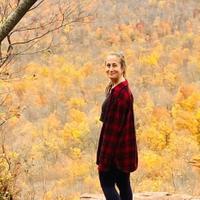 From the air wrap, which gained notoriety on TikTok, to incredibly high-end vacuums, Dyson tends to put out seriously luxurious devices. But the brand's latest release has people scratching their heads. Some even believed it to be an April Fools' joke.
On March 30, the British appliance company released its first wearable: noise canceling headphones that also blow filtered air at your face. Needless to say, Dyson's new air-purifying headphones are certainly the talk of the town right now.
Article continues below advertisement
"Air pollution is a global problem — it affects us everywhere we go. In our homes, at school, at work and as we travel, whether on foot, on a bike or by public or private transport. The Dyson Zone purifies the air you breathe on the move," Jake Dyson, Chief Engineer of the company, stated in a press release which confirmed the product's 2022 launch.
"And unlike face masks, it delivers a plume of fresh air without touching your face, using high-performance filters and two miniaturized air pumps," he continued. "After six years in development, we're excited to deliver pure air and pure audio, anywhere."
Watch the unveiling of the new product, below.
Article continues below advertisement
What to know about Dyson's new noise-canceling, air-purifying headphones:
Between the coronavirus and continuous air pollution, it's safe to say the air we breathe isn't always exactly clean. But Dyson is looking to combat that, by releasing its Dyson Zone headphones, which tackle air and noise pollution alike.
The brand's first wearable, which is launching in 2022, will supposedly capture all types of city pollution — gas, allergens, and other types of matter, while canceling out all background noise, according to the press release.
Article continues below advertisement
Although these come at a convenient time with the ongoing COVID-19 virus, they've been in the works for about 6 years. About 90 percent of people inhale air that exceeds WHO pollutant limits, which is why the brand created them — they shouldn't replace a face mask but will prevent you from inhaling daily pollutants.
They have compressors in each ear cup, taking in air through two dual-layer filters. Then, they push clean, filtered air into the person's nose and mouth via a non-contact visor.
These have been tested using a mannequin with medical-grade mechanical "lungs," as well as special equipment to test pollution levels. Supposedly that aspect works to combat less-than-ideal air quality, and audio engineers designed the noise-canceling headphones, which cancel out background noise, and deliver low-distortion audio.
You can get your hands on them by ordering online or shopping in-store at Dyson Demo Stores and Dyson.com as of Fall 2022, for a clean inhale and a solid jam sesh.
Article continues below advertisement
Are Dyson's new headphones an April Fools' joke?
As of right now, it doesn't seem as though Dyson's new product are part of an April Fools' Day prank. Yes, they look pretty goofy, but the company seems quite serious about promoting this device. According to NY Daily News, the brand responded to allegations of it being a joke, reassuring consumers they are all too real.
In reality, these could be pretty revolutionary, especially for those who are immunocompromised, or more vulnerable to air pollution.
Article continues below advertisement
The price point is reportedly going to be between $660 and $1320, but we'd love to see them become more accessible to people in more vulnerable communities, who could use extra filtration from unclean air.
Dyson, if you're reading this, we're hopefully giving you some good ideas.
Green Matters' new book, Green Living, is the perfect guide to living an eco-friendly lifestyle for people at every stage of the process. You can order Green Living here.