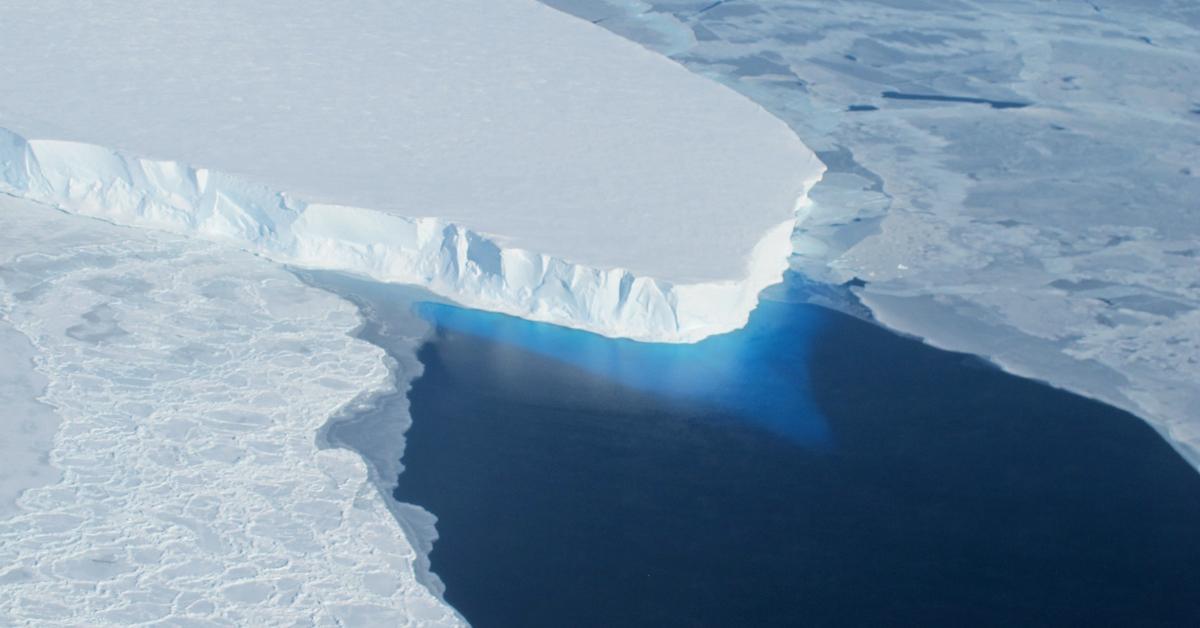 If the "Doomsday Glacier" Collapses, Global Sea Levels Will Rise More Than 2 Feet
In Antarctica, the Thwaites Glacier has become known by a rather ominous name: the "doomsday glacier." And unless you're a villain in a superhero movie, you probably don't want your nickname to include the word doomsday — but unfortunately, it's pretty accurate here.
Basically, if the doomsday glacier melts, the sea level rise would be so significant that it could set off a number of other reactions, including putting coastal communities at risk.
Article continues below advertisement
But is the doomsday glacier really at risk of melting anytime soon? Here's everything you need to know.
Article continues below advertisement
What is Antarctica's doomsday glacier? If it collapses, the results could be catastrophic.
The Thwaites Glacier, located in West Antarctica, is huge — it's about the size of Florida or England. And according to a report published in December 2021 by the CIRES at the University of Colorado Boulder, a particular ice sheet of the Thwaites Glacier that floats above an underwater mountain, is at risk of shattering, posing "the biggest threat for sea-level rise this century."
BBC News added that the doomsday glacier is already releasing about 50 billion tons of ice into the ocean annually — that's about 4 percent of worldwide annual sea level rise, according to the CIRES report.
Article continues below advertisement
If the glacier were to melt completely, it would cause global sea levels to rise by 65 centimeters (about 25.6 inches, or just over 2 feet), which would be catastrophic.
As explained by ScienceAlert, if the glacier really melted, it could set off a chain reaction of its neighboring glaciers melting too — which would only increase the sea level rise, potentially by several meters. If that happens, many of the world's major coastal cities would feel the effects, including New York, Miami, Mumbai, Shanghai, and Tokyo. These events could also "swallow" some low-lying islands, essentially causing them to become submerged underwater.
Article continues below advertisement
"Thwaites is the widest glacier in the world," stated Ted Scambos, a coordinator for the International Thwaites Glacier Collaboration and a senior research scientist at CIRES. "It's doubled its outflow speed within the last 30 years, and the glacier in its entirety holds enough water to raise sea level by over 2 feet. And it could lead to even more sea level rise, up to 10 feet, if it draws the surrounding glaciers with it."
Article continues below advertisement
What's causing the doomsday glacier to melt?
The warming ocean is what's melting ice beneath the Thwaites Glacier.
This too-warm ocean water is "attacking this glacier from all angles," according to Erin Petitt of Oregon State University and her team. As the water melts the ice on the underside of the glacier, the glacier "loses its grip" on the underwater mountain that it rests on.
Article continues below advertisement
But what causes excess warming in the ocean? That would primarily be greenhouse gas emissions, as noted by the IUCN. A few other factors directly contribute to rising ocean temperatures as well, including overfishing.
Basically, because of humanity's excessive fossil fuel use, pollutive industries like animal agriculture and commercial fishing, and more, the oceans have overheated, which is causing the doomsday glacier to experience increased fractures, rapid retreating, and ultimately, face the risk of collapsing. But what's the chance that all this will really happen?
Article continues below advertisement
Will the Thwaites Glacier really melt?
According to Petitt, the floating portion of the doomsday glacier probably only has a "few years" left before it completely melts. But as for the entire doomsday glacier, we can expect "major ice loss" over the next "several decades to a few centuries," according to CERES via Anna Crawford, a researcher who studies ice cliff failure at the University of St. Andrews.
"I visualized it somewhat similar to a car window where you have a few cracks that are slowly propagating, and then suddenly you go over a bump in your car and the whole thing just starts to shatter in every direction," added Pettit in a press conference, as per USA Today.
The climate crisis keeps getting worse before our eyes — and the only way to stop it is with climate action, especially by world governments and industry leaders.