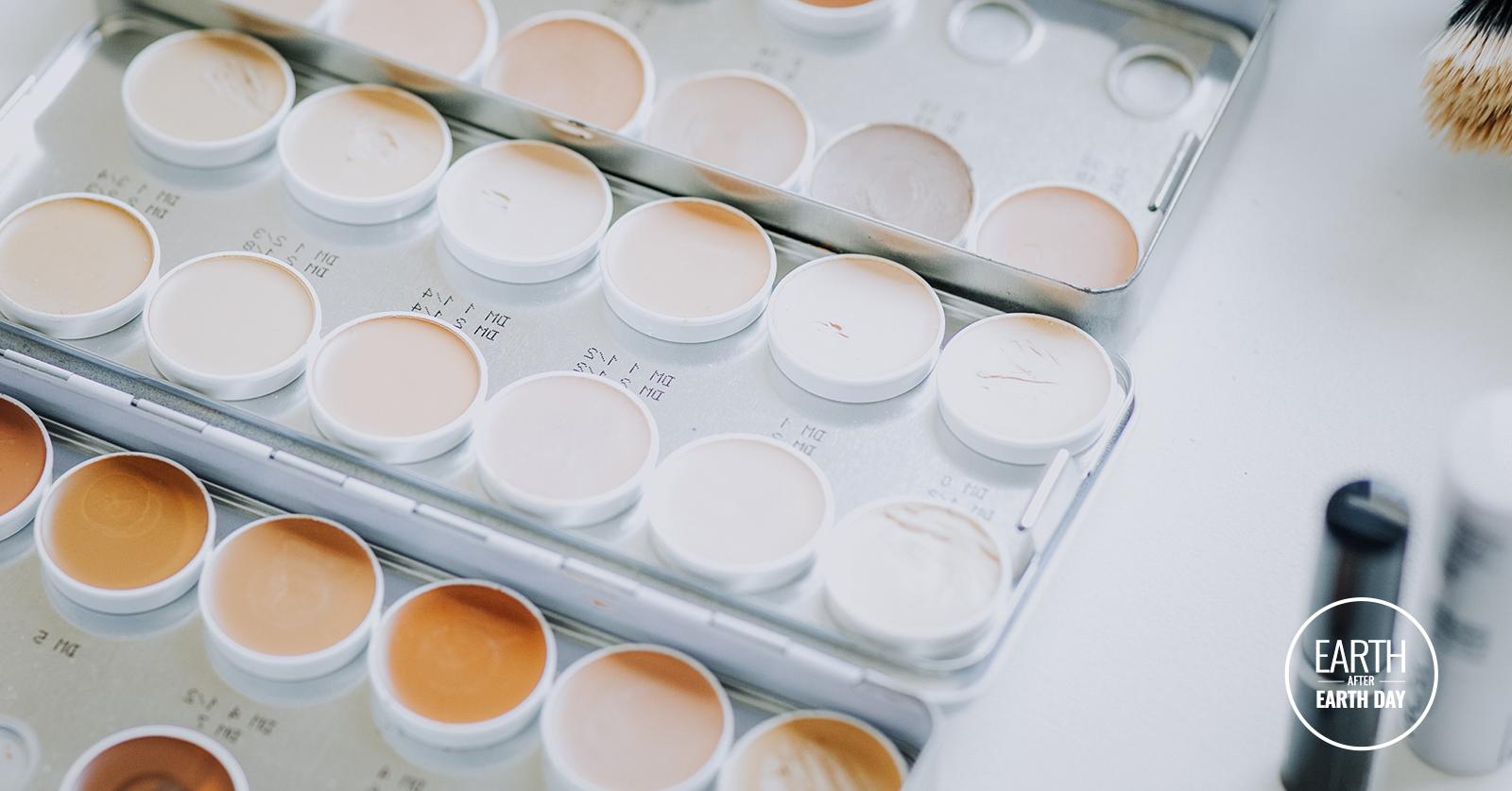 How to Get Rid of Your Unwanted Makeup — Ethically
Getting rid of your makeup isn't so easy — but there is a way to get rid of what you're not using without increasing your impact.
Thanks to Marie Kondo, this year has seen more people taking inventory of their lives than ever before. (Don't believe us? The numbers at Goodwill and other clothing donation organizations don't lie!) And while people have had no problem moving on from the things that don't "spark joy" in their closets and around their home, getting rid of makeup and skincare isn't as easy as some other household goods.
Article continues below advertisement
There's the hygiene issue (lots of makeup, like lipstick or lipgloss, goes directly on your body with no real way to sanitize) and the fact that most makeup (especially liquid makeup) has an infamously short shelf-life that makes it nearly impossible to keep your makeup out of the landfill.
There are the two most obvious options: First of all, buy less (a good practice to keep in mind in general!) — and if it's already too late for that, it's best to use what you already own. But if there are some things that just won't work — because it gives you a bad reaction, or it was a gift that you'd just never use — there are some ways to extend the life of your makeup just a little bit longer.
Keep reading to find out how to get rid of your makeup in an ethical way!
Article continues below advertisement
Donate It to Charity
There are plenty of charities that'll take your untouched or gently used makeup and will give it to people in need. While there are probably plenty of local organizations that'll take your brand new, or lightly swatched, goods, there are also some national organizations that will allow you to mail in your donations.
Beauty Bus was inspired by the life and death of Melissa Marantz Nealy; Melissa passed away at the age of 28 after fighting a degenerative neuromuscular disease. While she was fighting, her family uplifted her spirits by treating her to haircuts, manicures, facials and the like — an experience they hope to pass on to other people who are facing terminal illnesses by collecting, and distributing, new and lightly used beauty products that could help women and men feel beautiful even while fighting for their lives.
Article continues below advertisement
Another amazing organization is Project Beauty Share, which collects donations that are then given to women who have overcome homelessness, addiction, poverty, domestic violence — or pretty much anything else that life has thrown their way — and are ready to get back on their feet with a fresh face.
Sell It Online 
You can also get rid of the makeup you're not using — and recoup some of the costs — by selling it online; there are plenty of traditional forums for reselling your belongings, like Poshmark, eBay, Vinted, and Mercari — though sellers should know that most of these platforms only support unused makeup in order to guarantee cleanliness for buyers.
Article continues below advertisement
There are also some dedicated makeup sites, like Glambot, where you can request a pre-paid label and send in your unwanted makeup; they'll assess what you sell in, and will list anything they believe they can resell and will make you an offer that can either be redeemed in cash or store credit. While there are some restrictions in what they don't accept (products must be 50 percent or more remaining, and they won't accept "items with reusable applicators," it's one of the most pain-free ways to get the most out of unwanted items.
If most of your collection is used, or full of items with reusable applicators, there are also groups all of Facebook and Reddit where you can name your own price and liaise with potential buyers yourself. Of course, when buying used makeup there can always be some risk of hygienic problems or counterfeit items, so if you're going this way to buy (which can often be better than buying new from a major retailer), do so at your own risk.
Give It to Friends and Family 
Giving what isn't working for you to friends or family may be the easiest "donation" method in the book, but that's because it's time-tested and works. What may not work with your skin tone could be a perfect match for your friend. Not only do you not need to ship anything, but you will probably also make your friend's day when you hand off the unwanted options and add to their collection!