9 Beauty Ideas That Are Zero-Waste and Do-It-Yourself
These beauty ideas that you can make at home are also zero-waste!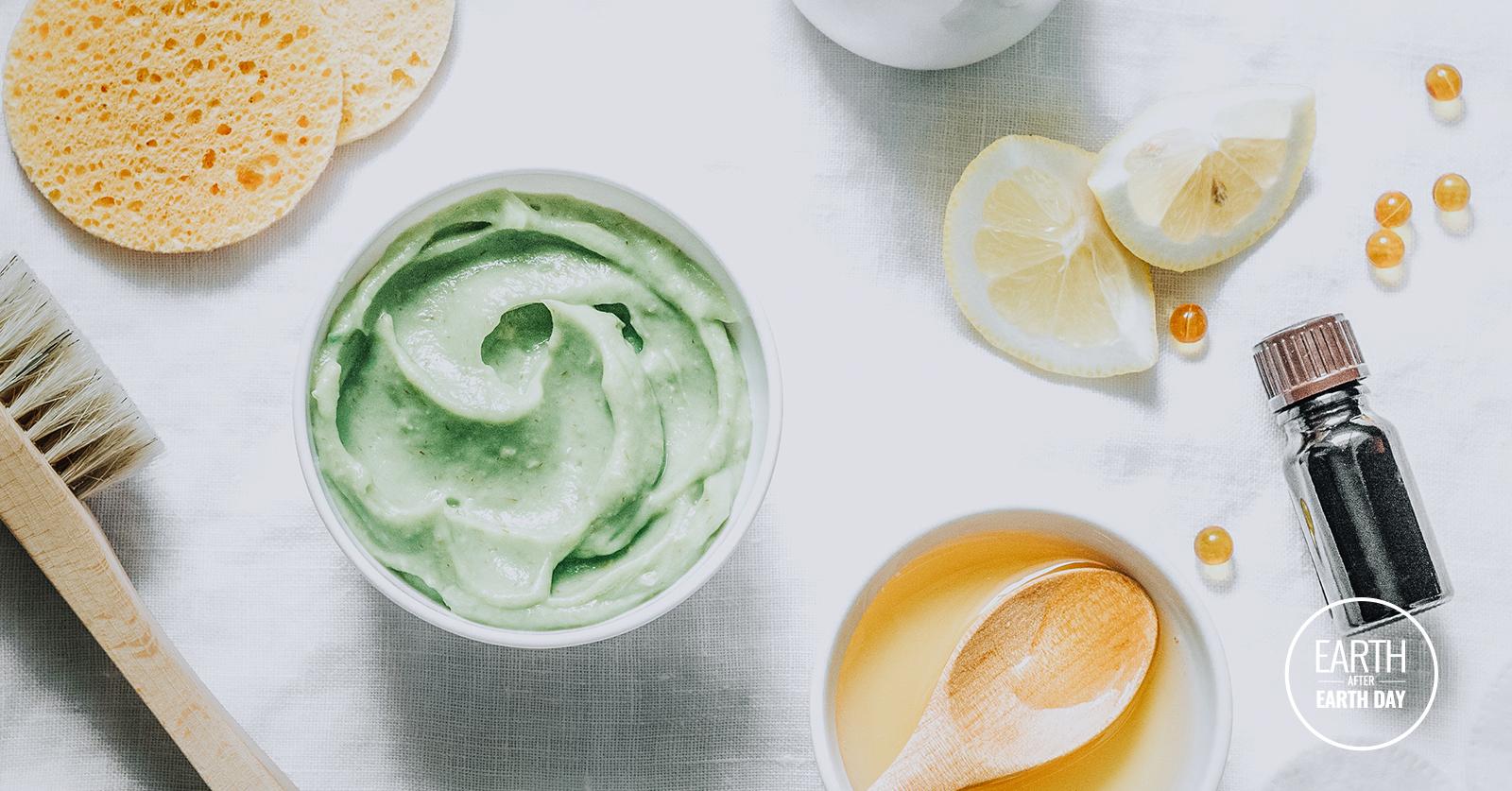 Making zero-waste choices should never mean sacrificing your skincare. There are plenty of low-impact recipes out there that are DIY-able, sustainable, and healthy for your skin. All those things combine to make the best of both worlds, right?!
Article continues below advertisement
Eliminating prepackaged skincare products drastically cuts down on single-use plastic and therefore, your carbon footprint as well. By choosing to make your sustainable skincare products at home — with the help of just a few simple ingredients — you're not only making a smart choice on behalf of the environment, but for your skin as well.
All of the ingredients included in the beauty recipes below can be found in either sustainable packaging (glass, usually) or in bulk. While some of these ingredients may be on the pricier side (we're looking at you, agar agar), it's totally worth splurging for a bulk-sized container that will help create hundreds — if not more — face masks, scrubs, serums, and more. Compared to a 1- or 3-ounce tube of beauty product and it's undeniable: It's a better use of your carbon footprint to opt for the bigger container worth hundreds of uses.
Ready to integrate sustainable, DIY products into your beauty routine? Keep reading!
Article continues below advertisement
Face Masks
Charcoal Mask: Activated charcoal draws out toxins, dirt, oil, and other bacteria from the pores of your skin. (Side note: activated charcoal also does double duty because you can add it to your water for a detoxifying water solution.) Charcoal masks clean out your pores and are specifically beneficial for people with blackheads and chronic acne.
For this mask, you'll need a teaspoon of each of the three ingredients — baking soda, activated charcoal, and bentonite clay. Mix together, apply as a paste, and leave on for about 10-15 minutes before rinsing and patting dry.
Article continues below advertisement
Matcha Green Tea Mask: Matcha green tea is another ample source of antioxidants. The Japanese tea is known for preventing wrinkles and fine lines, treating sun damage, detoxifying the skin, and evening out an uneven complexion. Matcha contains polyphenols, chlorophyll, catechins, and vitamins, all of which work together to delay the appearance of wrinkles and repair sun damage.
For this mask, you'll need 1 tablespoon of matcha green tea, 1 teaspoon of honey, and 2 tablespoons of aloe vera gel. Mix all the ingredients together, apply to the face, and leave it on for 10-15 minutes.
Article continues below advertisement
Avocado Mask: Avocado and honey work wonders as moisturizers, which make them amazing ingredients in a mask made for dry skin.
For this recipe, you'll need one skinned, ripe avocado, mashed in a bowl. Then add 1 tablespoon of honey. Apply the paste to the skin and leave it on for 10-15 minutes.
Article continues below advertisement
Scrubs
Lemon-Coconut Sugar Scrub: Lemon is effective in brightening the skin, which makes it great for faces and bodies that could use some dry, dead skin sloughed off. Combined with coconut oil — which reduces inflammation and helps moisturize the skin — this sugar scrub smells fresh, works hard at eradicating dry skin, and can be kept in the shower or given as a gift.
You'll need coconut oil, sugar, and lemon essential oil. Microwave 1 cup of coconut oil to a melt; measure 2 cups of sugar into a separate bowl and slowly add the coconut oil in. Mix until combined. Add anywhere from 40-50 drops of lemon essential oil. Add the mixture to a mason jar and seal.
Article continues below advertisement
Lavender-Vanilla Sugar Scrub: The beauty of lavender is that not only does it have healing physical properties, but its scent alone is enough to want to make a scrub out of it. Lavender oil prevents and heals acne, reduces redness and blotchiness, and has anti-inflammatory properties that make it beneficial to irritated or sun-burned skin. Its smell helps reduce anxiety and stress, relieves tension and pain, and even enhances blood circulation.
You'll need 2 cups of Epsom salt, 1 cup of sugar, 2 tablespoons of vanilla extract, ½ cup of coconut or olive oil, and lavender essential oil. After melting down the coconut oil (if you choose to use coconut as your oil), combine all ingredients in a bowl. For the lavender essential oil, you'll need about 15 drops. Add the mixture to a mason jar and seal.
Article continues below advertisement
Coffee Scrub: Coffee scrubs are a popular scrub option thanks to all the wonderful benefits of caffeine. And no, we're not talking about alertness, either. Caffeine contains beneficial antioxidants that can actually reduce cellulite, making it a smart choice for a leg exfoliant. So, not only is it exceptional at getting rid of dry skin, but it can also help reduce the appearance of dimpled skin.
You'll need 1 cup of coffee, ¾ cup white or brown sugar, ½ cup coconut oil (melted), and ¼ cup olive oil. Mix dry ingredients together first, then add olive, then coconut oil. Once combined, the mixture will take on a crumbly texture. Rub on your legs in gentle, circular motions for anywhere from 2-4 minutes. Rinse off and towel dry.
Article continues below advertisement
Serum
Anti-aging Hyaluronic Acid Serum: Your skin naturally makes hyaluronic acid — also known as HA. It maintains the skin's elasticity by trapping in moisture. Maintaining elasticity is crucial to smoothing out the appearance of wrinkles, which makes it a vital component in any anti-aging serum. As we get older, our bodies naturally produce less and less HA than they used to. And since HA is pertinent to reducing wrinkles, lubricating joints, connective tissues, cartilage, and muscles, getting some extra hydration from a homemade serum seems like a no-brainer.
For this serum recipe, you'll need 1/8 teaspoon hyaluronic acid powder, 2 ounces of rose water, and 2-4 drops of the essential oil of your choice. Make sure to store the serum in a cool, dry place.
Article continues below advertisement
Glow Serum: Have dull, red, or dry skin? In this recipe, aloe gel, sweet almond oil, and rose water work together to serve up a glowy, dewy look that leaves skin looking radiant and feeling hydrated. Among its many other benefits, Aloe Vera gel can unclog pores, hydrate the skin, and moisturize. Rose water restores natural moisture to the face and promotes clear skin. Sweet almond oil does wonders for brightening skin and reducing dark spots and hyperpigmentation. It also softens the skin, leaving it moisturized, and preventing dryness.
In a bowl, add 2 tablespoons of Aloe Vera gel, 1 tablespoon of rose water, and 1 tablespoon of sweet almond oil. Mix until it emulsifies, then use either once or twice daily to prevent redness, dryness, and to combat hyperpigmentation.
Article continues below advertisement
Vitamin C Serum: Vitamin C is a miracle-worker ingredient when it comes to your complexion. Not only does it moisturize skin, add plump and a natural-looking glow, it also unclogs pores, evens out the skin tone, and combats dark spots left behind by hyperpigmentation. Vitamin C is a beneficial brightener that also tightens pores and prevents bumps and unwanted texture.
For this serum recipe, take 2-3 tablespoons of rose water, 1 teaspoon of vitamin C powder, and ½ teaspoon of argan oil, and combine in a bowl. Store this solution in a cool, dry place for up to 5 days before use. Recommended use is just before bedtime and it works well in tandem with sunscreen during the day.