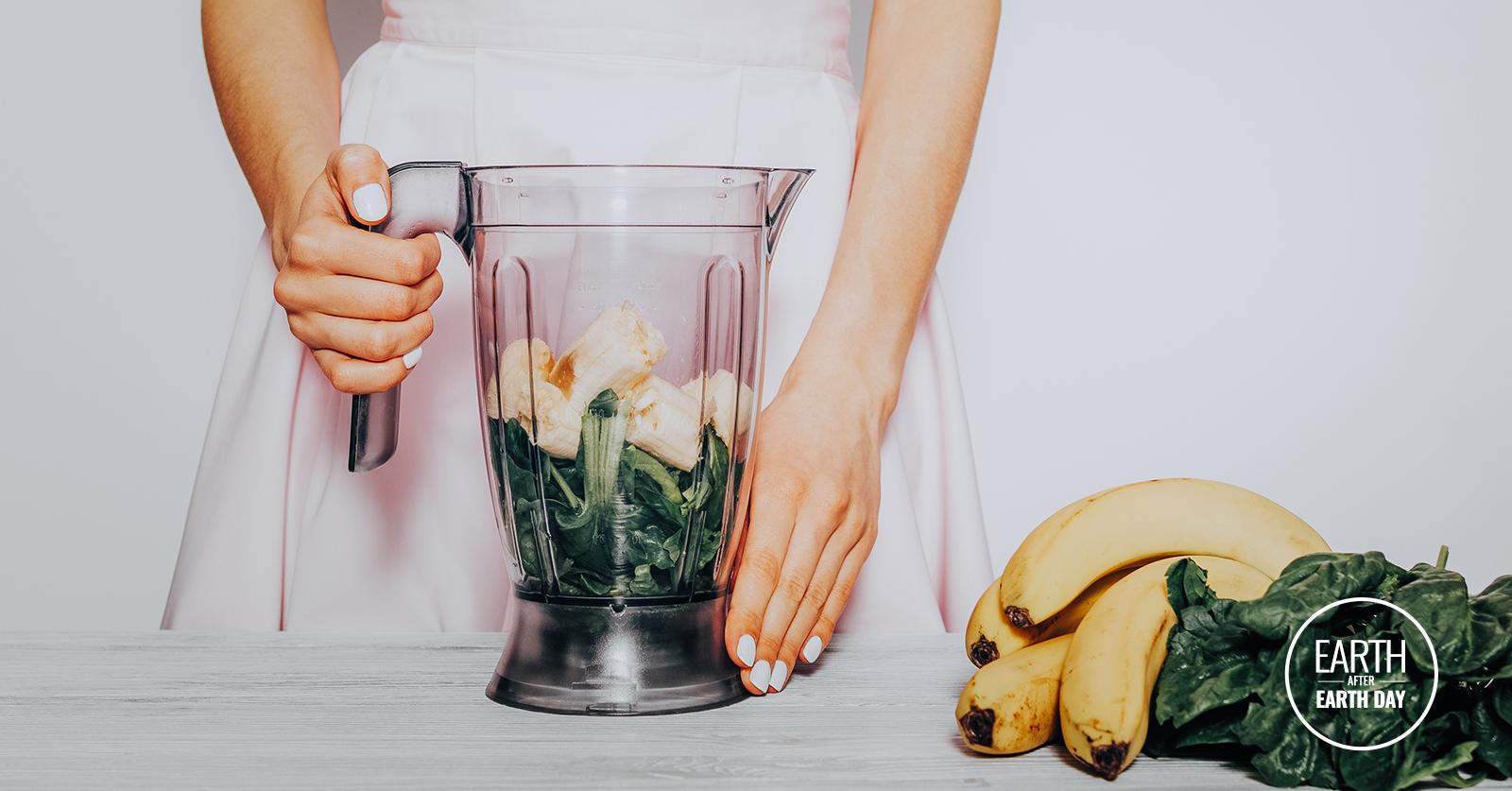 7 Foods to DIY in the Blender to Reduce Your Plastic Waste
By Sophie Hirsh
Get green news right to your inbox!
Thanks for signing up!
In 2019, you can buy pretty much anything you'd ever need in the supermarket. Unfortunately, a lot of pre-made items tend to be packaged in plastic. Womp-womp. If you're trying to reduce your plastic waste, a great place to start is in the kitchen — and fear not, because you won't need a bunch of fancy appliances. With just a small blender and a few whole-food ingredients, you can whip up endless dips, spreads, drinks, sauces, beverages, and more.
Not only will using the blender to DIY more of your own foods help cut back on plastic waste, but it will also help you save money. When you buy pre-cooked packaged foods, you are not only paying for the ingredients, but also the plastic packaging, as well as the process of cooking the ingredients. Not to mention, making foods yourself allows you to control the flavor by taste-testing along the way. So if you want to throw an extra clove of garlic in that sauce, you do you.
So if you enjoy spending time in the kitchen — or even if you don't — here are seven quick and easy blender recipes to get you started.
1. Hummus
Store-bought hummus is super convenient, and can be a filling on-the-go snack — but it's also surprisingly easy to make. All you need is chickpeas (either cooked from dry or from a can), tahini (which you can also make in the blender by grinding up toasted sesame seeds), lemon, garlic, spices, and optional olive oil. Simply throw everything in the blender (a food processor would work well for hummus as well) and enjoy your very own homemade hummus. If you're feeling fancy, check out this recipe for the Perfect Blender Hummus by Italicana Kitchen.
2. Pasta Sauce
Pasta lovers, listen up: you can easily make any kind of pasta sauce in the blender. Pesto is super simple, as it does not need to be cooked at all. Tomato sauce is a classic, and can be made extra smooth by blending the ingredients, either before or after cooking. But if you're looking for something a bit different, try making YouTuber Nikki Vegan's ultra-creamy Cauliflower Alfredo Sauce. It's as simple as blending up boiled cauliflower, a few spices, almond milk, and cashew butter (which you can make in the blender by grinding roasted cashews for a few minutes before adding the other ingredients).
3. Smoothies
OK, so you already know that you can make a smoothie in a blender. Duh. But smoothies on-the-go are often overpriced, and you can save some serious cash by blending your own. Smoothies are also a great way to finish up ingredients that are on the brink of expiration, like fruit, lettuce, milks, yogurts, and nut butters. Not to mention, adding in things like ground flax, chia, or hemp seeds, protein powders, and lettuce barely change the flavor of a smoothie, meaning tossing them in the blender can help you sneak in some extra nutrients. Oh She Glows has a list of a bunch of yummy smoothie recipes to get you started.
4. Non-Dairy Milk
If you have any of the following items in your pantry right now, you could have fresh, homemade plant milk in about five minutes: almonds, cashews, hemp seeds, oats, desiccated coconut, flax seeds... to name a few. Making plant milk is as simple as blending your base ingredient (some ingredients do better after soaking in water for a few hours) with water, and then filtering through a sieve, nut milk bag, or cheesecloth. Here's a compilation of nine easy plant milk recipes from Simple Vegan Blog.
5. Milkshakes
There's something special about sipping a milkshake through a straw (a reusable straw, of course!) at a 24-hour diner. But if the craving ever strikes at home, it's as simple as blending up the ice cream and milk of your choice, with the option of adding other sweet mix-ins and toppings. Well+Good has a great list of nine milkshake recipes.
6. Green Goddess Dip
If you're a Queer Eye fan, you may recall the green goddess dip Antoni made in Season 2, Episode 2. The food and wine expert taught hero William how to make a vegetarian version of the creamy dip (it's sometimes made with anchovies) in a food processor, but a high-powered blender would totally do the trick as well. Luckily for Queer Eye fans, Antoni's green goddess recipe is published on Edit Seven.
7. Banana Nice Cream
Low-calorie ice cream brands have nothing on banana nice cream. For fresh and nutritious banana-based ice cream in a matter of minutes, simply blend up frozen banana chunks in your blender, and scoop it out like ice cream. Seriously. Here's a more detailed explanation from NutriLiving.
More From Green Matters
.

Home

If you think vinegar is just for pickling vegetables or for making homemade dressings, then prepare to be amazed by all the surprisingly wonderful things vinegar can do around the house.

.

Home

Your actions can make a difference.

.

Home

Interested in finding out how to use soap nuts in your laundry routine?