The Gentle Barn Cow Sanctuary Now Offers Cow Hugging Therapy (Exclusive)
Cow hugging therapy sounds like a dream, but you can make it a reality upon visiting this nonprofit sanctuary that saves cows from bad situations.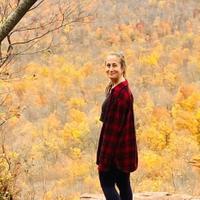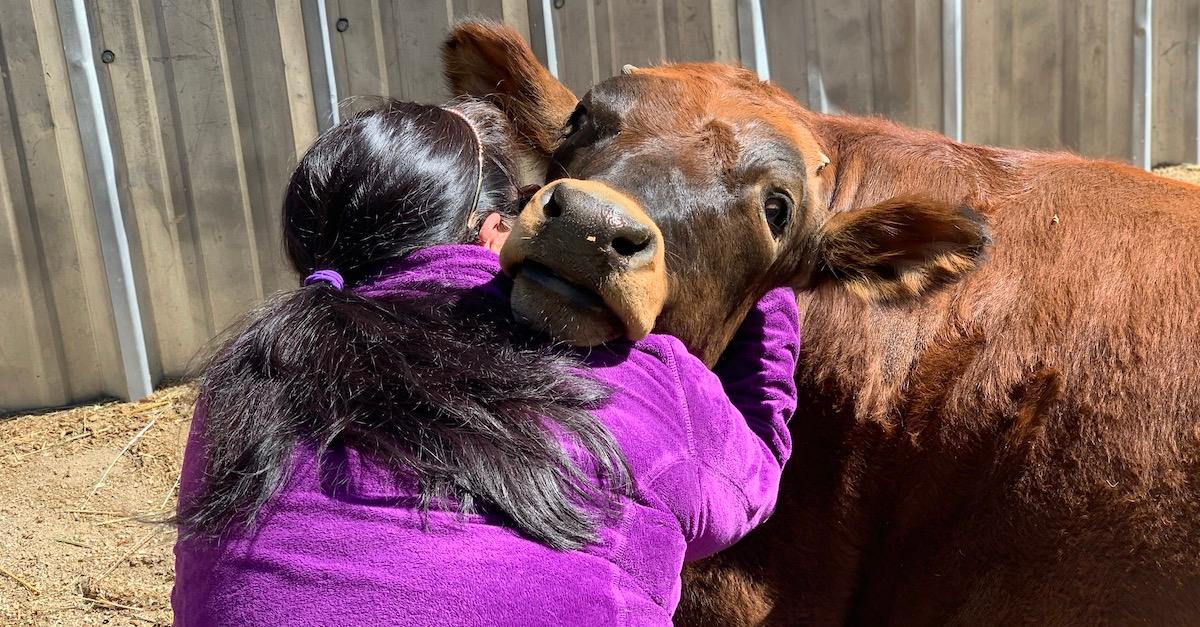 There are many different types of therapies — and cow hugging likely isn't one that generally comes to mind. But spending time with animals is proven to lower blood pressure, treat anxiety, and help with many other debilitating health issues. That's why a nonprofit cow sanctuary called The Gentle Barn is offering cow hugging therapy to individuals. And while we didn't get to try it ourselves, we spoke with Ellie Laks, founder of the Santa Clarita, Calif. organization, to learn more about it.
Article continues below advertisement
Laks tells us via email that her job is nothing but rewarding, giving abandoned cows a second chance at living a great life. They either rehabilitate the old, sick, or injured cows that had previously been abandoned, or they find them new homes — while helping people in need along the way.
"The most rewarding part of our Cow Hug Therapy program is when the talking has subsided, when people are finally comfortable in the barnyard among the cows," Laks explains.
"... when they finally put their faces on the cows shoulders, close their eyes and exhale for the first time, lowering their heart rate to match the cows, matching their breathing to connect with the cows, there is a stillness and quiet that happens," she says.
"The cows close their eyes and meditate, the people close their eyes and ground themselves, get centered and still, and both human and animal can find themselves together in that moment, to create strength, hope and inspiration for them both."
Article continues below advertisement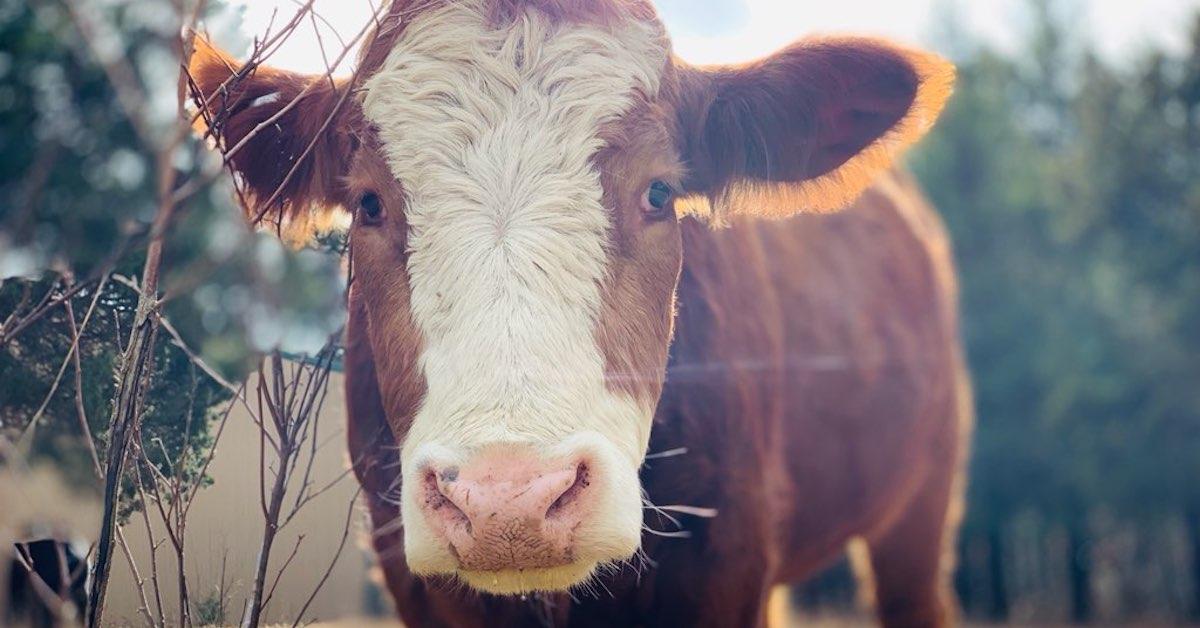 Creating the Gentle Barn was a lifelong dream, and eventually it became a reality.
Growing up, Laks had a special bond with animals, and at age 7, she made it her mission to show the world just how amazing animals are.
"I didn't know exactly how to start The Gentle Barn or what would be the first step to starting a nonprofit organization so I procrastinated for a long time, she tells us. "It wasn't until I was a young adult living in a little house with a half acre backyard that I discovered an abusive petting zoo and started taking the animals suffering there home with me."
Article continues below advertisement
Then, while going through a divorce, she rescued her first cow named Buddha, and found her company indescribably comforting.
"She healed me and kept me strong and I knew that the rest of the world knew this needed this type of healing as well," Laks explains. "We have used this healing modality for those in foster care, domestic violence shelters, war veteran centers... anyone out there that is suffering can come to The Gentle Barn and be part of our healing programs."
But during the pandemic, Laks realized many were suffering mentally, and they opened the program up to individuals, too.
"We offer Cow Hug Therapy as an hour-long session to meditate in the stillness and quiet of the barnyard, hug the cows and connect with their heart rate and breathing, and find hope and unconditional love in those embraces," she says. "Guests leave The Gentle Barn feeling stronger and more hopeful because of it."
Article continues below advertisement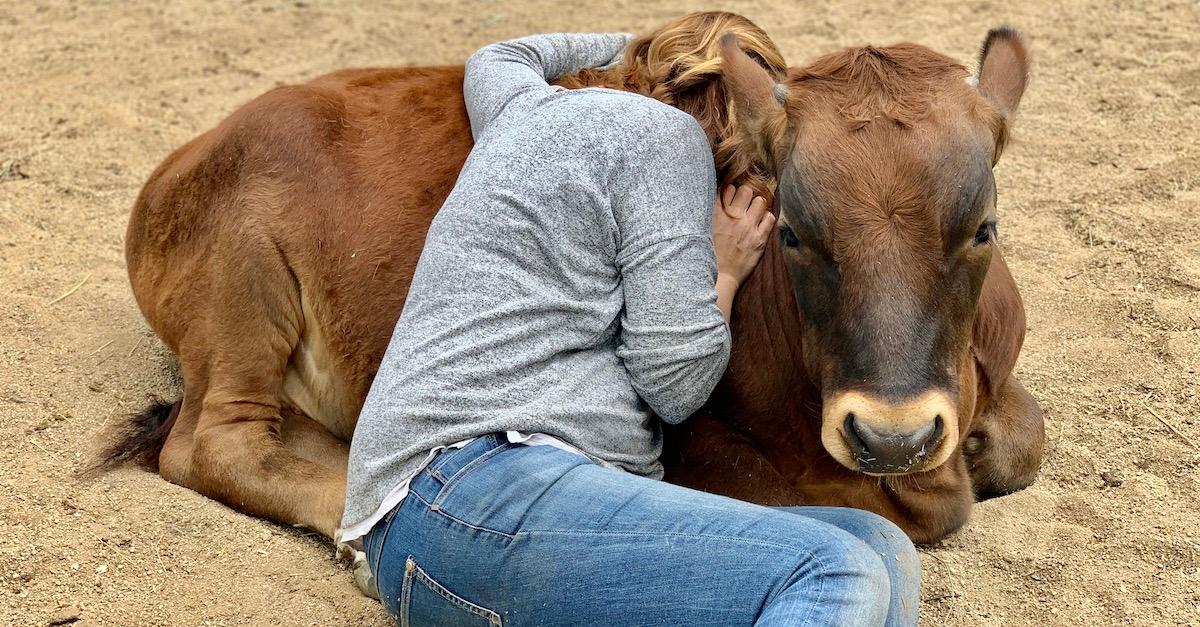 Here's how to get involved with the cow therapy program:
The Gentle Barn now has three locations, in Los Angeles, Calif.; St. Louis, Miss.; and Nashville, Tenn. If you're looking to sign up for the Cow Hug Therapy program for yourself, you can find everything you need to know on the organization's website. Laks encourages anyone interested to do so sooner rather than later — even if you aren't suffering from anything in particular, it's an incredibly relaxing way to spend the day.
Article continues below advertisement
"Cow hug therapy is like a week's vacation on the beach, but for people that can't get away for a week to an island vacation," Laks tells us. "Coming to a Gentle Barn for an hour creates the same relaxation, healing, and peace."
Green Matters' new book, Green Living, is the perfect guide to living an eco-friendly lifestyle for people at every stage of the process. You can order Green Living here.