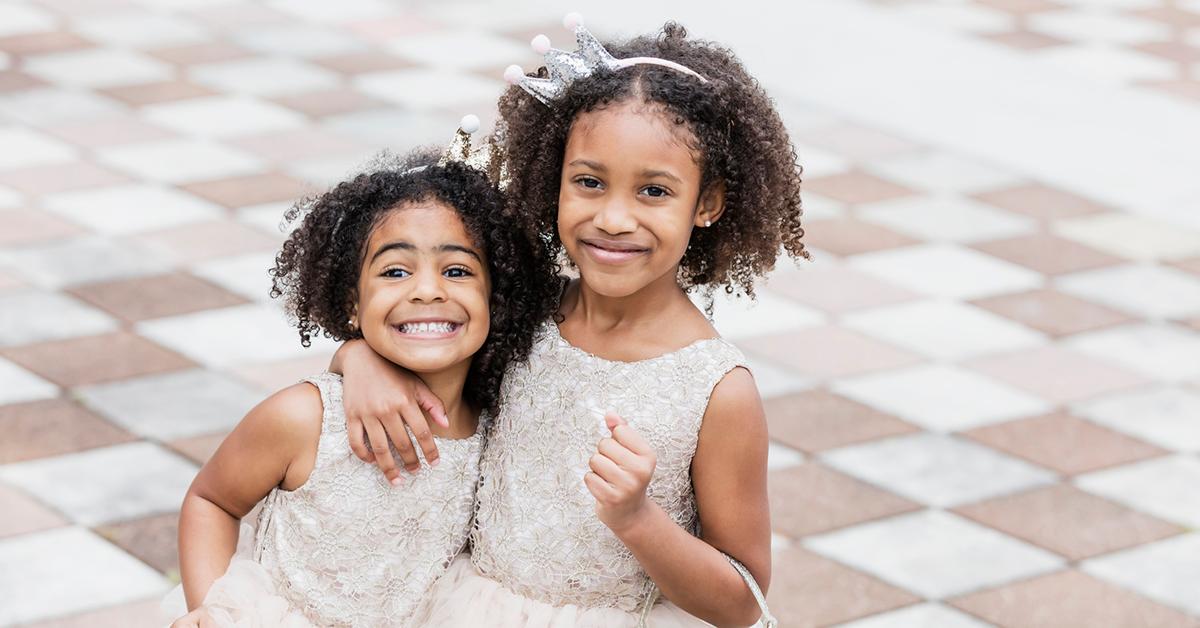 8 Black-Owned, Cruelty-Free Hair Products That'll Help You Embrace Your Natural Crown
Right now, hair discrimination against one's natural hair is only illegal in six states (California, New York, New Jersey, Virginia, Colorado, and Washington); even in those states, the earliest laws against a workplace telling people — mostly Black people — how they can and can't wear their hair were only signed into law last year.
Article continues below advertisement
A study conducted by Dove and advocates for the CROWN (Create a Respectful and Open Workplace for Natural Hair) Act found that Black women were 1.5 times more likely than their white peers to be sent home from the workplace because of their hair, and Black women are 80 percent more likely to agree with the statement, "I have to change my hair from its natural state to fit in at the office."
Of course, this discrimination isn't only seen with women or exclusively found in the workplace; in 2018, Andrew Johnson — a mixed-race teenager from New Jersey — made headlines when he was told by a referee that he must cut off dreadlocks in order to compete in a wrestling match. The year before, Nicole Orr was told that her natural hair didn't follow her private school's "dress code."
Article continues below advertisement
The problems caused by society's view of natural, textured hair are complex for Black people; for Black adults, natural hair is more likely to be perceived as "unprofessional," per Dove's research, and "are consistently rated as less ready for job performance." For younger girls, additional research by Dove found that only four in 10 little girls with curly hair think their hair is beautiful. And the self-esteem issues caused by euro-centric beauty standards shouldn't be surprising; in 2016, Shea Moistures and the Perception Institute set out to explore how Americans perceive natural hair in The "Good Hair" Study and found that, on average, white women showed bias towards Black women's textured hair, rating it as "less beautiful," "less sexy/attractive," and "less professional." Even as infants, Black babies require different hair care.
Article continues below advertisement
And that's just the emotional and psychological trauma that the pressure to succumb to change one's natural hair can cause; there's also physical damage to be done by various relaxers. Research has found that phthalate — mainly used as a plasticizer, but commonly found in hair products as a lubricator — can be an endocrine disruptor, and an additional study discovered an increased rate of uterine leiomyomata associated with the use of hair relaxers. Not to mention, at its most simple, a relaxer can damage one's hair or scalp.
Article continues below advertisement
Luckily, in recent years, more and more people have come to appreciate the beauty of their natural hair (even if their white colleagues have a long way to go terms of the same appreciation). As such, there's not only a renewed movement to make the CROWN Act a national law (advocates even celebrated National CROWN Day on July 3), but there are also more products made for natural, Black hair by Black entrepreneurs than ever.
Check out some of our top picks for Black-owned, cruelty-free hair products for curly hair!
This far-from-exhaustive list was compiled using Curly Nikki, Curly Cailín, Naturally Curly, WeBuyBlack, and Official Black Wall Street; supporting Black-owned businesses is one of the ways you can do your part to close the racial economic gap perpetuated by systemic racism. As everyone's hair and hair needs are different, we encourage you to find your own Black-owned products that work for you!
Article continues below advertisement
AfroShe
Based in Australia, AfroShe was founded by Ruth Wallis in 2013; AfroShe offers cruelty-free, vegan products made using all-natural, organic ingredients and products that cater to all types of hair. Though AfroShe was born in 2013, Wallis' journey with her hair began long before then; she spent most of her adolescence braiding and relaxing her hair, and as the only self-described "African" family in her Australian community, she suffered with her self-image as her peers deemed she didn't have "good" skin or hair.
Article continues below advertisement
AfroShe was created after Ruth became a mother herself, and wanted to make sure her children didn't have the same attitude about their hair; in her own words, she explained, "I wanted my kids to grow up loving their hair and skin just as the Good Lord made it. I wanted them to know that their natural hair and skin are beautifully made and perfect in every way and therefore deserve the best nature has to offer in love and care."
Article continues below advertisement
EDEN BodyWorks
EDEN's founder, Jasmine Lawrence, was clearly born to be an entrepreneur; her collection of natural, cruelty-free skincare and haircare products were first created in 2004 when she experienced a chemical burn at age 11. The entire collection — which has products for type 2A to 4C curls and everything in between — is made without silicones, dyes, mineral oils right here in the United States.
EDEN BodyWorks' products don't just fix specific problems; they also have beneficial ingredients to nurture your hair and body, and help women (or anyone, really) feel beautiful in the skin they're in!
Article continues below advertisement
Soultanicals
Soultanicals doesn't just make products that are good for your hair and skin — they make sure it's "hair, body, and soul-friendly." Founded by mother-of-six Ayo Ogun, the vegan and toxin-, cruelty-free line was born after knowing that hair detangling often comes with a side of tears — for mom and baby alike!
Every product is not only free from artificial preservatives, fragrances, and dyes, but each product is actually made by hand to order.
Article continues below advertisement
Hair Rules
If you've ever admired a celebrity's curls, there's a decent chance that Hair Rules' founder Anthony Dickey has touched his/her coils; don't believe us? His clients include Solange, Rihanna, Sarah Jessica Parker, Minnie Driver, Estelle, Alicia Keyes, Michelle Obama, and Kelis (to name a few).
His work as the "texture guru" inspired him to not only release a line of hair products that are cruelty-free and all-natural, but also open a flagship salon in New York, which has become a safe haven for all curl and texture types!
Article continues below advertisement
Wonder Curl
Before creating Wonder Curl in her own kitchen, Scarlett Rocourt had spent years relaxing her hair; it wasn't until a "life-changing" article in Essence that she decided to embrace her natural curls — and created Wonder Curl to help other women do the same.
Article continues below advertisement
Rocourt is a vegan and environmentalist, so it's no surprise that her handcrafted products are cruelty-free, vegan, and packaged in all recycled plastic. In an interview with Naturally Curly, she explained, "The main benefit to using vegan ingredients is knowing that I am not contributing to animal cruelty. I gave up eating meat first for moral reasons, I became fully vegan three years ago to maintain optimal health. I have learned that plant-based ingredients are better for your hair than animal-based ingredients, the same way they are better for our body."
Knowing that being a "naturalista" is as much about empowerment as it is about physical health, Rocourt also created the Healthy Hair Summit, because, "I want to inspire Black women to live their healthiest lives and have great hair."
Article continues below advertisement
Canviiy
Scalp health is something that many of us don't think about — but Sherrel Sampson knows that (forgive us for the pun, which is absolutely intended) a healthy scalp is at the root of healthy hair. Canviiy was founded when Sampson, the CEO and founder, experienced her own itchy scalp and solved her own problem by creating organic, plant-based, and cruelty-free products aimed at scalp health.
On their site, Canviiy states their mission "is to create natural-based products that soothe, nourish, and protect what's on the outside, so you can feel luxurious, confident, and beautiful on the inside."
Article continues below advertisement
Boucléme
Like so many other creators on this list, Michele Scott-Lynch didn't embrace her natural hair journey until she was in her 30s, and a mother to two curly-haired daughters. In her own words, Boucléme was born when she realized "I needed to be a curly role model for [my daughters] to see the beauty in having a head full of curls. I was determined that they wouldn't wake up every day feeling cursed, as I did for far too long."
Article continues below advertisement
In addition to being naturally-derived and cruelty-free, Boucléme also uses fair trade ingredients, recycled and biodegradable packaging. While the line can be found all over the world, Boucléme was conceived in Britain, and the team uses local sources and suppliers as much as possible.
To offset their impact, Boucléme has also partnered with Trees for the Future, and plants a tree for every bottle or travel-kit bought and recently partnered with Malaika, a grass-roots non-profit that provides access to education, water, and healthcare to young girls in the village of Kalebuka in the Democratic Republic of Congo.
Article continues below advertisement
Historically, Boucléme's product line wasn't 100 percent vegan, as a few products used Xanthan gum — which can be prepared on lactose, meaning it isn't vegan. However, the company has stated that they plan to phase out their current Xantham gum when it runs out, and beginning July 2020, will use a vegan alternative. However, the brand's Curl Conditioner, Intensive Moisture Treatment, and Curl Cleanser do contain honey, which most vegans avoid.
Article continues below advertisement
Pattern Beauty
Pattern Beauty believes that curls should be embraced and celebrated — not tamed or stifled; a mission statement that isn't all too surprising when you realize it's founded and run by actress Tracee Ellis Ross. As the daughter of natural hair icon Diana Ross, the Black-ish star has always embraced her natural hair — but that doesn't mean she hasn't experienced pushback as a result of the sexist, racist beauty standards in Hollywood.
Article continues below advertisement
In an interview with Coveteur, she explained her inspiration for Pattern came nearly two decades ago, fresh off her stint on Girlfriends:
"... It was a long-running journey of experimentation and not knowing at the time that I was part of a very large community that also was feeling the same way that I was. It was a lightbulb moment that kept going off, and during Girlfriends, somebody saying to me — because I'd gotten my hair to that place where it was so healthy, and my curls were poppin' and juicy — and I remember going to a beauty supply shop on Wilshire to buy my products, and the guy came out from the salon in the back, and he was like, 'You have no idea how many women come in here with pictures of you torn out of magazines saying they want their hair like you, and I tell them, 'I can sew it in, girl.' And I was like, 'What do you mean? They don't have to sew it in, they just need the right products.' And he was like, 'Well, they don't exist, so if you ever make a line of products, you'll be a millionaire.'
"It's taken me ten years, and it's been a lot of learning, a lot of patience, and a lot of persistence. Being a founder on a journey, and becoming a CEO of a company that you've built, that's been so exciting to me. Also, I created products that I've wanted and [fill] an unmet need in the community."
Article continues below advertisement
She's right about the millionaire part, by the way; did you know the first female self-made millionaire in the United States was Madame C.J. Walker (aka Sarah Breedlove), who made her fortune making hair products for Black women.
Pattern's products aren't just cruelty-free and packaged using recycled materials, they also donate proceeds to charities that empower women and people of color.
Article continues below advertisement
Other Ways to Ally With the Natural Hair Movement
If you don't have natural or curly hair, or aren't in need of these kinds of products from Black-owned and operated businesses, there are still so many ways to show your support for the naturalistas in your life. If you're financially able to, you can donate to the NAACP's Legal Defense Fund, fighting to make the CROWN Act a nationwide effort. You can also sign their petition, or reach out to your community's lawmakers to help make it a reality.
You can educate not only yourself, but also the young people in your life that Black hair is beautiful. Chris Rock created the documentary Good Hair after his then-three-year-old daughter asked "Daddy, how come I don't have good hair?" and the film examines how Black people have historically styled and perceived their hair in a society that constantly said their hair wasn't "good" enough.
Article continues below advertisement
Academy Award winning film Hair Love is an animated, seven-minute film about a young Black girl, her dad, and her hair; the short film (and soon-to-be animated series) has been adapted into a children's book by filmmaker Matthew Cherry. Additionally, there are plenty of other beloved children's books that will both teach young curly-haired kids to love their hair, or their peers to value it, are My Big Natural Hair by C.J. Baker, Hair Like Mine by LaTashia M. Perry, Happy Hair by Mechal Roe, and Bedtime Bonnet by Nancy Redd.
If you are looking for ways to donate your time or money to Black Lives Matter and other antiracist organizations, we have created a list of resources to get you started.