Follow These Black Outdoor Activists and the Organizations They Founded
We cannot truly progress as a society without achieving both racial justice and climate justice — and the two movements are deeply linked. We'll never have racial equality until we have climate justice, since the climate crisis tends to — and is unjustly designed to — hurt people of color disproportionately.
With Black History Month beginning on Feb. 1, now is a great time for yet another reminder to diversify your feed — and your activism. So, we've rounded up a few incredible Black outdoor activists, all of whom have founded organizations working to increase diversity in the great outdoors, fight for climate justice, and protect planet Earth.
Article continues below advertisement
We highly recommend following each of the following Black outdoorists and environmentalists on Instagram, as well as the organizations they founded — and consider joining or donating to their orgs, as well!
Teresa Baker, The Outdoorist Oath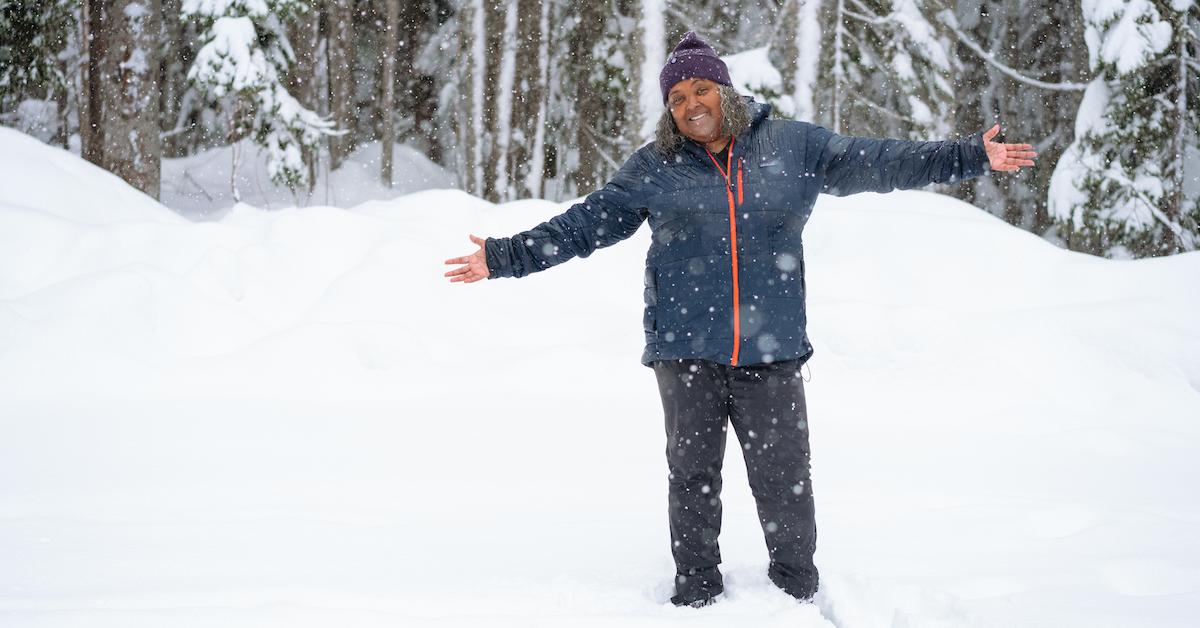 Teresa Baker is one of the co-founders of The Outdoorist Oath, a nonprofit founded in January 2022 that will create a community of outdoor advocates who want to advocate for people and the planet. Baker is also the founder of the Outdoor CEO Diversity Pledge and the In Solidarity Project, and she works with companies to bolster diversity through outdoor events. According to her Instagram bio, Baker's work focuses on achieving "greater representation in our parks and within the outdoor industry."
Article continues below advertisement
Rue Mapp, Outdoor Afro
We're big fans of Rue Mapp, as well as Outdoor Afro, the organization Mapp founded in 2009. Outdoor Afro actually started as a blog before growing into a grassroots movement; and today, it is a national organization with networks all across the U.S., each of which "celebrates and inspires Black connections and leadership in nature."
Mapp currently serves as CEO for Outdoor Afro; she is also on the board of The Wilderness Society, as well as chair for the California State Park and Recreation Commission; and she was recently selected as a National Geographic fellow as well as an AFAR Travel Vanguard Honoree.
Article continues below advertisement
Eliot Jackson, the Grow Cycling Foundation
Eliot Jackson is an accomplished professional mountain biker, who has competed in seven World Cups. As explained by Santa Cruz Bicycles, when racial injustices protests broke out in the spring of 2020, Jackson used the moment to call out racism in the cycling community in an Instagram video.
Article continues below advertisement
The response to the video inspired Jackson to found the Grow Cycling Foundation, which aims to improve education, access, and opportunities to increase diversity and inclusion in the cycling community across North America, with aspirations of expanding globally. Jackson is also one of the dozens of founding members of The Outdoorist Oath.
Article continues below advertisement
Danielle Williams, Melanin Base Camp and Diversify Outdoors
Danielle Williams is the founder of two organizations that both aim to expand the visibility of ethnic and LGBTQ+ participation in the outdoors. In 2016, she founded Melanin Base Camp, a blog filled with articles about People of Color in the outdoors; and in 2018, she founded Diversify Outdoors, a coalition of activists, entrepreneurs, influencers, and groups working together to advance diversity in conservation and the outdoors.
Article continues below advertisement
Williams has an incredible life story, which you can read about here. She does not appear to have a public personal Instagram page, and Diversify Outdoors's page is not yet active; so, we highly suggest following Melanin Base Camp to stay up to date.
Article continues below advertisement
Ron Griswell, HBCUs Outside
Ron Griswell identifies as an "outdoorist and low-key environmentalist," and in 2018, he founded HBCUs Outside. The organization aims to break stereotypes and increase the presence of Black individuals in the outdoor community, ranging from mountains to outdoor industry boardrooms; HBCUs Outside does this predominantly by educating and empowering HBCU (historically black college or university) students and alumni on the power of the great outdoors, why it's important to protect and diversify the environment, and more.
Griswell also serves on the council for Intersectional Environmentalist and is a founding member of The Outdoorist Oath.
Article continues below advertisement
Green Matters' new book, Green Living, is the perfect guide to living an eco-friendly lifestyle for people at every stage of the process. You can order Green Living here.